When it comes to rescuing the woes of iOS users there is nothing like the Cydia store. More so when they are being made fun of by other Android users for having options that are not customizable. The fact of the matter is that it is not substitute of the Custom Rom or even tweaks that take place at the root level or the mods that only Android can provide you. However when you have an assimilation of such root level tweaks will enable you to apply them without requiring flash files does have its own benefits.

So though some may find the release of Cydia Substrate and WinterBoard by Saurik within the Google play store, but it has the potential to take up Android customizing to an entirely different level. We will let you have an in depth look at Cydia Substrate and take you through the steps to install it onto your Android Device and acquire Winterboard and how to even run it.
What is Cydia Substrate and Winterboard?
It is likely that if you own a device that is not jailbroken, you may not even know about these. Winterboard is essentially a platform for theming. It is available as a package that can be downloaded in the Cydia Store for iOS. As Winterboard is a Cydia package it also needs Cydia Substrate to operate. Cydia Substrate is a platform that allows products or extensions to bring about changes to elements on an individual level in the operating system
Installation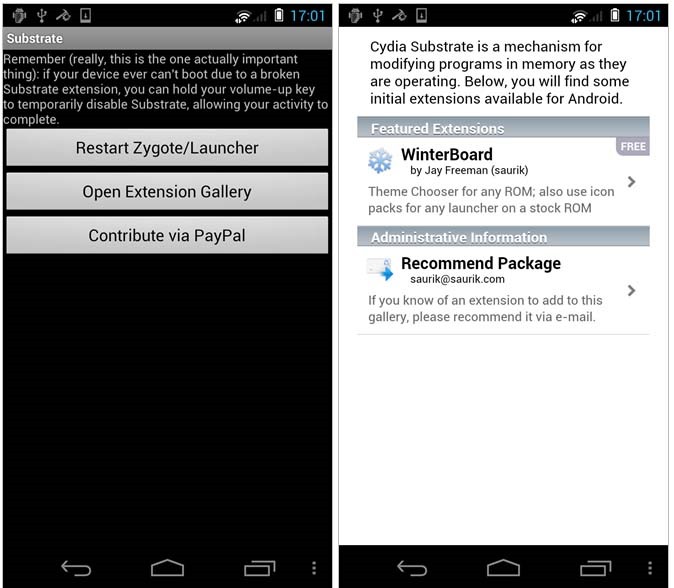 The first step is to launch the application and click on install given at the top portion of the screen. You need to select the allow button when asked for root/super user permissions. That is all that is required to get Cydia Substrate installed on the Android device. But do remember that this is merely a platform and you need an extension that has to be added for some obvious changes to happen on your device. To work substrate extension in the android device you have to put in Cydia Substrate in the first instance. This package works with devices working on Android 2.3 and you cannot utilize it until your device has been rooted. Once these preconditions are met with and fulfilled you can go to the link given at the bottom of this article and download the Cydia Substrate package absolutely free of cost.
How to Instal Winterboard On Cydia Substrate?
You will find that the Cydia Substrate concept being a good one and we hope that the package reaches previously unscaled heights. The package that is available in the extension gallery belonging to Cydia Substrate is the Winterboard. To use Winterboard you have to first download the same separately from a Google Play store link. Utilizing this is really easy because all you need to do is install the packages and themes in the Play store. It is also viable to make a combination of several themes together by picking them all. Any conflicts that may arise will be resolved by the theme on the top taking priority over the one on the bottom. You may alter the order in which these themes are by easily pressing on an icon for long and then pulling it into the slot you want it to be in. As of now the two packages that are available on Winterboard work with each other without any issues. If in case things go awry then you can always disable the platform. Simply press the volume up key for long and then remove the trouble causing packages.
Download Cydia Substrate For Android
Download Winterboard For Android
It's very difficult to consider that Cydia Substrate will earn the same respect from Android users, as its get from iOS users. But it's possible, if Android community starts developing an extension for it. Use above guide to install Cydia Substrate on your device and let us know did you liked it or not.
(Visited 945 times, 1 visits today)