Today, more and more apps and social media tools are being developed that are targeted specifically at high school and university students than ever before. In the wake of this development, we thought we'd take a look at just a couple of the best apps and tools out there to help students study. As we've covered elsewhere, there are all sorts of ways that social media and the internet can help students; with essay writing in particular, but what about apps specifically designed to deal with the hard work of studying and scheduling? Check out our list below and see if these apps might revolutionize the way you study.
Socratic: A Genius App
This excellent app promises a great deal of functions, not least of all handwriting recognition and an endless library of formulas, puzzles, and quotations, and frankly, Socratic delivers on much of what it promises. Users simply take a picture of the problem they wish to solve and the app's AI sets about finding a solution in Socratic's huge library. The app has been gaining a lot of press recently, with some hailing it as revolutionary and likely to change the nature of classroom learning forever. In fact, Socratic was recently named Google's app of the year.
Socratic's team work with a number of free online educational content providers to source their videos and explanations. However, the material provided by Khan Academy, Crash Course and the like is tailored for the platform, ensuring that it's straightforward and stylistically consistent. At the moment, the app can provide solutions, explanations, and lessons in biology, chemistry history, and mathematics and the developers plan to expand their range of subjects in the near future. For a full overview of the app's amazing features, check out this handy breakdown.
Homework App: A Great Study Tool
This app's for those who enjoy a good schedule, or better yet, those students out there badly in need of one. The simply-named Homework App for iOS is one of the most popular study and scheduling apps out there, and with good reason. This minimalist app enables users to schedule and track all kinds of commitments from classes and homework assignments to dedicated study periods with friends. The app features a broad and straightforward overview of all your classes, deadlines, and projects on any given day. Using the app, you can prioritize assignments and set reminders as and when you need them.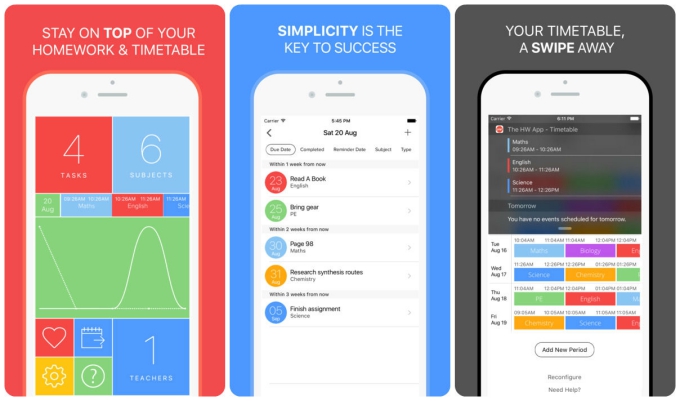 With a wonderfully intuitive user interface and a range of helpful options, the app really simplifies the oftentimes tricky task of keeping track on various commitments. The Homework App is available on iPhone, iPad, and Apple Watch, so if you can afford to cloak yourself in Apple products, you can also make sure that you'll never miss any reminders about homework or university assignments.
GoConqr: All the Flashcards You'll Ever Need
GoConqr offers all you'll ever need in terms of the actual nitty gritty of studying, of learning information and retaining it for later use. The app allows you to create virtually any kind of learning device; from mnemonics and flashcards to mind maps and quizzes. All those neat methods of learning new information and testing yourself are available on this one app, making it an invaluable addition to your digital learning tools.
The app's features are designed to help you prepare for exams and tests, an area of study too often overlooked by app developers in the growing industry of educational tech. Furthermore, you can share anything you create on the app with friends, making it much easier to coordinate within a study group and share materials. As a web app, you can access GoConqr through your browser or your smartphone and any changes you make to the app's data will be synced across devices.
(Visited 309 times, 1 visits today)