If you own a Mac and an Android device, you would know that making them talk to each other is not an easy task. It's best done with a third party application that would enable you to mount an Android device on your Mac. You thus can browse its contents, choose and transfer files from the device to Mac and back. Below we have compiled a list of such applications and gave a short description of each of them.
1. SyncMate
On top of our list is SyncMate, and it is not without reason. First, it allows mounting Android phones and tablets in such a way that they appear as additional disks on your Mac. Once your device is connected to Mac, its contents will be displayed in Finder and you can browse through its files and folders, choose what you would like to transfer to your Mac and 'drag-and-drop' it to a required location – as simple as it gets.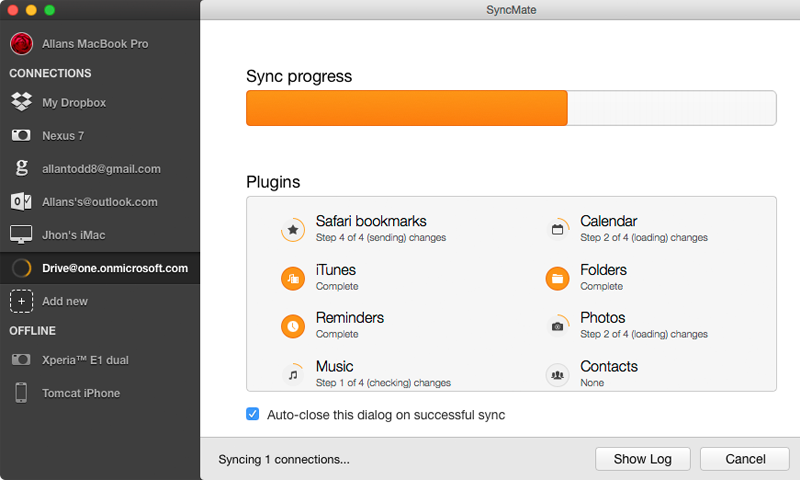 Second, SyncMate can synchronize data on your Android device and Mac – Address Book, Calendar entries, iTunes, Photos and Bookmarks.
2. Commander One
Commander One is essentially a file management solution for Mac. It is capable of mounting Android devices on your Mac so you can view and manage their contents, as if they were local drives. The application features a classic dual pane interface that only adds value to the app's functionality. Apart from iOS and Android phones and tablets, Commander One can mount other MTP devices and cloud storage services on Mac.
With Commander One you can extract and compress files into a variety of archive formats, manage system processes and execute text commands in a built-in Terminal emulator.
3. Android File Transfer by Google
This native Google application's sole purpose is to transfer files from an Android device to Mac. The major drawback is that it does not allow transferring multiple files at a time, and moving files one by one might consume too much of your time and effort. We also hear complains about the app's UI.
4. Dukto R6
Dukto R6 utility works across platforms – Windows, Mac OS X, Android and Symbian devices, and all it does is transfer data over LAN. The app is really simple, e.g. to transfer files between two PCs you need to launch the app on both PCs and drag files into the app's window. No configuration is required.
5. Droid NAS
Droid NAS enables sharing over Wi-Fi, Finder displays Android device as a Bonjour computer. You can share folders on your devices (SD cards included), e.g. Camera, Downloads, Music and Photos. It is possible to set different profiles for sharing different data.
6. Cloud services
Cloud services won't mount your Android device as a hard drive on your Mac, but you can still use them for transferring files. Uploading and downloading files to and from cloud storage is not a problem when broadband Internet connections are available wherever you go.
That's it for now – we hope this list helps you choose the application most suitable for your needs.
(Visited 670 times, 1 visits today)