Scientific research has proved that playing puzzle games and Apps not only improves your decision-making skills but also helps prevent age-related mental disorders. Many times, when you are traveling or have to wait for a friend or colleague before a meet-up, there is a lot of free time on hand. What better way to utilize that time than putting your mental acumen at test with some fun-filled brainteaser apps? Here is a comprehensive list of 30 free puzzle games that you can play on your phone and computer:
30. Cut The Rope (Android, iOS)
In this physics puzzle game, you have to cut the ropes in the correct sequence to get the candy to fall in the mouth of the little green monster. Cut the Rope was part of a research study by Nanyang Technological University, in which it was found that puzzle solvers had improved decision-making skills.
29. Huebrix (iOS, Kindle Fire)
This game has a grid of empty white squares and a bunch of colored numbered blocks that you have to move to color the entire area. Th number on each block indicates how many spaces you can move. You need to determine the correct path without overlapping any hues. Not as easy as it sounds!
28. Threes! (Android, iOS, Windows)
Threes! is one of the best numbers-based game out there. In this, there is a grid of tiles with numbers on them (1, 2, 3, 6, 12, and so on). The tiles can be moved by row or column so that the numbers are added in multiples of three. You can play as long as you can and rack up the highest score possible.
27. Candy Crush Saga (Android, iOS, Kindle Fire, Windows)
Undeniably one of the most popular games in the world, Candy Crush Saga has an endless number of puzzle levels to keep you busy. You have to match three or more candies of the same color to destroy them, or earn special candies. In certain levels, the objectives are different.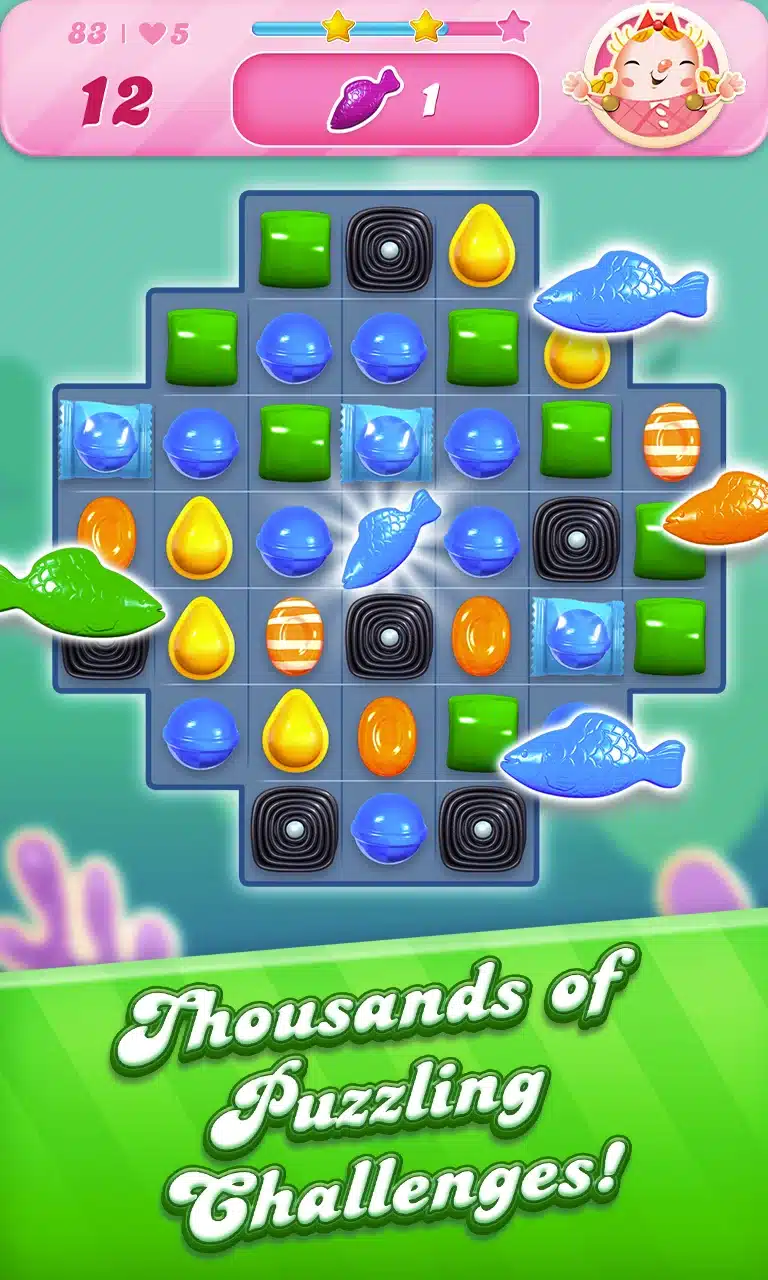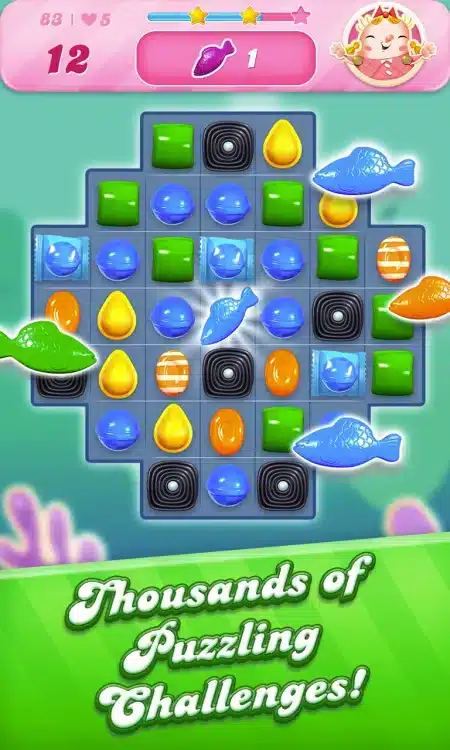 26. Bejeweled Stars (Android, iOS)
If you remember, the original Bejeweled came way before Candy Crush Saga. The new Bejeweled Stars is a jazzed-up version of the original and has power-ups, special jewels, charms and other cool tricks.
25. Words with Friends (Android, iOS, Kindle Fire, Windows)

Similar to Scrabble, Words with Friends has gained massive popularity among lexophiles on the internet. You can play against a random opponent online or go up against your Facebook friends.
24. Plants vs Zombies 2 (Android, iOS)
The zombies are coming! How to stop them? Sow the right seeds and stop them with magical plants! An extremely fun game, you get points for killing the zombies and you can upgrade your plants and buy new ones.
23. Hextris (Android, iOS)

Move over Tetris, Hextris is the new cool. A 3D, hexagonal version of the classic tile-matching game, you have to get three lines of the same color next to each other in order to destroy them. You will be hooked to it like Tetris, but it much tougher.
22. Solitaire (Android, iOS, Windows)
You can play Solitaire in your browser simply by doing a Google search. If you are looked for a spruced up version in your phone, check out Microsoft's Solitaire Collection which has five game variations such as Spider, FreeCell, Klondike, TriPeaks and Pyramids.
21. Where's My Water? 2 (Android, iOS, Kindle Fire, Windows)

Swampy the alligator wants to take a bath, but the sewer pipes are broken! What to do? You need to dig a line through the mud so that the surface water gets to Swampy's pipe. Beware of rocks and other obstacles, and collect as many rubber duckies as you can.
20. Flow Free: Hexes (Android, iOS)
In Flow Free: Hexes, you will find a honeycomb-like large hexagon that has plenty of tiny hexagons with colored dots. You need to draw a line connecting two dots having the same color, without overlapping any lines. It begins easy, but once the grids get as large as 9×9 or 10×10, you're in for a torrid time.
19. Super Stickman Golf 3 (Android, iOS, Kindle Fire)
Play this game to test how well you know the laws of physics. A new take on golf, you will have to try to sink the ball in seemingly impossible courses in Super Stickman Golf 3. It never becomes boring with enough power-ups and weird levels to make things more interesting.
18. Bonza Word Puzzles (Android, iOS, Kindle Fire)
Love crosswords as well as jigsaw puzzles? Bonza is the game for you! Each level starts with a clue and a bunch of disorganized crossword tiles that you have to put in the right order, vertically and horizontally, to form words that match the clue.
17. Letris 4 (Android, iOS)
We know Tetris, Hextris and what is this now? Is it related to letters? Yes!Letris 4 is a letter-based version of Tetris and instead of bricks, letter tiles fall from the top. No need to arrange them, just form words out of the tiles to destroy them. Forming words out of straight lines will give you special `laser' tiles, get hold of as many as possible.
16. Drop7 (Android, iOS)
In this game, there is a 7×7 grid, with balls numbered from one to seven. Get a horizontal or vertical sequence of balls matching the number of the last ball to destroy the whole sequence to your utmost satisfaction.
15. Lazors (Android, iOS, Kindle Fire)
Lazors has 280 levels to keep you entertained for a long time. What do you have to do? Get the laser (or lasers) to hit the target by moving mirrors and glass around so that the laser can bounce off while missing the obstacles in your way.
14. Dots and Co (Android, iOS)
A visually delightful puzzle game, you have to connect dots of the same color or create loops to remove all dots of a color. You will also have "companions" whose powers will help you clear levels quickly. One of the most fun apps around.
13. Kami (Android, iOS, Kindle Fire)
Kami stands for 'paper' in Japanese for `paper'. In this game, you have to turn a grid of different colors into one single color. Easy to understand but challenging to play, it has the calm and relaxing sounds of flipping paper, which is really refreshing from the beeps of modern devices.
12. Moveless Chess (Android, iOS)
An entirely new take on chess, each level in this game gives you a chess position. You need to change any one of the pieces to another, and finally checkmate the black king without moving it physically anywhere. There are a limited number of moves, so strategize carefully!
11. Does Not Commute (Android, iOS)
Does Not is a truly unique game which you probably have never played anything like before. In this, you have to chart a driving route for every car in a neighborhood. The important thing here is that you need to ensure that the timing is perfect so that the cars don't crash into each other. On top of that, there is a countdown timer that makes things even tougher.
Note: The Apps and Games listed below are for the web browser
In Continuity, you have to move a stickman to a key, and then to a red door. The level is divided into pieces, so you have to move around and set them in the right order.
In this game, you have a gun that launches two portals to move from one place to the other. Using this gun and the laws of physics, you must use your wits to escape the facility you are trapped in.
8. Typeasaurus | armorgames.com
You're a caveman and there is a dinosaur after you! You need to type words as fast as possible to keep moving. The letter tiles at the bottom of the screen will help you to form words. Words cannot be repeated and every level becomes trickier. Can you survive being eaten?
7. Bloons TD5 | ninjakiwi.com
In Bloons tower defense, you need to pop balloons by planting weapons strategically along their path. Some balloons will move faster than others and may take other routes so you need to utilize your resources wisely.
6. Elements | neutralxe.net
In this "escape the room" game, you are put in a room filled with clues. You need to click on objects to collect hints that will help you figure out how to unlock the door.
5. Stacko | armorgames.com
As the name suggests, you have to stack colored tiles in the correct order. However, when you click a block, all the tiles above from left to right will jump onto that block. You need to figure when to click which block.
4. Viewpoint | armorgames.com
In Viewpoint, you are a white block on a grey path and you have to get to the green mark. In order to do this, you can look at the puzzle in 2D and even rotate it to get a 3D view to find your way home.
3. Block With Letters On | bartbonte.com
In this App you need to move lettered blocks to a designated yellow area in order to form a word. To determine the order in which the blocks should be moved, simple rules of physics are applied.
2. Hitbox | armorgames.com

A game to test your reflexes, you need to click on boxes to transport a square to an orange zone. You can also use `tricks' to launch the square in a specific direction in Hitbox.
1. Super Stacker 2 | physicsgames.net
Another interesting stacking game, you get a bunch of boxes that you have to stack. Since the boxes come in different shapes and sizes, you need to stack well else the pile will crumble and you will have to start all over again.
(Visited 311 times, 1 visits today)