The app store is a crazy place that is filled with lots of programs that are begging to be downloaded or purchased. In all of this chaos, there are some brilliant additions that deserve your attention, but you may not have even seen them yet with all of the sponsored content hitting your screen.

Whether you just want to explore your creative side, be productive from a business standpoint, or develop a new skill, these are some of the best apps available right now that don't get as much attention as they deserve.
#1. Chordion

This app lets you make music on your iOS device. You choose your chords with one hand and then play your melodies with the other that are all within that chord. You can customize your layouts, include special effects with the notes, and the app even has MIDI support so you can control other instruments if you want as well.
Price: $3.99
#2. Writer Pro
It may be an interesting tactile experience to write on your iOS device, but Writer Pro will help you become more productive when you do need to get some text down. It's more than just an easy to use interface that will let you type on a better text editor. Writer Pro will help you find extra words in your text that aren't needed, look for weak verbs that could be improved, and eliminate those extra conjunctions and participles that sometimes get thrown into content. It also offers automatic markdowns and is available in multiple languages.
Price: $19.99
#3. A Beautiful Mess

Your photos that you take with your iOS device look beautiful. They should also be a true reflection of your life! That's what this iOS app looks to do for you. With custom doodles that have been hand-drawn, photo filters that are unique to this app, and other fun fonts that you can add to your pictures, you'll find that your images have never looked better when you're done editing them! You can publish your edited images to most social networks as well.
Price: $0.99
#4. Daily Expenses
Does it seem like your money is just disappearing on you? Are you looking for an easy way to start forming a budget? This iOS app will let you do just that in a very easy way. It works best if you have the Mac version of this program because you can enter your purchases into your iPhone and then have your Mac visualize where all of your money is going. It can include specific expense details, different categories, and payment modes. The data exports easily for tax season and all of your data can hit up your iCloud too.
Price: $4.99
#5. Schoola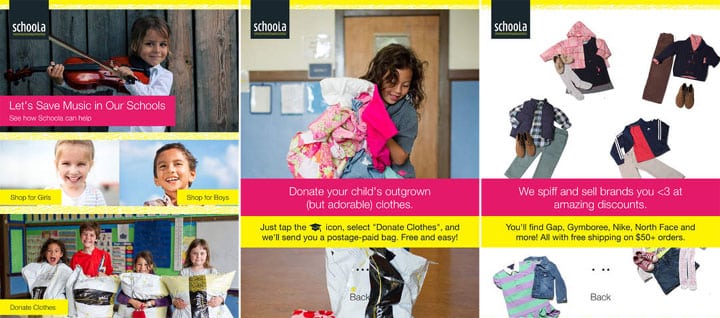 During back to school season, you could fight the crowds at all of the big discount stores to get the clothes that kids need… or you could use this iOS app! Schools give Schoola clothing to sell and then you get to see the over 2,000 different global/national/regional brands that are available. When you make a purchase on Schoola, 40% of the proceeds are donated to the school that provided the clothing. You can donate clothing to make a difference for your school too.
Price: Free
#6. Unstuck
Stress can come at you from anywhere and it can happen at any moment. Sometimes it can be too much and it causes someone to get stuck in that terrible moment. What this app aims to do is help you become "unstuck" so that you can become happier and more productive once again! Figure out why you're stuck and this iOS app will help you take action. It saves up to 10 moments and your information is not shared anywhere.
Price: Free
#7. Daily Routine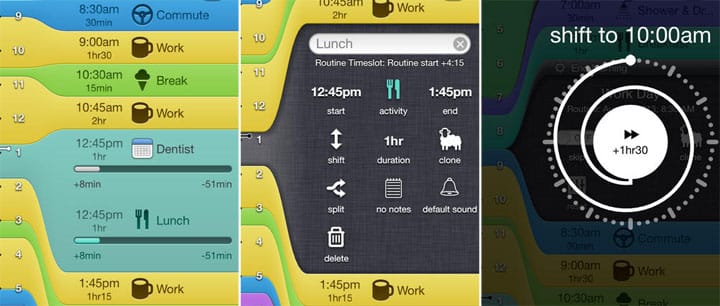 If you're a person who thrives when you can complete your daily routine, then this iOS app will help you immensely! You'll get reminders from this app to do the things you should be doing and you can create one or several routines that will give you a push if you want it. You can disable audio notifications if you want or you can have this app tell you that you've been taking too many breaks during the day. The routines can all be edited on an ongoing basis and the day is broken up in an easy to visualize manner, much like a daily planner. If you need help staying on top of your to-do list, this could be the best app to use!
Price: $1.99
#8. QlikView
This app is for the advanced business student or business executive primarily, but it works for anyone who is looking to discover a new way to do business or find new businesses that can help meet a need. This app's engine will gold mine data and manage your associations so that you can answer the unpredictable questions that can arise when you're in a 100% mobile environment. Global searches and collaboration are also available.
Price: Free
#9. Clevermind

Everyone deserves to be connected – even those that have some difficult mental impairments, like Alzheimer's Disease. This app helps to keep loved ones connected in a visually orientated manner so that a greater level of independence can be achieved. It's not just a social network type of app, however, because there are trivia, games, and even problem solving components that can help to strengthen mental proficiency and potentially reduce the down slide of functioning that dementia can bring. Note: although it is an iOS app, Clevermind is only available for the iPad at this time.
Price: $1.99
How many knots do you know how to tie? Different knots have been developed over time because they provide the best solution for specific situations. This app will help anyone, not just boaters, hikers, or campers be able to create a better knot. The step-by-step instructions are animated for better understanding and the app provides users with a history of the knot with detailed descriptions of its use. The list of knots is extensive and there is sharing available on Twitter, Facebook, and by email through the app.
Price: $4.99
What apps do you love to use that no one else seems to know about? Share your finds with us below!
(Visited 188 times, 1 visits today)