Ever since the iPhone 7 was announced, rumor mills have been all agog with bits and bytes about the iPhone 8. 2017 will mark the 10th anniversary of Apple's iconic phone and it is widely expected that the new model will undergo a radical design overhaul this year. What all features could the company's newest flagship phone have? Here is a list of all what we know right now:
An All-Glass Design To Replace The Aluminum Shell
According to sources within the company's supply chain, the iPhone 8 could sport an all-glass design, similar to the iPhone 4, replacing its current aluminum body. There will be two glass panes at the front and the back, while a metal (likely to be stainless steel) will hold them together.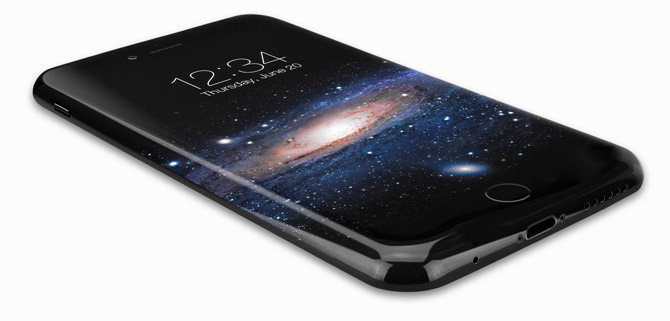 Meanwhile, some previous rumors have even suggested that Apple might be working on an all-glass design, sans any metal features. Why would Apple revert to a glass-based design instead of the metal unibody that it currently has?
A Digitimes report states that using a multi-part case design could cut down chassis-production costs for Apple by nearly 30-50%. The downside? The device will be more susceptible to damage when dropped and the backplate or screen could easily shatter on impact. The company would have to make sure that the chassis is extremely durable, else it would irk many fans. Hardly something to be expected from a 10th anniversary phone.
New Facial Recognition Technology Powered By Laser
The iPhone 8 will reportedly be equipped with another ground-breaking technology- a new facial recognition feature powered by laser sensor. The new feature seems to be in line with Apple's plan to foray deep into the field of virtual reality (VR). According to an investor note shared by financial services firm Cowen and Company, the company was working to include gesture or facial recognition using the front camera on its phone.
"Other features appear to include some form of facial/gesture recognition supported by a new laser sensor and an infrared sensor mounted near the front-facing camera and, as expected, should also finally include wireless charging," wrote Cowen and Company analyst Timothy Arcuri.
Other details from the research note state that the phone would have IP68 certifications. Apple's iPhone 7 with an IP67 rating can take immersion up to 1 meter for around 30 minutes, and the IP68 rating means the device will be able to stand immersion up to 1.5 metre for about the same time.
Also, there will be a new 5.8 inch iPhone (dubbed the 'iPhone 10' or 'iPhone X') in addition to the 4.7 inch and 5.5 inch models. This new phone will consist of a wraparound design and the Touch ID fingerprint sensor would be "integrated under the glass and in the active display area."
Foldable OLED Screen?
A major change to the iPhone 8 aesthetics will reportedly be the introduction of a curved screen that uses OLED technology. An OLED screen offers several benefits over the LCD that is currently used by Apple, such as more bright and vivid colors, sharper contrasts and blacks and lower power consumption. Will the new screen provide any significant advantage over competitors?
Nope. In fact, the visual technology will be quite similar to rival models, and the Samsung Galaxy S8 (which uses the same screen) will be available for sale in April- a good five months before the expected launch of the iPhone 8.
However, a new patent filed by Apple has revealed technology for phone that can be folded using a fabric housing and flexible display. Yet another rumor suggests that Apple may be working towards transparent screens to implement a new futuristic version of augmented reality. The user will just have to hold the phone up to a street and all the annotated data would appear, providing information about live shop sales, opening and close times of restaurants, major landmarks, navigation directions etc.
 Red Color To The Lineup
According to Japanese Apple blog Macotakara, the iPhone 8 will have a brand-new red color to its lineup. One should note that this blog correctly predicted that the headphone jack would be removed in the iPhone 7, so it is likely that we may very well see a splash of scarlet in the new range. However, the blog also stated that the iPhones in 2017 will be the upgraded versions of the iPhone7- the iPhone 7s and iPhone 7s Plus, which seems to be correct, given the previous trends followed by the company.
Might Have Wireless Charging?
Speculations are rife that any new model of the iPhone would have wireless charging in some form or the other. Some have also stated that the device would be able to charge through radio waves if it is within 15 feet of the transmitter. However, a new report by market analyst Copperfield Research suggests otherwise. According to Forbes' Gordon Kelly, the iPhone 8 would remain restricted to close range inductive charging-
'In a new report market analyst Copperfield Research states the much vaunted truly wireless charging expected in the iPhone 8 will not happen. Unlike current 'wireless' solutions that actually require contact with a charger, the iPhone 8 was said to be able to charge when sat within 15 feet from a charger – a genuinely revolutionary advancement.
…Of course the possibility remains that RF charging could reach future iPhones at some stage. But given Apple is famously reticent to switch power technologies (the Dock Connector lasted 11 years) changing core iPhone chassis materials for inductive charging just to swap to RF charging in a year or two seems highly unlikely.'   
(Visited 496 times, 1 visits today)