If you're bored of watching the Facebook status updated via iPhone, Nokia, YouTube, or other gadgets, web services and looking for something different which is interesting. We highly recommend you must check this article in which we're going to show how you can stretch the limits of technology to take advantage.
Almost every member of Facebook updates his/her status using mobile phone, PC, and whatever gadget, and web service users who provides this option. But what if you are able to update your Facebook status via iPhone 6, New iPad, Samsung Galaxy S4, Samsung Galaxy S5 and other devices which you don't have or which don't even released, and even if you don't have these devices. We're sure this is going to be funny
Before you start reading this article why don't you read the question below which can be answered after reading this post.
List of update Facebook status via different device ?
How to Make Facebook Status that say via iPhone 5s, 6?
How to Update Facebook Status from things I don't have?
Way to Update Facebook Status from funny names like Monkey, Toilet and more?
How to Update Facebook Status via Whatever you want?
So without wasting a single second why don't you continue reading ours which is dedicated to all Facebook users who want to fool people belongs to their friend list.
Let we have looked at one example first:

Above Facebook status showing that its submitted from iPhone 5, but it's not a reality. This status is updated using my PC with the help of an amazing web service called FbStatusVia.com
What is FbStatusvia.com
FbStatusVia.com is one of the best web apps using which you can update your Facebook status via all kinds of weird and wonderful places. Using this web app you can update your status Lumia 920, iPhone 4s, iPhone 5, Google Search, Google Plus, Gangnam Style, MTV, Nintendo 64, Playstation3, Samsung Galaxy Note, Samsung Galaxy S2, Samsung Galaxy S3, Xbox 360, Window 8 and more.
How to Update Facebook Status using FbStatusVia.com
1. First of all visit FbStatusVia
2. After that choose and click the gadget, OS or place from where you want to update the status.
3. When you do so it will redirect you to pop up window show below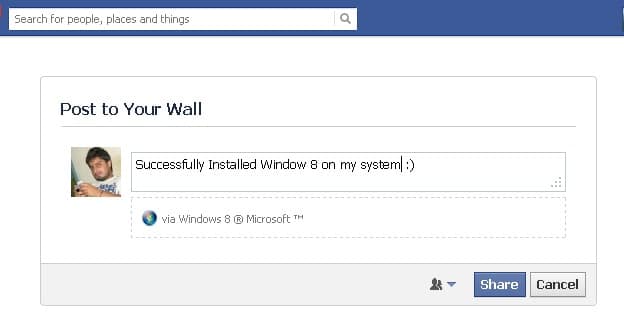 4. And add text in that window, which you want to update as status and click share
Congratulation you have successfully updated your status via Window 8. So have fun and fool your friend. Also don't forget to share your feedback with us. Whether you like this app or not ?
(Visited 470 times, 1 visits today)