If you're the one suffering from the battery draining issue on your Android phone and looking for ways to increase and improve android battery life, then you must read this article.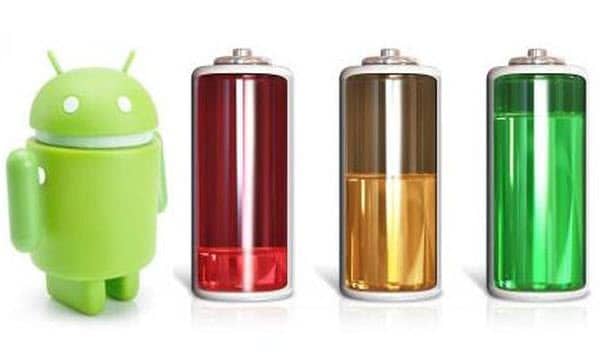 We all know that android mobile are smart mobile devices which are literally more portable than netbooks or laptops. But the fact is that their power requirement is very low in comparison to the mini. Due to high usage of inbuilt feature of these Smartphone the battery drains quickly in comparison to feature phones
But if you try to use in moderation or trying some energy saving tweak , any android mobile and tablet battery life can be extended. Now the question is that it can be done? Here in this article I'm going to share with you answer to question i.e. How to Increase and improve android battery life of mobile & tablet. So with any further ado, lets we start with first tweak i.e.
1. Fully Cycle Charge
Make sure to charge the battery of android device once a month just to maintain efficiency of the battery. Charge your battery only when your device left with minimum 20% battery. Also keep in mind that all this must be followed without any pause.
2. Suitable Temperature
Keep in mind that the best temperature for charging battery must be in between 0-45 degree. Too low and high temperature can also harm your battery. Also, try to protect your Android device to come in direct contact of sun rays and any source of high temperature.
3. Breathe Freely
Try to take off the android cases and cover while charging your device. If not, then chances are that it will generate lots of heat which is not good for your Android device.
4. Disable
Wi

-Fi

WI-Fi is one of convenient features of every Smartphone, but if consumed lots of power in comparison to 3G network. Only use this feature when needed otherwise disable it. Just by doing this simple tweak you can save lots of batteries.
5. Mobile Data
3G and 4G network consume lots of power in comparison to 2G network. So enable 3G or 4G only when you're using your data, otherwise keep it off.
6. Disable Auto Sync
For background data, the Auto Sync feature is used for Google real time synchronization such as Gmail, Google Contacts, etc. So try to disable this feature if not needed by you.
7. Disable Bluetooth
Like WI-Fi, Bluetooth also consume lots of power and specially headset connected via Bluetooth. So if you're not this feature, please turn off your Bluetooth.
8. Short Screen Timeout
You can conserve lots of batteries just by reducing the screen timeout . If possible try to make it one min or shorter.
9. Adjust Brightness
More the brightness more power will be consumed by your Android device. If possible, make sure to use your device on less brightness.
10. Disable Apps in Background
The app runs in the background also consumes lots of energy silently. So keep that in mind that no app is running in the background.
11. Disable Auto Update Feature
Most of android apps provide you an auto update option which updates your apps whenever a new update is available, but this process also eats up lots of power silently. So make sure uncheck this option and update app manually.
12. Close Mobile Vibration
The vibration feature consumes lots of battery power, if possible try to use this feature only when it's necessary and you don't want to disturb other people surround you from your ringtones and notification tones.
13. Use Power Control Widget
Every android device comes with this power control widget, if it's already in your homescreen, then its ok. Otherwise long press on your desktop and select the widget and scroll till you didn't get the power control widget.
14. Remove Unnecessary Homescreen Widget
Homescreen widgets also eat up lots of battery power, so make sure to use only those widgets which are necessary.
15. Disable GPS
GPS consumes lots of battery power just like wi–fi and 3G or 4G network. If you're not using this feature to make sure to disable this feature.
16. Use Facebook & Twitter If needed
Some social sites like twitter, Facebook, Google Plus and many other consume lots of battery life, So if necessary try to avoid these sites if you're traveling and you don't have any spare battery and source to charge your Android device.
17. Enable Airplane Mode
If you're travelling try to put your android device on Airplane mode to conserve some battery.
18. Use power saving apps
You can use android apps which are specially designed to help user in lower battery consumption and squeeze more power out of their devices' batteries.
19. Ad-Free Apps and Games
Try to install ad-free apps and games or the premium app just to conserve battery of your device. Because according to some survey its proved that free apps consume lots of power due to ads running on it.
20. Wallpapers and themes
Try to avoid live wallpapers and dark themes, because these both can also take a toll on your device's battery life
21. Root your Android Device
There are lots of drawbacks of Rooting your Android device. But it also has one attractive advantage i.e. It improves your android device's battery life.
Note: These are just suggestions, whether you want to apply these on your device or not its upto. Also if you tried this on your device. Don't forget to share with me that whether this tip really helps you in Increasing and Improving your device battery life or not. Also if you any other tip which I forget to share shoot it in the comment section.
(Visited 248 times, 1 visits today)