If you have a desire to learn guitar, but don't have money. Don't upset because, We all know that there are lots website to learn guitar online for free, but what if you are able to learn it just by using your android mobile, Yea you have to pay but not much. In this article I'm  going to share with you some of best Android App learn to play a guitar.
The guitar is one of the best music instrument which is used by almost 60-70 percent humans to produce beautiful music. But this instrument is not so easy to play and need lots of hard work to become pro in playing guitar. And if you are like me who love to play guitar and planning to learn how to play Guitar but don't have enough time to go for the classes due to busy schedule. Not to worry because we compiled some of the best Android apps which will surely help you to learn to play a guitar whenever you want and wherever you go.
Without further ado, why don't you check the first app: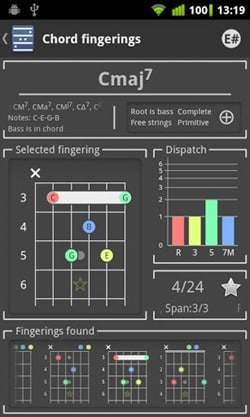 Chord is mainly a guitar (or any fretted instrument) chord finder android app for guitarists which is known for its ultimate chord charts book you'll need!. It also it generates itself chords diagrams, so it supports any chord (even slash ones like D/F#) in any tuning, with any number of strings (guitar, banjo, ukulele, bass, mandolin, etc. ).
Price: 3.07 USD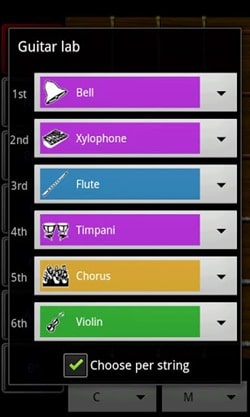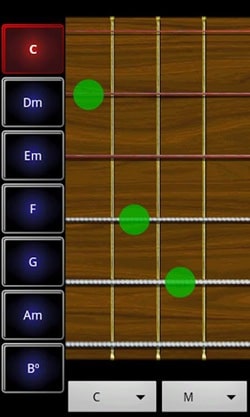 Robotic Guitarist is a virtual guitar for your device. This application will be useful both for those that already play the guitar and learners, and even if you can't play but want to get some fun or experiment with its sounds. Robotic guitarist is Guitar emulator + Chord guide + Tuner + Metronome. It also has a free version with name Robotic Guitarist Free.
Price: Approx 2.00 USD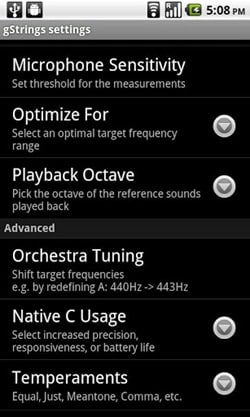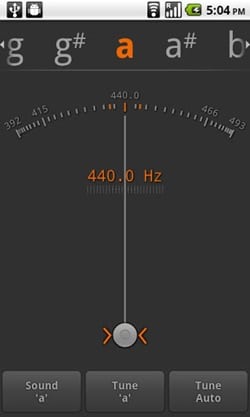 gStrings is a chromatic tuner for the guitar, violin, or any other instrument. Using which you can measure sound pitch and intensity. It will let you tune any musical instrument (violin, viola, violoncello, bass, guitar, piano, wind instruments). It also has a free version with name Tuner – gStrings Free
Price: Approx 3.08 USD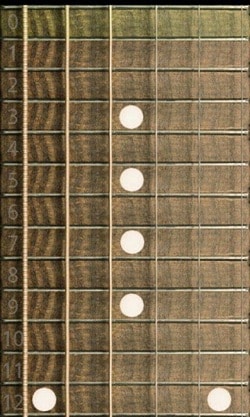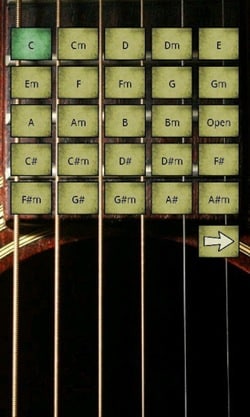 Virtual Guitar is an amazing guitar app for both beginners and professional players. This app will convert your Smartphone into guitar wherever you are and whenever you want means if you have your phone, you have a guitar. Using this android app you will get Realistic sound, big chord library, multi touch. It also has two mode solo mode, touch the string on the selected fret to get sound and chord mode to play a song and you have chords.
Price: Free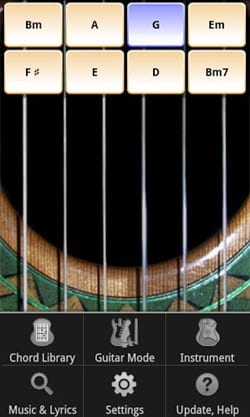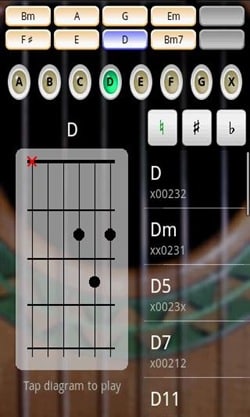 Solo is another virtual guitar for your Android Smartphone using which you play with your favorite songs, or create some of your own. Some of the features of this android app are listed below:
Classical guitar, acoustic guitar and electric guitars, each with authentic sound

A huge chord library with chord diagrams – hear and see how each chord is played.

Get chord and lyric overlays from the web – excellent for teaching yourself new songs to play
And lots more which you are going to observe when you give try to this android app. It also has a free version with name Guitar: Solo Lite.
Price: 3.09 USD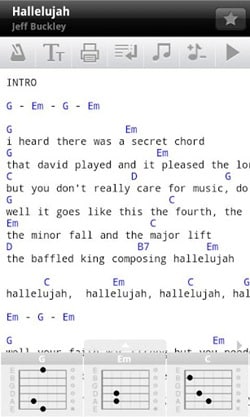 An easy and convenient application for viewing guitar Tablatures on your phone. Using this app you can browse the collection of over 400,000 Tabs and then learns or practice your favorite songs wherever you are. The Tab Tools feature is a must-have extension to Ultimate-Guitar Tabs that adds key features, making it easier to read tabs. Available in-app for $1.99. And if you want to add more 150,000 interactive Tabs then you might love to use Tab Pro is an add-on to Ultimate Guitar Tabs Available in-app for $3.99.
Price: Approx 3.03 USD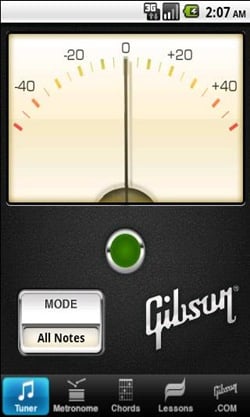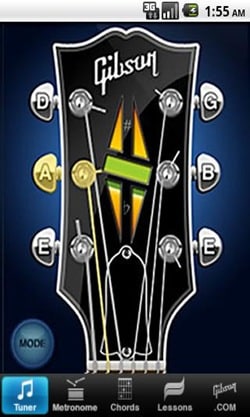 Gibson Learn & Master Guitar a multi-purpose and fully interactive guitar application featuring a Standard and Traditional Chromatic Tuner, Metronome, Chord Chart, Lessons from Gibson's Learn & Master Guitar, and much more.
Price: Free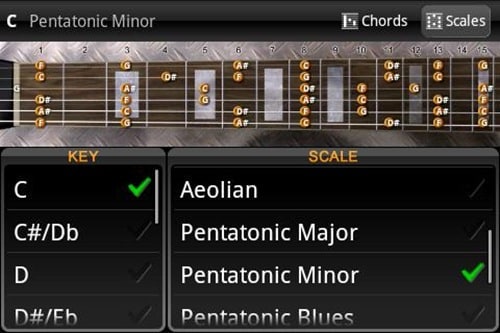 JamBox Light is an amazing android app which known well for comprehensive chord and scale app for guitarists. This app displays and plays current chords in most popular variation. JamBox Light can be used by right- and left-handed guitarists. Some of the key features of this app are listed below:
Chord Modes: 22 (

databased

)

Scales: 13

Dynamic scale calculation
Price: Free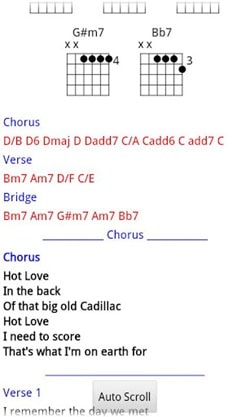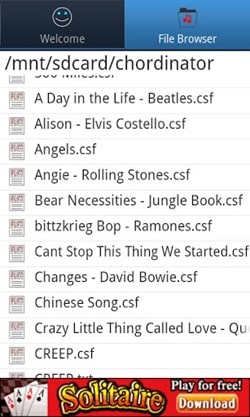 It's an amazing app to learn the guitar using your Android Smartphone. Using this app you can view, organize, edit, share and transpose chords/tab sheets. The Chordinator supports ordinary text files as well as the popular ChordPro/chopro song format.
Price: Free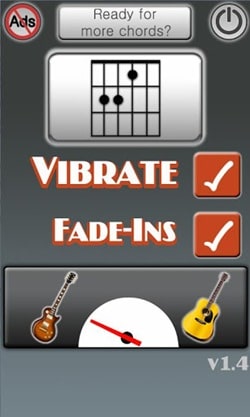 Another cool app which shows you how to play the most used chords for the guitar. Perfect app which suited for beginners and intermediates. You can play back the chords to make sure you're playing them right. Not only this you can even choose between Electric and Acoustic guitar sounds.
Price: Free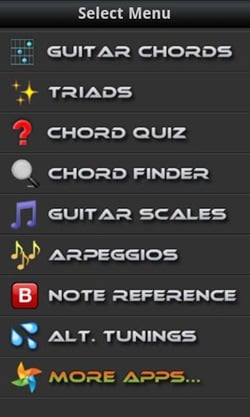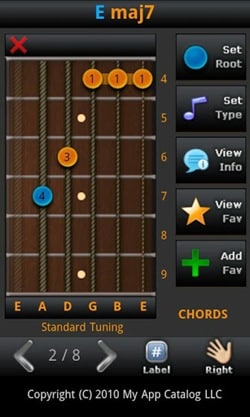 This handy app includes over 3000 of the most commonly used guitar chords. For me this is ALL-IN-ONE Package which work as Guitar Chords, Scales, Triads, Arpeggios, Notes On The Fretboard, Reverse Chord Finder Tool, Chord Quiz, Alternate Guitar Tunings and Chord Scale Relationships.
Price: 3.99 USD
So these are 11 best Android Apps which help you learn to play a guitar. But if you feel that, we missed any good name then feel free to share with us.
(Visited 2,504 times, 1 visits today)