Constantly reviewing tech gear has got us a little too skeptical. We admit that we have become really hard to please. We've seen enough and now a gadget needs to be really cool or we lose interest instantly! We've been researching like maniacs for some quality mobile spy app that could really offer a complete package. Of the 46 mobile spy apps, we found an app that came closest to what we had in our minds.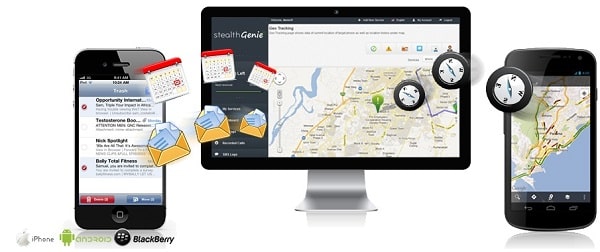 The spy apps that we failed
Our frustration peaked with each passing day and it was getting hard to keep our interest intact in mobile spy software. Some spy apps would do remarkably well in monitoring, but would fail downright when it came to innovative features. While some spy apps were compatible with all Smartphone platforms, but would suck at features.
Our romance with StealthGenie that wasn't short-lived
We admit we were a little biased towards StealthGenie. With so much hype and a fancy media presence, we thought that it could be all but fake. So we gave it a chance pretty late. May be we wouldn't have been so excited if we hadn't imagined to be just another mobile spy app. But we're really impressed. This mobile tracker's got a personality; that was what we thought the first thing. It's got a clean interface and the features are pretty responsive. We had no issues installing the app in 5 different phones- Samsung SIII, iPhone 5, LG Optimus, iPhone 4S and BlackBerry Curve.
Features and compatibility
Although StealthGenie, too, has all the features that you'd find in other spy apps like:
SMS and phone logs
Location tracking
Multimedia file monitoring
We browser logs
Call recordings and contacts, monitoring
But the real fun begins with the features that only StealthGenie offers. We're in love with the Geo-fencing feature. This feature lets the user define as many areas and location as a user wants as safe and unsafe zones. Each time the target phone user enters or leaves those places, the user gets instant alerts!
We particularly liked the trigger alert feature that lets the user define words r contacts as suspicious and receive alerts when target phone user uses those words or contacts those numbers. These features are pretty thoughtful and work quite smoothly too.
Pricing
When it comes to pricing, StealthGenie gives a choice to its users: you could go for their Basic, Gold and Platinum packages that each cost $8, 13 and 16 respectively. While the Basic package is quite limited in terms of features, but it will still let the users have a fair idea about the target phone data.
Our prediction for StealthGenie
After an all-out review and testing this cell spy software, we think that StealthGenie makers have done a fine job. It's giving other mobile spy apps a tough competition, but with the exclusive features, StealthGenie can really redefine child and employee monitoring! Definitely worth a try!
(Visited 184 times, 1 visits today)