Today's opinon piece is dedicated to those android users who're looking for an answer to the question i.e. What is a Best Android App to Make Free Video Calls? And if you're the who want to utilize the video calling power of your Android mobile, then I recommend you to check this page.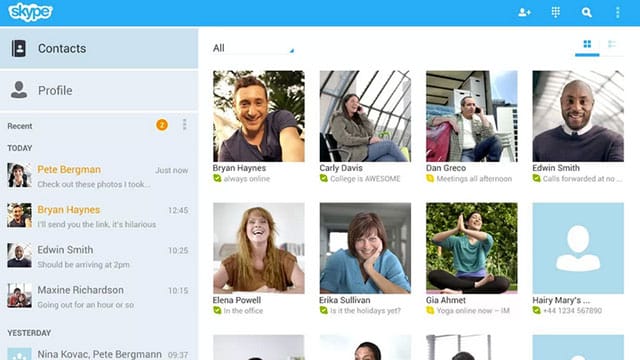 With the advance of technology mobile data network service is refined and getting faster day by day, and all credit goes to 3G & 4G technologies. Now you can take advantage of this fast data service in many ways and one out of them is video calling feature of smartphone. Most of latest smartphone has a front camera and the probability is that almost all of your friend or business associates is using Android device.
We all know that Android device has made life very simple and easier. Due to its combined flexibility and reliability of mobile communitcation, Android platform is counted as one of the best for video calling buffs. Indeed you can make face-call to your friends, your family and loved ones whenver you want just by making few clicks, all you need is Android application.
In today's article We Intend to share with you some best Android App to make free video calls without spending a dime,
One of the best application to make free Skype-to-Skype video calls, and call phones at Skype rates on the move. Not only this you can make free voice and video calls to anyone else on Skype, whether they're on an Android, iPhone, Mac or PC, as well as IMs to your friends and family.
Tango is the only video calling app that lets you personalize your video calls using Tango Surprises – fun animations that help you express yourself, entertain your kids, or celebrate any occasion. Use this application to Make Free Video Calls, Phone Calls, and send Free Video Messages.
Another awesome application using which you can make free 6-way group video calls. Using this video chat app for Android you can make a video call your ooVoo friends that are on Android, iPhone, PC and Mac. Make video calls over 3G, 4G, and Wifi for FREE.
Official Yahoo Messenger app for Android is cool option to make free video calls, all you need to do is just install Video Plug-in to enable the call features. Using this app you can also Chat with Facebook friends, make free international SMS, Share Photos & Video and Chat with Windows Live friends.
Fring is counted as one of the best Android app to make free voice/video calls and group calls with best video and audio quality. You can use this app just like regular calling, but for free and with group video if you prefer to see your friends from wherever you are. You can also saving money on calls to landlines and mobile phones anywhere in the world with fringOut.
WeChat is counted as one of the best alernative to WhatsApp with 300 million users, but feature which make this app on the top of WhatsApp is Video Calling. Using this app you can also make crystal clear voice and video calls fast, reliable, and private.
With this app you can make free video chat, video mail and video share with your friend. All you need to do is download the app today and start streaming live videos with friends and family around the world.
With this app you can meet new people through livegroup video chat. Sing live karaoke, listen to music, join a lively political debate or play group trivia – choose from thousands of live chat rooms. Join our vibrant community with millions of members around the world.
Another better option using which you can make high quality video and voice calls over Wi-Fi or 3G to your Facebook friends and groups. Better yet, these calls are FREE worldwide. You can also share your visual experiences with your friends.
One of the trending android app using which you can make free video calls, and call phones to all your Facebook friends. When you using this app for first time you need to login with your Facebook and after that you can enjoy unlimited video call with your friend who's using Android, Windows, Mac, iPhone and even IM as well.
So these are some of the best Android app which think are best to make free video calls. So you must give try to these app and let us know which one you liked the most. Also you can share with us the app which you already using on your any smartphone.
(Visited 431 times, 1 visits today)