In a previous article we shared with your best hidden features of Samsung Galaxy S3 and in today's article we're going to share with you some of the hidden features of Whatsapp for Smartphone.
The Whatsapp is one of the best messenger apps for Smartphone which is liked by millions of users who want to send text messages for free. But that doesn't mean that this app is only limited to typing messages and sending it to your loved ones. There are lots of amazing inbuilt features in this application using which you can make your chat more interesting.
So here in this article we're going to share with you the best hidden features which you can use in Whatsapp messenger while chatting with your friends. Basically the features which I'm going to share are only available for Whatsapp for android. While the other features can be enjoyed across all the platform on which you can run this app. You might also love to read about:
So lets we start with our first feature
1. Broadcast a WhatsApp message to many contacts
Suppose you have very less time and you have to send single text message to more than one contact, Broadcast a message in whatsapp is the easiest and best way to follow. To send a broadcast message
Open the app.

Go to the chat page.

Press the menu button.

Scroll down to and select "Broadcast Message…".

Start typing contacts' names to choose contacts to message.

Enter the message that you wish to send.

Click "Send".
2. Change your Whatsapp Status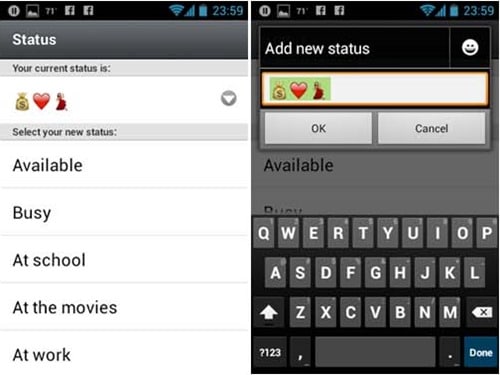 In Whatsapp you're also able to change status and show them that what are you doing right now, how's your mood,

or

or warn people why you're not replying to their messages. This status message will be appeared next to your name, where you appear in people friends lists. To change or update a new status
For Android, Go to the Chats screen, tap the

[Menu Button]

, and select Status.

Then, choose from the list of preset messages or write your own by tapping the text displayed under "Your current status is: ""
You can check this page to know how you can change whatsapp status in different devices.
3.

Send

much more than just text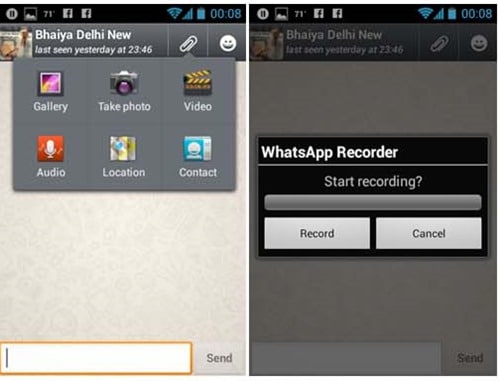 Using this app don't get limited to just sending text messages, as you also have the advantage of sending various options that this application has such as pictures, videos, sound clips, addresses, and even contacts. To share media
First of all go to chat window of friend with whom you're going to share media

After that tap on the icon on the right side of the sender name.

After that pop will open choose the media type, select and hit send
4. Choose and edit Whatsapp profile pictures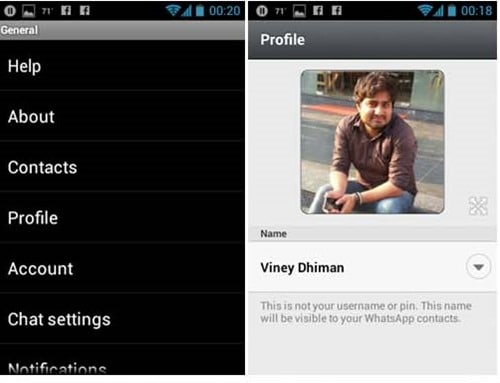 You can also set your Whatsapp profile picture which is your friend are going to see and to set a profile picture, click on the menu button. After that setting, then choose the photo you want to set as a profile picture. Also if you want to change the existing one, delete the previous one and upload new one using gallery or camera.
5. Create shortcuts to WhatsApp conversations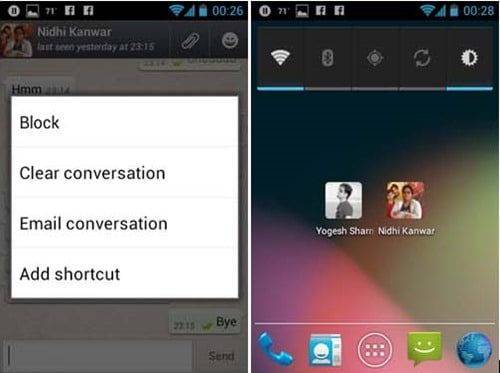 If you're addicted to Whatsapp and use this app at an interval of every 5-10 minutes, then might be you're fed up of launching this app again and again. But in android version of Whatsapp, you're able to create a shortcut to conversations that appears on homescreen. The advantage is now you don't have to launch this application again and again to pick up on conversation. To create a shortcut
To set this up, choose 'More' in the

chat

menu

Now tap the 'Add conversation shortcut' option.
6. Use the Enter key to send WhatsApp messages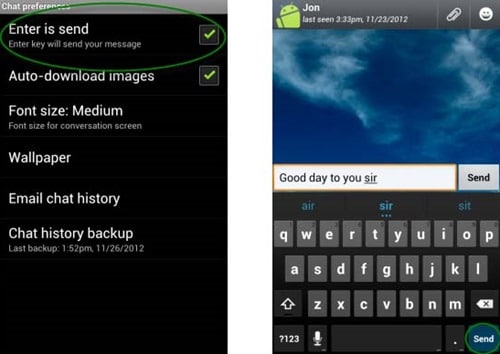 With the help of this feature you're able to use the Enter key on the Android virtual keyboard to send messages instead of having to press the send button in Whatsapp. To enable this feature
Go to setting and after that click on chat setting

After that, check "Enter is Send"
7. Make Backup of Whatsapp Conversation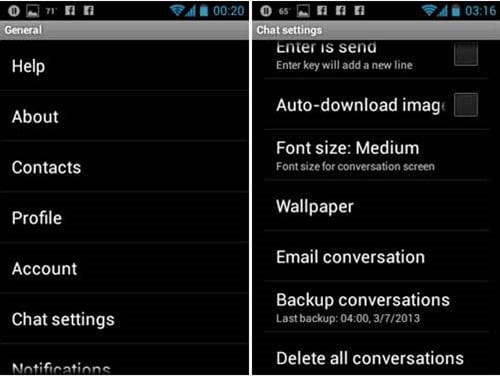 If you feel that some of the conversation which you made on Whatsapp are very valuable and important and you don't want to lose a single word from those conversations. Then not to worry Whatsapp also have a solution for you i.e. Make "backup of Whatsapp conversation". To make a backup
Go to the Settings menu, choose 'Chat preferences'

Then click on the Chat history backup option.
8. Save Photo's you've received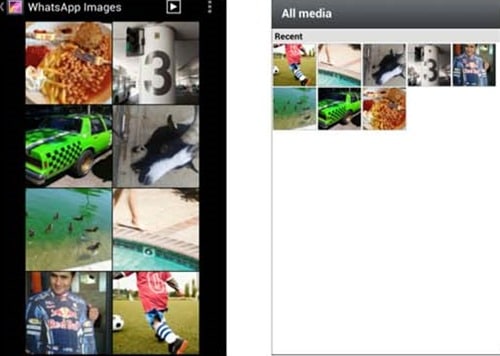 The images and videos which you share with your friends remain saved on your device. You can find all of them by navigating to the WhatsApp\media\WhatsApp Images folder. Or you can also find all of them in the gallery, the advantage is that you can reshare all those images on Facebook and other media. You can also apply them as a profile picture, contact image and so on. If you are using Whatsapp on your android, then you can check all shared media just by clicking on the media button in chat menu.
9. Change the WhatsApp

chat

wallpaper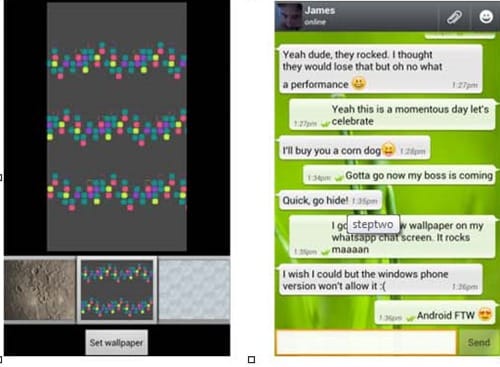 While using this amazing app you also have the option to change the background, if you are feeling bored. That means no more staring at those old backgrounds on Whatsapp. You can choose the background to appear in this window by going to wallpaper option in chat menu. And if you feel that default backgrounds are not your cup of tea, then you also have the option to add any image as background which is in your Android device.
In iOS, choose Conversation setting in setting menu and tap chat wallpaper before choosing the image which you want to apply.
10. Send WhatsApp conversation history to anyone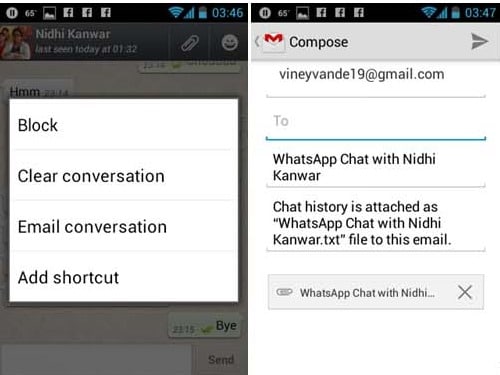 If you want to share the conversation history with any of your friend, not a big problem because you can share it via email. To send that what you need to do is
Click on the Menu option in a conversation (it's on the bottom-right of the screen)

Now go to 'More' and select 'Email Conversation', before entering the address of the recipient.

Now Whatsapp will create an email with the whole text conversation, including any pictures, voice or video clips.
So these are 10 of the best hidden features of Whatsapp for Smartphone which I found to be useful, but if you feel that I forget to add any good one feel free to share with us
(Visited 9,671 times, 1 visits today)