If you are looking for a way to play Windows games on Mac, then this article is your cup of tea. As in this article we're going to share with you different ways using which you can play Windows based game on your Mac just by doing a little hard work.
Mac may be the best OS in comparison to Windows, but if it comes to gaming, most of the games don't support Mac OS X. There are lots of reasons behind this including less customizable hardware and mid-level integrated graphics. But not to worry anymore, because there are different ways to make that thing happen, all you need is a selection of good software which are out there to help you.
Below you're going to read about different software to play any Windows bases game on your Mac OS. So that it's become easier for you to choose the best one according to your need. Lets we start with
1. Play Windows games on a Mac with Boot Camp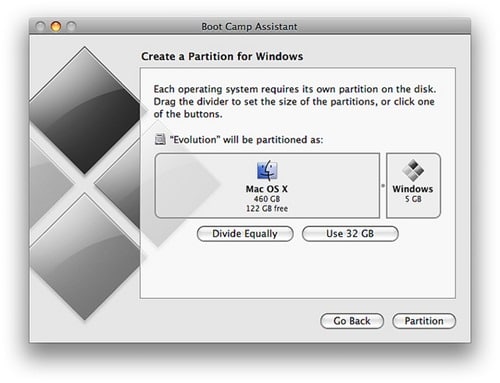 Apple visualization solution is one of the best and simple way to play games on your Mac. All you need to do is install a Boot camp and Windows onto your machine. Now running a startup through Windows you're able to start your gaming. This method is count as one of the best choice because you don't have to face performance issues that come with emulators.
2. Play Windows games on a Mac with Wine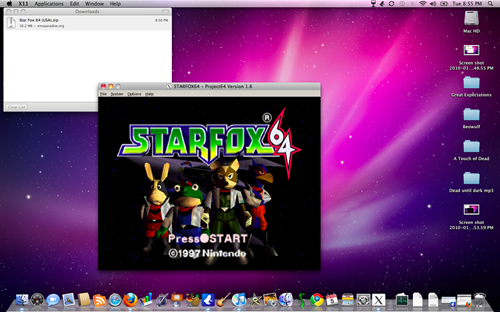 If you feel the above method to be tedious because it need a reboot to switch between OS X and Windows environment, then you might like Wine. Wine is a free, open source software and best alternative to CrossOver which might save some of your $$$. Use this amazing software is in beta and you will not get a flawless functionality but still this amazing product generating lots of heat among users online.
Using Wine you are able to access the Windows content on your Mac by creating separate prefixes for each application. Basically its not an application, the software using which your computer is able to run a program which it can't able to do. One of the best things about this tool is, that you won't feel any performance drop
3. Play Windows games on a Mac with CrossOver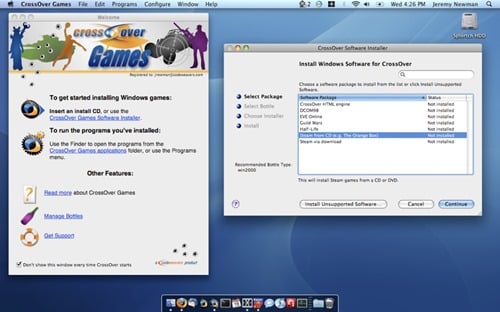 CrossOver is an amazing application using which allows you to install many popular Windows applications and PC games on your Mac. It's easy, affordable, and best of all, there's no Windows license required. Your Windows applications and games integrate seamlessly on your computer. Basically its a paid version of Wine and serves as an alternative with lots of amazing features and product upgrade.
As the installation process will take a little longer and if you are confused whether your desired application going to run well or not. You can try "whats run" feature of this application, as using this tool I found that this application has a good selection of popular games.
4. Play Windows games on a Mac with Parallels Desktop 8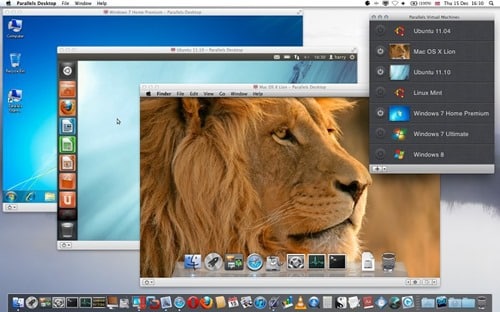 Parallels Desktop for Mac is the most tested, trusted and talked-about solution for running Windows applications on your Mac without rebooting. Using this application you can seamlessly run both Windows and Mac OS X applications side-by-side with speed, control and confidence. Setting up parallel desktop for Mac is very easy with this software which bring all your PC program, photos, document, music and much more to your Mac.
Using this app means you have best of both worlds on one desktop, but it requires a Windows license to function.
5. Play Windows games on a Mac with VMware Fusion 5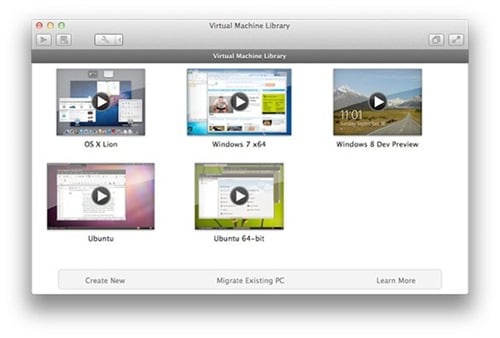 VMware Fusion 5 another cool software for home users who are looking for the easiest, fastest and most reliable way to run Windows programs on a Mac. Run your favorite Windows programs alongside Mac applications without rebooting. Whether you want to run Windows XP, Windows Vista, Windows 7 or Windows 8 on a Mac.
Also there are option like unity view and single window mode, simply choose this option, and you won't see any of the Windows task bars or icons. It will look like a regular Mac OS but no doubt Windows working undercover too.
So these best software to play Windows Game for Mac OS X. Let us know what game you got to run this way in the comments.
(Visited 959 times, 1 visits today)