If you're looking for some of the best apps for Windows 8, then don't miss to read this article because in this article we intend to share with you a list of best Windows 8 apps which you definitely love to use.
Windows 8 is the latest operating system released by Microsoft's with lots of amazing features for Desktop and Tablet together. Also you can make your Windows experience more interesting by using some good apps. But finding these application over the web is always a challenge, as Windows Marketplace has thousand of apps distracting your attention.
But I guarantee after reading this opinion piece there will be no doubt in your mind regarding best applications for Windows 8. So if you really don't want to waste your precious time exploring the Windows app store. Give a try to application which we have mentioned below, lets we start with:
Note: I' m not adding any Games for Windows 8 in this list. We will cover a separate article for that. Also article will update every week so keep coming for check new names.
Cloud Storage Apps for Windows 8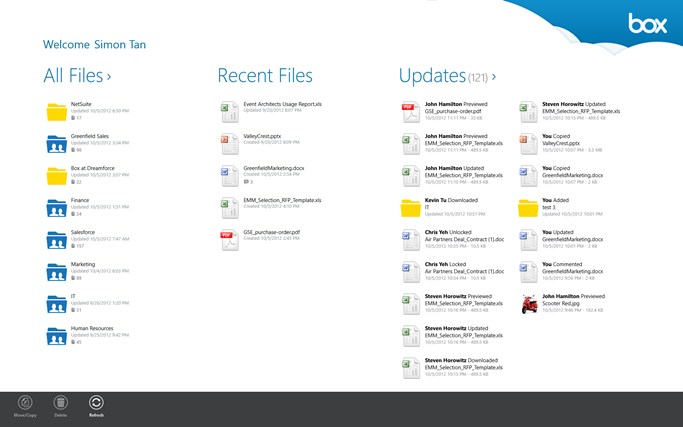 1. Box
It's one of the best cloud storage for business consumers which offering you 5GB of free space
2. Sky Drive
Cloud Storage service by Microsoft's using which you can use, store and share files with friends and access through other system
3. Dropbox
Official Dropbox app for Windows 8 which help you can browse all your files, view your pictures, and watch your videos with a tap!
This service convert your desktop computer, tablet, laptop and mobile device to infinite storage device
Food & Drink Apps for Windows 8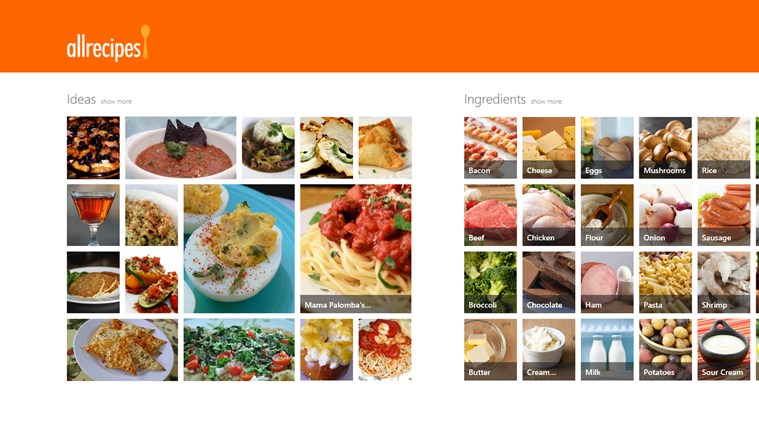 1. Allrecipes
From this app you can get fresh recipe ideas out of over 40,000 recipes
Best Cooking companion application which provide you restaurant-quality meals at home fun, fast, and easy.
3. Recipe House
With this application you can create your own cook book and share it with your friend using social media.
If you're not a real cook use this application because it show you what is correct temperature and cooking time for particular dish.
5. FOODmag
Another cool cooking application featuring hundred of tried and tested recipes from FOOD magazine, the Philippines' largest selling culinary magazine.
6. Cookbook
Cookbook featuring more than 300,000 delicious recipes from a range of sources such as BigOven, Marmiton and aufeminin.
With this application you can browse, find and discover cocktails with a continuously growing collection of drinks.
Image & Photo Editor Apps for Windows 8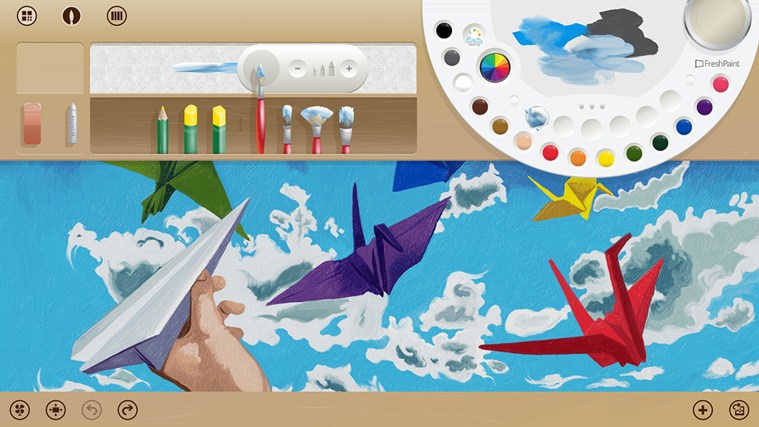 1. Fhotoroom
Amazing photo editor and photo sharing application for Windows u featuring cool styles, frames, filters and light leaks.
2. Fresh Paint
Realistic painting application which includes oil paint and every tools you need to paint.
3. Perfect365
With this application you can apply a natural touch-up or a sizzling makeover with great result.
4. Gallery HD
Gallery HD allow you view and browse your photos and videos from any network, local folder and SD Card. You can also make beautiful slidshow
5. Fotor
All in one photo editing application which offer lots of tool such as standard editing, frames, tilt shift, collage option, visual effects and more.
6. Picasa Albums ($1.99)
The best solution to browse Picasa albums on Windows 8 and fully optimized for touch. You can also pin photos and album to the start screen.
7. Skitch Touch
With this application you can communicate visually with your friends. You can annotate images with arrows, shapes, text, and more.
Fun and intuitive drawing application Autodesk SketchBook Express with with lots of amazing features.
With this application you can check news stories through high-quality photographs from around the world.
10. Multimedia 8
This allows you to access network media, load subtitles, convert media files, play 3D video, capture from external devices and much more
This app will allow you to explore this mathematical object and discover some of the most mind-blowing patterns of nature
Music Player Apps for Windows 8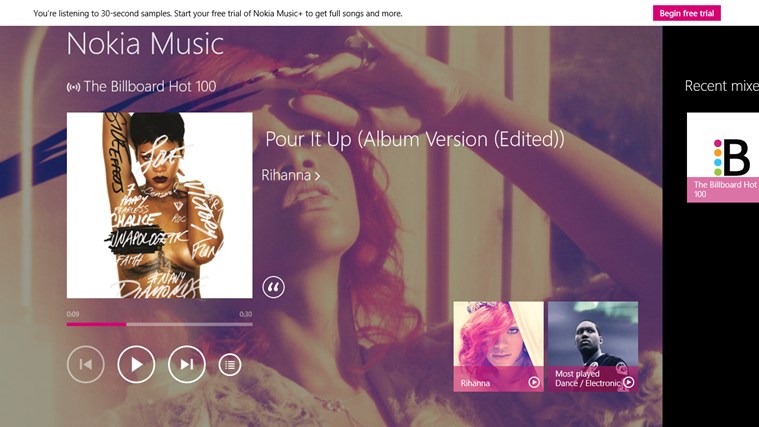 Amazing internet radio which is created by people has more than 700,000 online Mixtapes for any mood.
2. Nokia Music
Its Nokia Music app for Windows 8 where you can listen music in any genre which is based on favorite track you specify.
3. TuneIn Radio
TuneIn radio provides you over 60,000 radio station and 2 million on-demand programs using which you can listen to music, sports, and news from every corner of the earth.
With this music store you can buy, download, sync and listen to your music from over 24 milion high quality tracks.
5. Shazam
Music discovery service for Windows 8 with the help of which you can discover music with help of computer microphone, also you can buy and share tracks.
6. MusicTube
Amazing YouTube music video player to watch free music videos in HD for free. This service is powered by YouTube and Last.fm
7. iHeart Radio
Free digital internet radio service which lets you stream more than 1,500 live radio stations.
Productivity Apps for Windows 8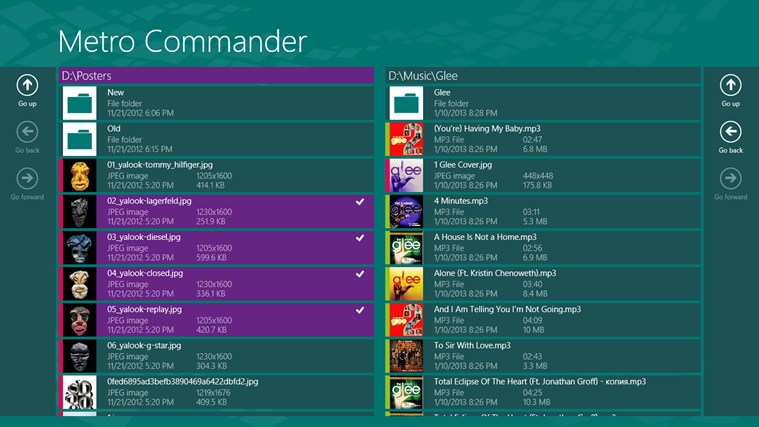 1. OneNote
With this service make notes, lists, draw & write, take picture and lot more just with all in one productivity app for Windows 8
Using Evernote Touch you can remember everything across the device. You can create note on Windows 8 tablet and access it from your smartphone.
With this application you can an connect to a remote PC and your work resources from almost anywhere
Its an official Teamviewer application for Windows 8 that help you to control any remote computer within seconds
5. PDF Touch
Best PDF reader using which you can read and annotate PDF documents just like using pen and paper.
Cool file manager which allows you to manage your files and folders from easy to use interface.
7. Start8
Application that gets back start menu which is missing in Windows 8
If you're new try this application as this teach the keys and other tips that allow users to get around quickly in Windows 8.
App player which let you play any mobile application on Windows 8
Book and Reading Apps for Windows 8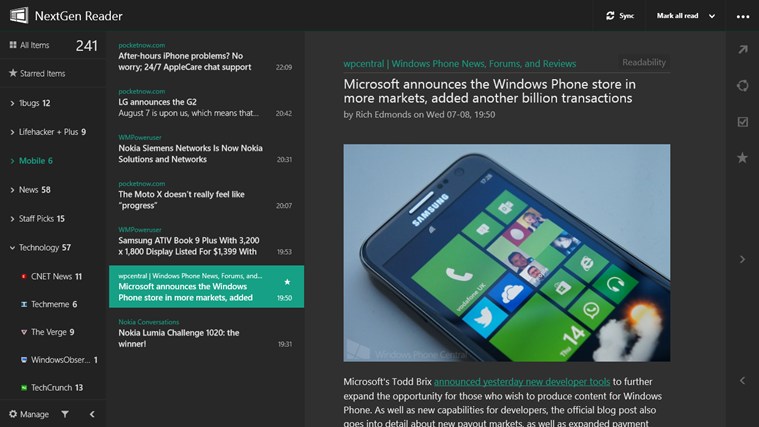 1. Kindle
An official Kindle application for Windows that give you access to over 1 million books.
2. Nook
Its Kindle competitor which gives access to 3 million NOOK books, including 1 million free books.
3. Wikipedia
Its official Wipedia application which is specially designed and optimized for Windows 8
4. Pulse New
Pulse News bring all your favorite blogs, magazines, social networks and newspapers in one place
5. Nextgen Reader (2.99)
Its designed just like Google Reader and offer support to many RSS readers.
6. for later
Using this tool you can save some best tool to read them later. Also if you're busy you can also sync link to other device.
7. Comics
If you love reading comics and graphics Novels from from Marvel, DC, Image, IDW, Dynamite and others, then use Comics apps on Windows 8 as it has 30,000 ready for you.
Get access from thousand of ebook from open source libraries.
9. New Bento
The most fluid and beautiful news reader on Windows 8
Its official Adobe reader application for Windows 8 which gives you a great experience working with PDF documents
11. Magna Flow (2.99)
This app is designed for Surface Pro and Surface RT which offers you more than 50,00o magna stories to read offline.
12. Khan Academy
Khan Academy allows you to learn almost anything for free. This including K-12 math, science topics such as biology, chemistry, and physics, and even the humanities.
Shopping Apps for Windows 8
1. eBay
With eBay you can create, edit, and finish listings within the eBay Windows 8 app.
2. Amazon
The official Amazon application lets you quickly make purchases, search, compare and lots more from your Windows 8.
3. Craiglist+
Craigslist+ for Windows 8 is the best classified ads app available in the store.
Social Networking and Communication Apps for Windows 8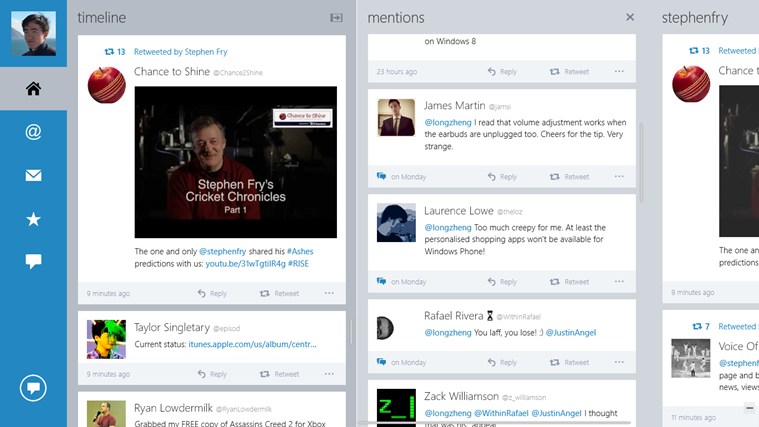 1. RedditToGo
Its an reddit application for Windows 8 which show you the front page of reddit and other subreddits.
Its best reddit reader alternative with lots of amazing features specially optimized for this OS
3. Twitter
Access twitter right from your Windows Screen, with this tool you can find trends and follow suggestions
4. MetroTwit
Simple and easy to use client which show you everything you need while using twitter.
5. Skype
Make free video calls with one of the most popular application i.e. Skype
6 .StumbleUpon
Add, Discover and share interesting photo videos and web pages straight from your system.
7. IM+
Featuring all popular Instant messengers such as Windows Live Messenger, Facebook, Skype chats, Google Talk and many more.
8. Cowlick!
Another twitter client which gives access to unlimited Twitter accounts.
Simple and easy to use Official Facebook application which is specially optimized for Windows 8
Utilities Apps for Windows 8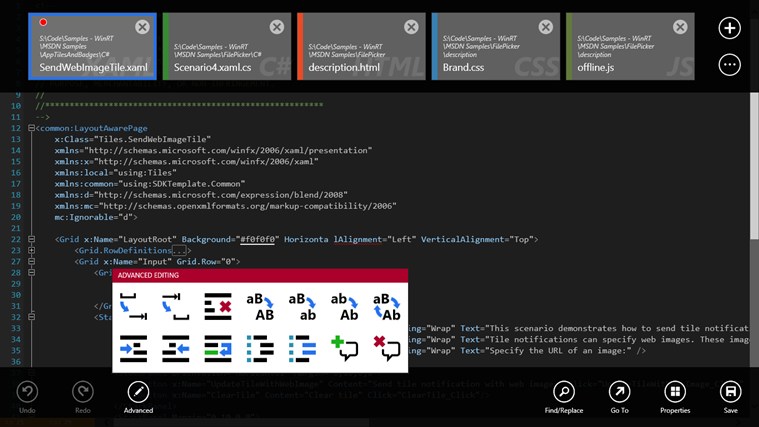 Its all in one tool using which you can interact with 6 tools at a same time i.e. Web Browser Calculator, Unit Converter, Facebook,Voice Notes and more.
2. File Brick
With this you can access cloud storage and let you explore your files more easily while providing full functions of a file manager.
Its converter application for Windows which help you to convert 140+ units across 16 categories.
Professional Calculator for Windows 8 to replace your pocket calculator, also its featuring 10 inbuilt powerful calculators.
5. Code Writer
Best text and code editor which let you edit HTM, CSS, JavaScript, XML and other languages.
Windows 8 comes with Bing Search but you can also add Google Search just like Bing.
7. LastPass
With this you can secure all your login password.
Video Player Apps for Windows 8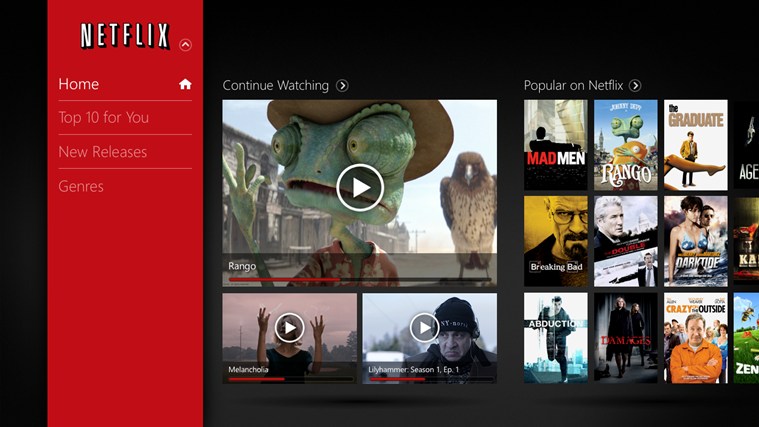 1. Netflix
Leading streaming service which lets you see TV episodes, movies and original content from all over the world.
Access unlimited movies and TV episode streaming with this application.
3. Vimeo
Make videos on computer and add them to Vimeo using this application. Also its a great tool for running tv shows
4. TV Catchup
If you're citizen of UK, you can check this application that gives access to 50 live channel stream.
Using this you can intelligently interact with your Xbox 360. It helps your devices work together to enhance your TV shows, movies, music, sports, and games.
6. Prime Tube
Access YouTube using this application. Easily manage the channel, manage favorite and download videos.
7. Plex
The Plex application allows you to stream music, videos and photos from your Windows 8.
8. Media Monkey
One of the best tile based media player with which you can manage your media file on Windows.
9. Xbox Video
With this application you can buy a subscription for TV episode, movies and stream them from your desktop.
News App for Windows 8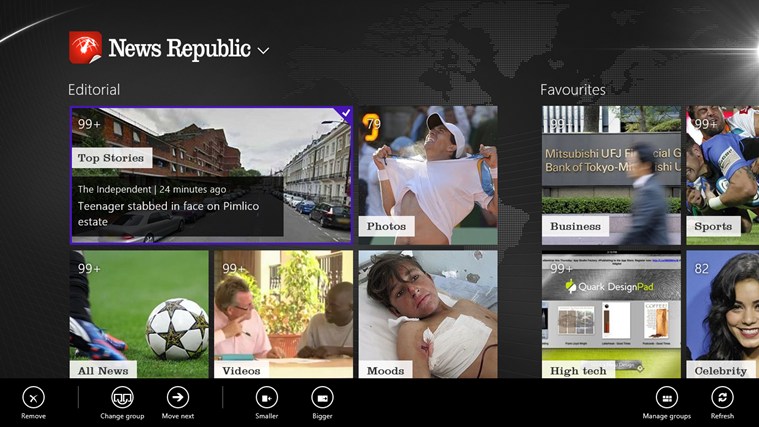 News application for savvy reader that gives users an international and personalized news experience,
2. TED
Amazing application which bring together people from three worlds: Technology, Entertainment, Design.
3. USA Today
Application features news stories, photos, videos, scores, markets, snapshots, and weather which you expect from USA today.
With this application you can access the Top News section from The New York Times for free with more features.
Travel Apps for Windows 8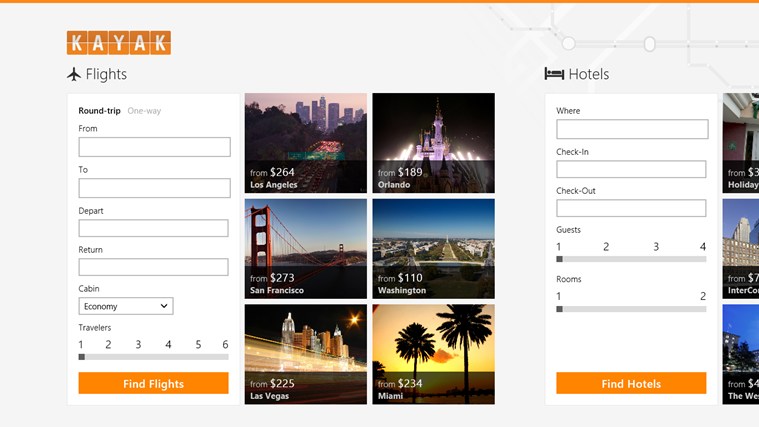 Amazing travel app help you find the right flight or perfect hotel for your trip.
The UK's number one travel website, is proud to release the must-have Windows 8 apps for every train traveler.
3. Flight Aware
Help you track flights from FlightAware.
So these are some of the best apps for Windows 8 which you might love to try. Also if you have any application suggestion feel free to share with us.
(Visited 199 times, 1 visits today)