If you're bored of using a default Lock Screen of your Android mobile, then why don't you try some lock screen app to customize it.
Everyone loves to customize his/her android Smartphone which is probably the best part of every Smartphone. If you don't like your home screen launcher, web browser, and lock screen, then you can get a new one. We all know that Google play store has hundred of them available in the form of Android Apps. And that's the thing which we really like about Android Smartphone you can customize any component of an Android operating system as you like.
Editor Recommendation: 9 Best Dialer Apps for Android Phones 2014
In today's article we intend to share with you some of the best Lock Screen apps which are compatible with almost all devices running any version of Android. Before you check our opinion piece, you might love to read, what we install these lockscreen apps on the Android device:
Helps to secure and safeguard our information privately.

It helps to protect from unwanted dial ups which happen due to accidentally pressing of the

onscreen

buttons

Saves personal data, i.e. Text messages, logs, business materials in a Private place
So after reading all these features of lockscreen app you want to get the best one for your Android mobile. Below we're featuring some of best lockscreen apps which you might love to use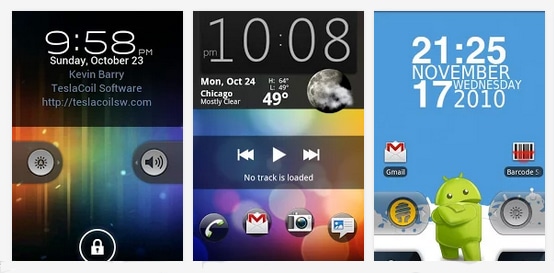 WidgetLocker is a lock screen replacement that puts you in control of the look, feel and layout of your lock screen. It has Drag and Drop placement of Sliders, Android Widgets and App Shortcuts, Sliders look selectable from built-in styles, Resizable widgets and custom grid size and more.
Price: $ 2.99
2. Start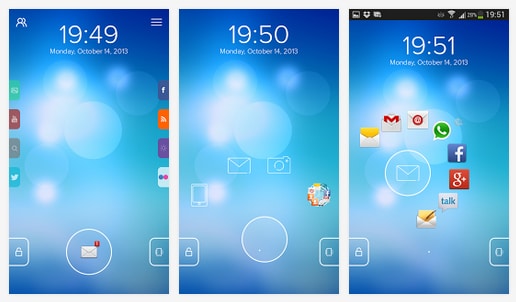 It gives you quick access to everything that matters to you from your start screen. Start connects with Facebook, Twitter, Flickr, YouTube, local weather forecasts, photo gallery, and a host of news providers using RSS feeds to make your start screen really yours.
Price: Free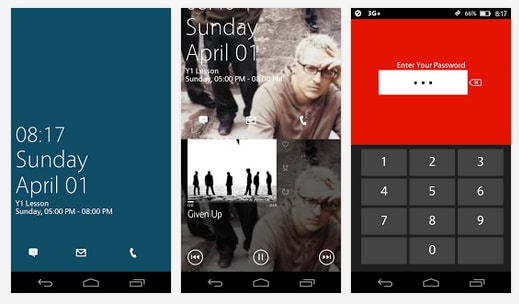 WP7Lock Pro is a simple, elegant, and fast custom lockscreen done WP7 style. It is the next-generation custom Lockscreen which is designed to look like the real thing in Windows Phone 7. It has some features which are listed below:
True Windows phone 7 experience.

Zero-second delay! Works for non-root and

rooted

users!

Integration with ZPlayer (Album Art) and Status Bar+.

Fast and easy to use inter-phase.
Price: Free
LockMenu Pro is amazing lock screen app which Launch apps and shortcuts directly from your lock screen. LockMenu Pro (this version) does not have ads. Basically LockMenu is a replacement lock screen that gives you the ability to launch applications and shortcuts directly from your lock screen. Some of the key features of this app are listed below;
Configure up to 9 sliders

Launch applications or shortcuts from sliders

Launch direct dial or direct text from sliders

Go to the Home screen from sliders

Configure whether each slider unlocks device

Wallpaper or custom background

Easy access to phone controls (WiFi, Bluetooth, airplane mode)
Price: $ 1.98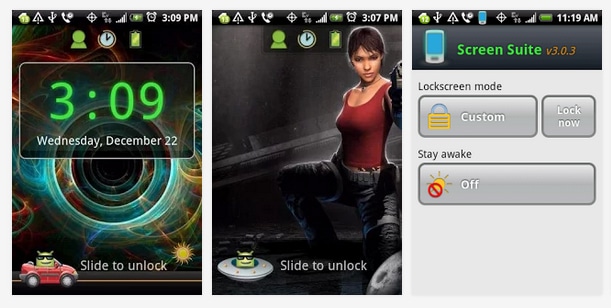 Screen Suite Lockscreen is amazing android Smartphone using which you can expand your phone screen functionality, by customizing your lockscreen, keep your phone screen on with stay awake mode, or allow the phone screen to sleep and disable the lock screen entirely.
Some of the features of this app are listed below:
Custom lockscreen backgrounds

Custom lockscreen widgets to display your contact information

Also work with android pattern lock

Lock Screen Caller ID

Disable volume button controls exclusively on

lockscreen

Custom lockscreen force option
Price: $1.98 USD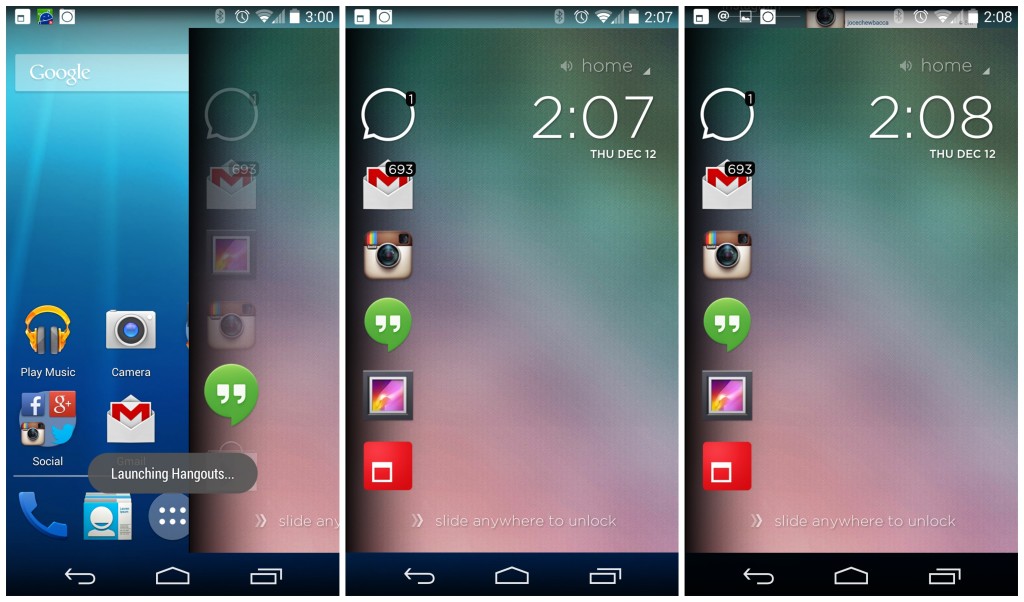 Cover is a smart lock screen that gives you the right apps at the right time. It replaces the factory lock screen that comes with your phone and includes features like peek, fast app switching and smart settings.
Price: Free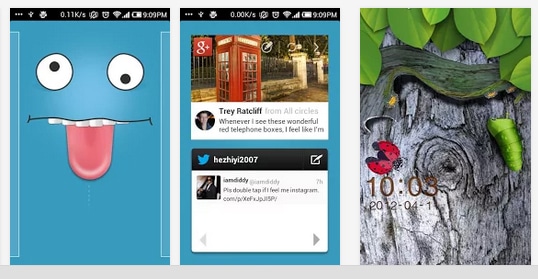 GO Locker is another amazing android lockscreen app which is appreciated by all users. Some of the features of this go locker screen are listed below:
Cool Locker Screen that makes your phone, outstanding

Good compatibility with GO Launcher EX and it is stable

Able to activate phone, SMS and Camera directly, or you can change the slider shortcuts yourself

Various of Locker Themes to match your style

Support customize wallpaper with Security locker

Emergency unlocks enabled
Price: Free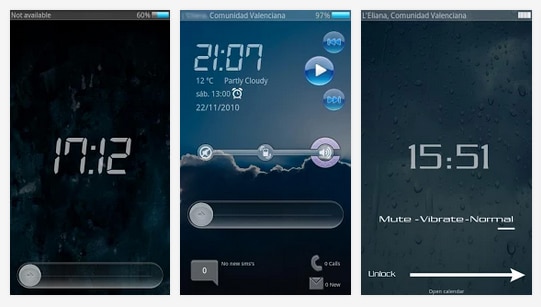 Simply Lockscreen is a lock screen replacement that's fast, functional and beautiful. It displays time, weather, location, battery, music player, current song, calendar events and volume settings, all in a futuristic and pretty interface.
Some new features of this lockscreen app are listed below
Support custom backgrounds, themes & unblock using the Jedi force

Custom Background

Player buttons now work with the original music app, DoubleTwist & on-build radio.
Price: Free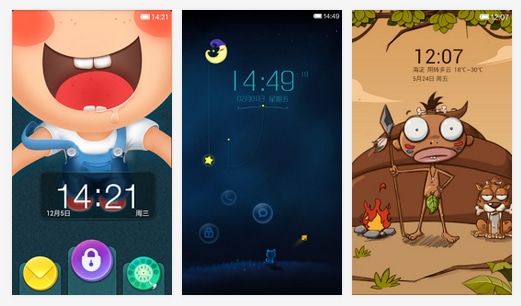 Milocker is amazing android lockscreen app with ultimate themes. There are no less than 150 themes available in the market and all of them are available for free which are easily accessible.
Note: If you want to use Milocker you have disable your default lockscreen app
Price: Free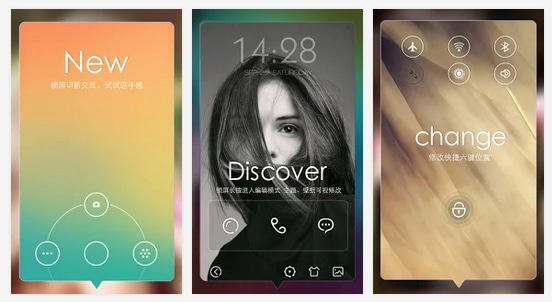 91 Locker can achieve functions like custom unlocking; one key to lock, battery display and other functions. Besides, it has exclusive and innovative unlocking modes.
Some of the cool features are listed below:
Multiple operation modes, fast and practical

Beautiful and fashionable themes.

Fast take pictures; One key to switch; Quickly make settings

Missed calls and Unread SMS can be informed without unlocking screen
Price: Free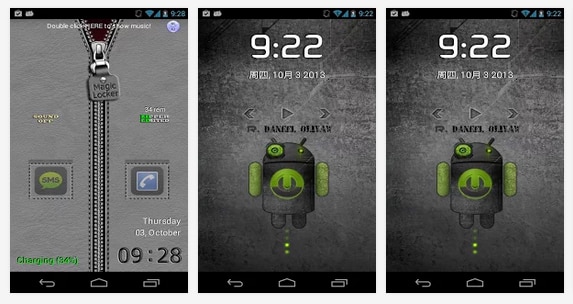 Magic Locker is more colorful and simple lock screen app for Android. It has various of lock screen Themes to match your style and make your mobile outstanding.
Some cool feature of this app:
Shortcut Customization
More Theme Customization (like position, alpha, skin, show/hide something)
Activate phone, SMS, Camera and other shortcuts directly from the lock screen;
Screen Lock Security
Support customize wallpaper and live wallpaper.
Supports customize date format
Price: Free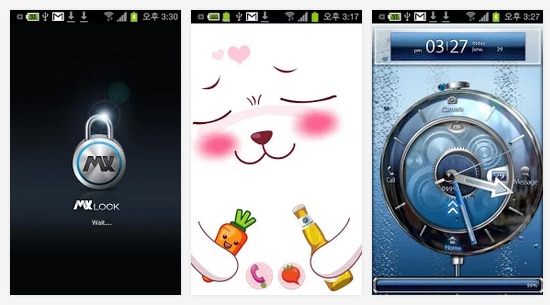 Another cool lockscreen app that will change your Smartphone by unique and stylish Lock Screen. Some of the features are:
Various MXLock Themes.
Activate phone, SMS, Camera, shortcuts directly from the lock screen.
Setting menu can be differ from

theme

.
Set the waiting time on lock screen (5sec ~20sec)
Select notification when locked ('

None

', 'Vibration', 'sound')
Emergency unlocks enabled.
Long press volume key to unlock.
Price: Free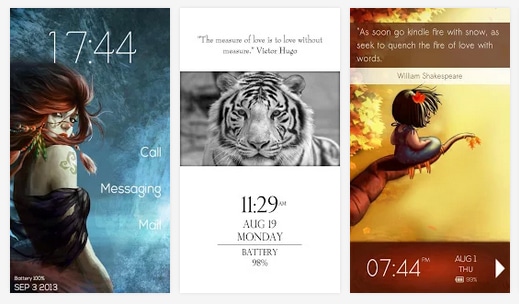 Sparky Lock Screen lets you completely change your Smartphone Lock Screen. Some of the features of this app are:
State of the art themes: design, creativity and usability!
Easy and fast: one touch setup
No extra download needed
Optimized performance!
Telepathic Unlock
Price: $1.99
It's easy to use, and it have the elegance and innovate style from the Ubuntu Touch OS. It also has many settings that can be changed, from animations to colors.
Some of the features are listed below:
All notifications can be shown, just enable the Accessibility Service and set it up.
Password security (More unique security types to come)
Animations and locker timer
Easy to use music buttons
Available in 14 different languages.
Price: Free
So these are best Lock Screen app for your Android Smartphone which we feel are the best one available at Google Play. But if you feel that we forget or missed to add any good name then feel free to share with us.
You might love to read about:
Featured Image: XDA Forum MIUI
(Visited 7,246 times, 1 visits today)