How many of you are searching for the best Android apps for creating ringtone? And still getting those apps which get you nothing, then stop your search now because this article is dedicated to all users who looking for a way to make a custom ringtone on an Android mobile. In this article I'm going to cover some question which are listed below:
How do I get free ringtones for Android

What's the best Android apps for creating ringtones

How to get Create custom ringtones for Android mobile

How to make ringtone for free on Android mobile
But before I start giving answers to all above common question which comes in mind of android users, let we talk a bit about our title.
We all know that in old time, the only way to get custom ringtone on your android mobile is, to buy them from service providers which cost around $1 or 2, I guess. And that way is still live for you, but the thing is, if you can create one just by using a free android app, then why to pay that much amount for those service providers. I mean, using a free android app if you are able to create custom ringtone according to your taste on your android mobile, then why to buy them.
Below you are going to read about those best android apps for creating free ringtones, so let us start with our article with first one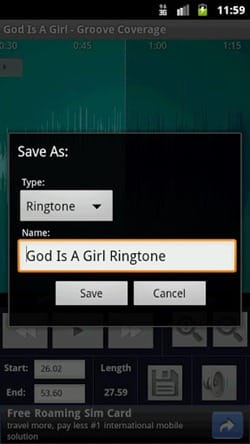 Price: Free
Ringtone Maker is a free app creates ringtone, alarms, and notifications from MP3, WAV, AAC/MP4, 3GPP/AMR files you load onto your phone through the SD card. Its the best ringtone creator on Market, an enhancement of Ringdroid, with the addition of features like fading in/out for MP3, adjusting volume, and share by e-mail.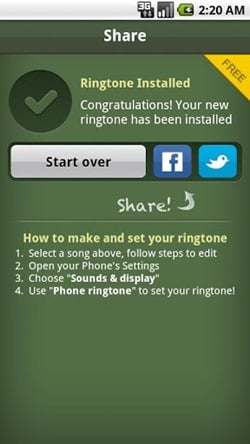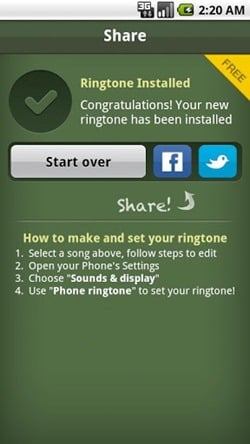 Another amazing android app using which you can make unlimited free ringtones with your Android device. It's an amazing and advanced ringtone making options to create a ringtone, you'll choose from, both popular edits generated by users online and options to "drag'n'drop" fine-tuned editing controls for making your own ringtones in just seconds. As this is a pro version you will get lots more feature while creating a ringtone. You can also try the free version of this app as a trail.
Price: $1.00
3. Zedge Ringtones & Wallpaper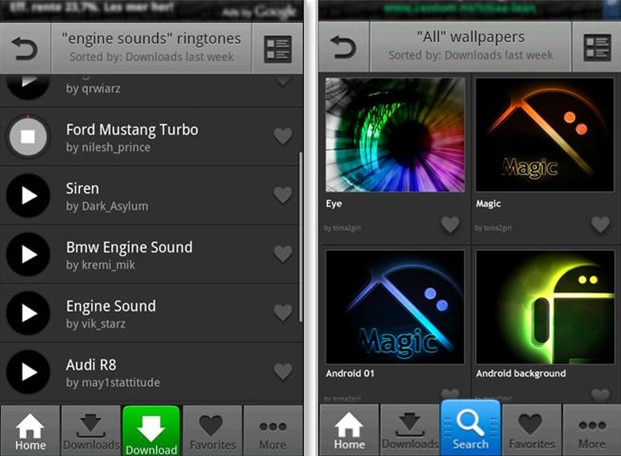 Zedge has been the most trusted and popular source of free ringtones in the world. You can grab more than 300 million free ringtones from Zedge every month. Using this app you can set ringtones, notification sounds, wallpapers and live wallpapers directly from the app.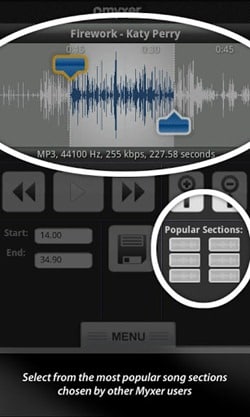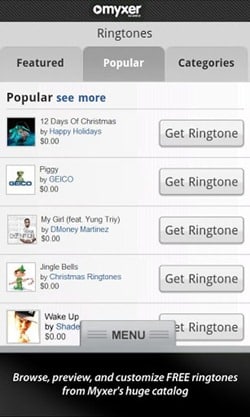 Using this app you can create custom ringtones from the music stored on your phone, or by recording your voice. You can also browse, preview, and customize FREE ringtones from Myxer's huge catalog.
Price: Free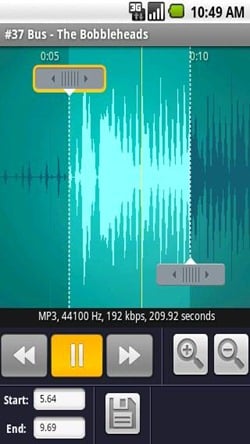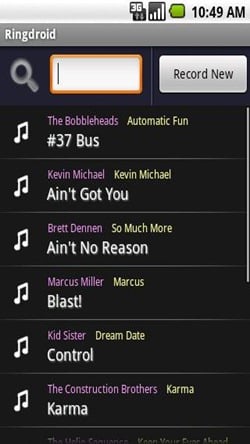 Ringdroid is original open-source ringtone editor for Android is using which you can create your own ringtone, alarm, or notification sound from an existing audio file, or record a new one directly on the device.
Price: Free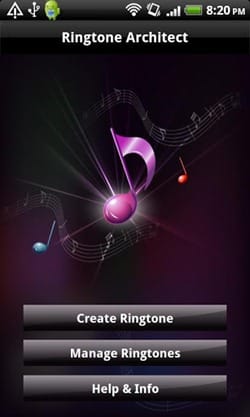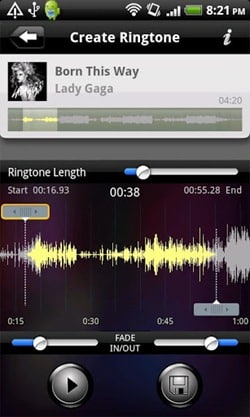 Another good ringtone app for android using which you can create ringtone with easy user interface. This app featuring customizable fade-in and fadeout time, beautiful interface with real audio data. You can also assign ringtone to contacts, use as an alarm or notification and manage ringtones within the app. If you feel that ringtone volume is low, go to Settings > Sound > Volume. Adjust Ringtone volume and press OK. This is the free version, but you can also upgrade to full version of the Ringtone Architect to get rid from ads and some additional features at the price of $1.
Price: Free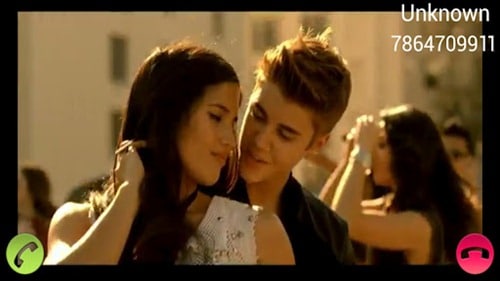 Amazing android app using which you can create video ringtone for your android mobile. This app plays music videos (or any MP4, FLV, 3gp format video) for incoming calls. Use your own videos from your SD card, edit and add another soundtrack (MP3), then add it as your incoming Video Ringtone. You can also select individual videotones to specific contacts, for example, set a Carrie Underwood's Mama Song for your Mom.
Price: Free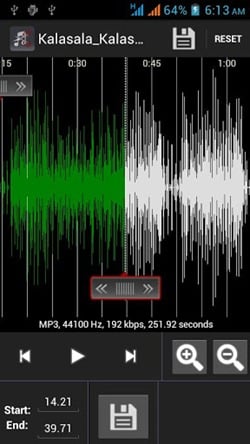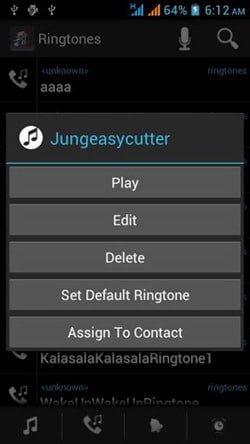 Easy Mp3 Cutter is another cool ringtone creator app for android mobile. To create ringtone all you need to do is Select Mp3 from your Mobile, then Select Area for your Ringtone, and Simply save as Ringtone Or Notification, Mp3, Or Alarm. Now you can Save it in your SD Card and assign Ringtone to your contact.
Price: Free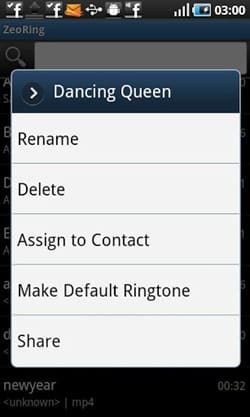 ZeoRing provides a handy user interface for easy ringtone editing, assigning these ringtones to your contacts and making them default tones. You can easily trim your MP3, AAC, AMR, WAV files and produce ringtones, notification and alarms.
Price: Free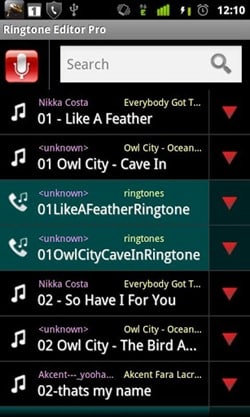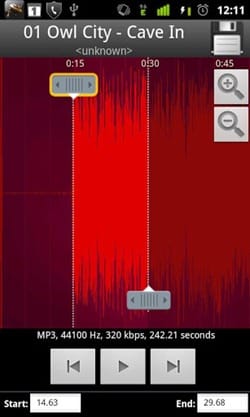 Make your own MP3 ringtones fast and easy using this android app. All you need to do is cut the best part of your audio song and save it as your Ringtone, Alarm, Music File, Notification Tone and more.
Price: Free
So these are top 10 android apps which you can you create custom ringtone on android mobile. If you think I forget to add any good need I love to read your suggestion in the comment section.
(Visited 440 times, 1 visits today)