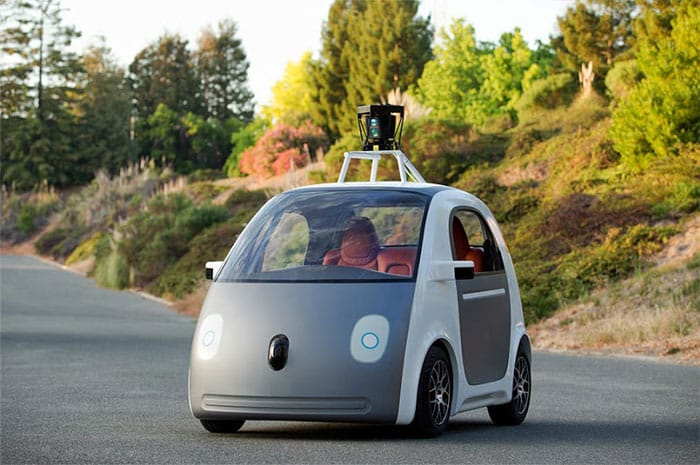 The miracle hit the streets with the launch of Google's self driving car. Google has finally taken the big step by building the car from scratch after years of testing the technology in already built vehicles.
The basic purpose, as Google says it, revolves around safety of the driver and the passengers. It will be quite effective in putting a stop to the drunken driving accidents. Road safety has been the top priority in the designing of this car.
The self driving car was unveiled at Re/code by Sergey Brin and is a far cry from the usual stereotypical cars. The usual equipment of a car, the steering wheel, pedals, mirrors, gauges etc have been done without. This has taken the maneuvering control out of the hands of the driver as the car operates independently. The vehicle is fitted with obstacle sensors all around that can detect the presence of any sort of hindrance for quite a considerable range.
A hoard of software have been made a part of the self driving car. It comes with radar, a lidar and 360 degree cameras. The car is battery operated. Safety being the high point of this self-driving car, some of the comforts seem to be lacking in the initial stages. The interior of the car consists of two seats with safety belts, some storage space, a viewing glass panel and the "go" and "stop" buttons for operating the car. The speed of the cars is 25 mph and is anticipated to improve after further testing and evaluation.
The launch of the car has given rise to some of the obvious and basic questions that Google seems to have overlooked while designing it. Like, the absence of maneuvering tools makes it virtually impossible to reverse or park or to slow down for crossing pedestrians. At the moment, the car only seems to go forward. These features along with the architecture of the car's rooftop are expected to be improved through further testing and experimentation.
The test driving of the self-driving car is expected to start soon to analyze its feasibility and practicality. The trial driving is restricted to California at the moment. Once the trial testing is over, the car is expected to go into mass production. Google plans to create 200 early prototypical versions of the car. The creation of this self-driving car by Google is certainly, a dream come true.
(Visited 172 times, 1 visits today)