Now thinner, lighter, and faster – Nexus 7 brings you the perfect mix of power and portability and features the world's sharpest 7″ tablet screen – putting over 2.3 million pixels in the palm of your hand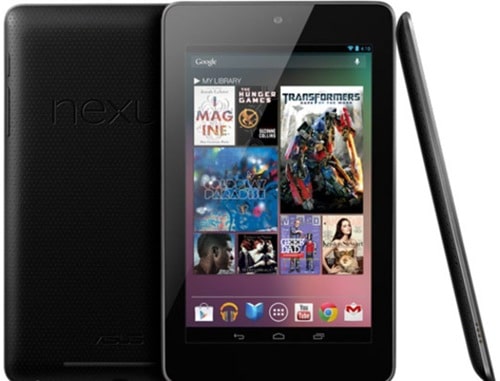 Google first unveiled its Nexus tablet at the ongoing Google I/O conference in San Francisco and counted as the first Android Tablet to receive the latest version of Android OS called Android Jelly Bean. After that lots of new mobile and tablet stepped into the market but this gadget still getting good response from gadget lover.
And if you're the who want to buy Nexus 7, then you must check the Full Tech Specs and Features of Nexus 7 tablet which are listed below :
Lets take a quick look at Nexus 7 Specs:
Operating System : Android 4.1 Jellybean
Manufacturer : Asus
Display : 7″ IPS 1280 x 800-pixel high-definition display
CPU : Quad-core Tegra 3 processor,
GPU : Nvidia GeForce 12-core GPU,
Camera : 2MP front-facing camera, 5MP rear,
RAM: 1GB
Storage : 8 or 16 GB internal storage
Battery:

upto

8hrs HD video playback, 4,325mAh.
Others: 802.11

abgn

Wifi, Bluetooth 3.0 with A2dp, Integrated NFC, Gyroscope, Acelerometer.
First we read about some of the cool Features of Nexus 7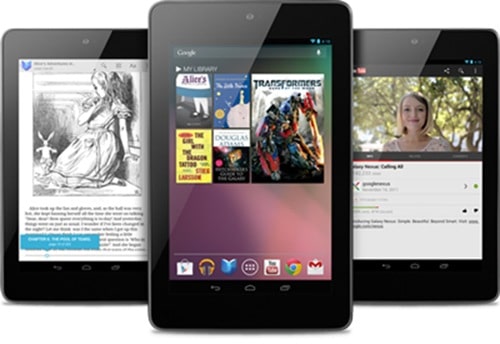 1. Android 4.1 Jelly Bean
Nexus 7 is powered by Android 4.1, Jelly Bean, the latest version of the world's most popular mobile platform featuring Google Now, Offline Voice Search, beautiful new widgets and home screen customization and more.
2. Thin, light and portable
It is going to be best thin, light and portable android tablet which perfectly fits in your hand.
3. Stunning 7" display
Nexus 7 tablet featuring 7" display which surely going to bring entertainment with outstanding clarity on a vibrant 1280-by-800 high-resolution display protected by scratch resistant Corning glass.
4. Less charging, more doing
With over 8 hours of HD video playback, 10 hours of web browsing or 10 hours of e-reading, Nexus 7 is designed to cover far distance with very less charging.
5. Designed with gaming in mind
This Android Tablet is specially designed by keeping gaming in mind. Nexus 7 featuring quad-core performance and sensors like a gyroscope and accelerometer.
6. Quad-core performance
Nexus 7 tablets is manufactured by ASUS and comes with a NVIDIA® Tegra 3 quad-core processor. That means everything is faster like gameplay, page loading, running multiple apps and other process. Featuring a 12‐core GPU which gives a rich and amazing graphic with good processing power. Also it has great efficiency to save power .
Bingo !!
7. Made for Google Play
Nexus 7 is specially made for Google Play by keeping all complete entertainment for your in mind. This tablet will give you access to the world's largest collection of eBooks, millions of songs, thousands of movies and TV shows, and a growing selection of magazines–plus over 600,000 apps and games.
8. Coming with all favorite Google Apps
Nexus 7 tablets are coming with all Google apps  like Gmail, Chrome, Google+ and YouTube. So that it's become easier for you to automatically sync across your tablet, phone and computer. This also has tons of free cloud storage and features you'll find nowhere else.
Let we have a detailed look at Tech Specification of Nexus 7 Tablet which are listed below :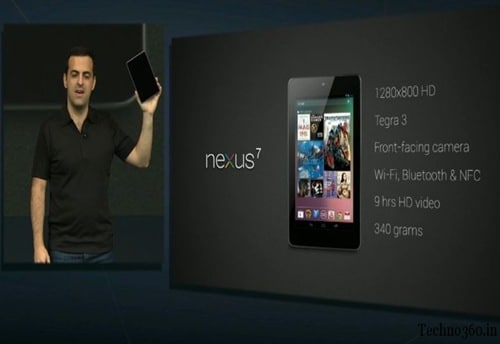 1. Size and weight
Galaxy Nexus 7 is manufactured by Asus measures 198.5 x 120 x 10.45mm and weigh around 340 grams
2. Screen
Galaxy 7 Tablet sports a 7 inch display with HD Display having resolution of 1280×800 Pixels which is protected by scratch resistant Corning glass.
3. Processor
Nexus 7 tablets are manufactured by ASUS and comes with a NVIDIA® Tegra 3 quad-core processor coupled with 1 GB RAM with 8 or 16 GB internal storage. Also has 12‐core GPU which gives a rich and amazing graphic with good processing power.
4. Operating System
Nexus 7 on android 4.1 jelly bean which is the latest version of the Android OS.
5. Camera
Its Camera has amazing 5 MP rear camera with 2MP front-facing camera using which you can make video calls.
6. Battery and storage
This tablet boats of 4325 mAh which assure Up to 8 hours of active use.
7. Connectivity
A connectivity feature of the tablet will support Wi-Fi, Bluetooth, USB, MicroUSB, microphone, NFC (Android Beam) and GPS.
8. Pricing
Google announced that they will start shipping for Nexus 7 by mid of July only for users of Canada, US and Australia (no other announcement made yet for other countries). Interested users can book this tablet from Wednesday on Google play. The 8GB version will cost $199 and 16GB model will cost $249.
You might also love to watch YouTube video having little review about Nexus 7 :
So in this end I want to raise a question that did Nexus 7 Tablet going to give neck to neck fight to Apple iPad ? What you think about both tablet feel free to share with us.
(Visited 127 times, 1 visits today)