If you daily spent a lot of your valuable time trying to figure out that which wallpaper you need to use on your Android mobile. Or if you're not able to find the best wallpaper for your device, then this is the journal you're looking for a long time.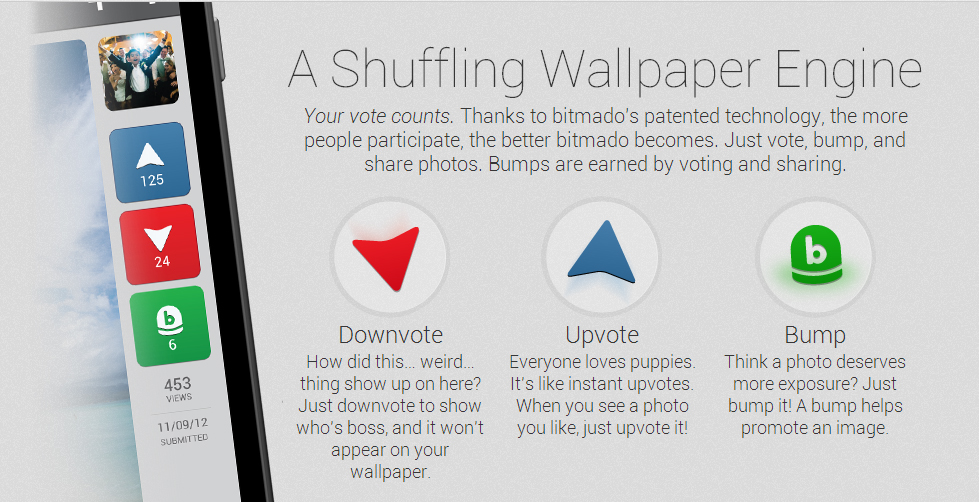 We all know that modifying and tweaking is one of the best features of the Android OS. The user has got the power to change almost everything on the device including themes and wallpapers. No doubt, the internet offers almost limitless possibilities to find great wallpapers for your device, but it's not easy to choose the best one for your device. Also, you can easily get tired if you stare at them for too long.
Not to worry anymore, as in this article we intend to share with you an amazing android applications i.e. Bitmado whose main goal is to change the wallpaper regularly at predefined intervals. That means, after using this app you don't need to find new wallpaper and, set them again and again. And this has become possible due to the hard work of XDA community member Eden.april.
What is Bitmado
Bitmado is a battery-friendly shuffling wallpaper engine which relies on the community to upload, rate and select wallpaper. Its a great solution for those users who want new wallpaper whenever they unlock their device. Also, this app stream wallpapers in high definition due to which it looks awesome on the device screen.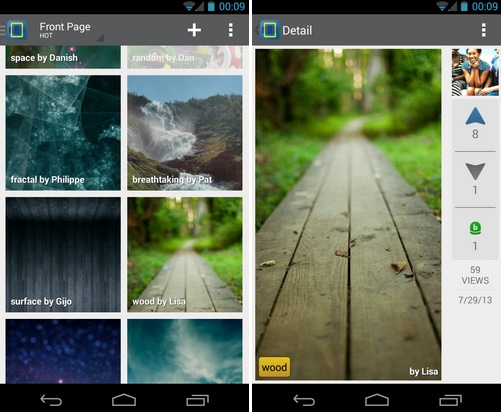 Features of Bitmado
Experience an endless supply of amazing wallpapers as users continuously submit new images.
Create or follow community-powered wallpaper categories (which we call "

mados

") and only receive wallpapers that interest you.
Don't worry about battery life with our effortless, instantly streaming wallpapers.
Contribute to the bitmado community by submitting and voting on your favorite wallpapers.
Find a wallpaper you like? "Stick it" and keep it on your phone for as long as you'd like to.
Thanks to

bitmado's

patented technology, you'll only see the best wallpapers!
How to Install and Bitmado Works
Below we're going to share with step by step guide in which you will be able to know how to install Bitmado and use it on your device.
1. First of all download Bitmado from Playstore.
2. Open Bitmado and page will share a little about the app with you. You just need to click on "next" if you want to know how to use this app or you can click on "skip tutorial."
3. Simply login to this app through Facebook or Google Plus and set bitmado as your live wallpaper.
4. Like their wallpaper, you can upvote to keep it longer on your screen and if you want to upvote more than once just bump it. You can also downvote the wallpaper to hide it from the screen.
5. You can also experiment with different ways to sort your front page using drop down menu and if you like it any, go to setting and step shuffle frequency to match your frontpage.
6. Also, if you really like any particular wallpaper, stick it to your homescreen and change it manually.
7. This app also featuring mados which are something like categories and every wallpaper has one. If you want to check top models, navigate the options to explore. You also have the option to follow modos, so if you like any, follow it and Don't limit yourself to. You will see multiple mados in your homescreen and your wallpaper will set alternately between them.
8. If you want to manage modo, navigate to "manage option" in hidden bar. Simply swipe to remove them. By default global modos contain all wallpapers submitted to modos, you can also disable it by unchecking it,only if you want.
9. You can also share your latest photos with bitmado community, just click on "plus" icon and get all the upvote, bump and glory you can handle.
10. Uploading a wallpaper is very easy, you just need to crop it, choose or create new mados and you're done. The more upvote you receive for your wallpaper, more bumps you receive. And yes, you can also bump your own wallpaper.
You can also check the official video, it will give you a clear idea about how to use bitmado:
So, if you feel that your homescreen is little boring and you want to have some new wallpaper, whenever you unlock your mobile device. We recommend you must try Bitmado. If you need any information related to this app you can visit the official application thread at XDA Forums.
Note: This application is free and only thing developer of this app wants from you is feedback, whether positive or negative. It will help him to deliver a better user experience.
Bitmado App Image Credit: AndroidTaap
(Visited 169 times, 1 visits today)