Application Managed Services (or Application Management Services) is the outsourcing of ongoing support for enterprise applications of businesses to an external IT firm. Application Management Service (AMS) providers have IT experts who specialize in maintaining applications, bug-fixes, monitoring and releasing patches, and system enhancements.
Businesses usually delegate such work to these managed IT, service providers, as it allows the in-house IT team to work on future projects rather than focusing only on the existing technology, thus raising the efficiency of the team.
Types of Application Managed Services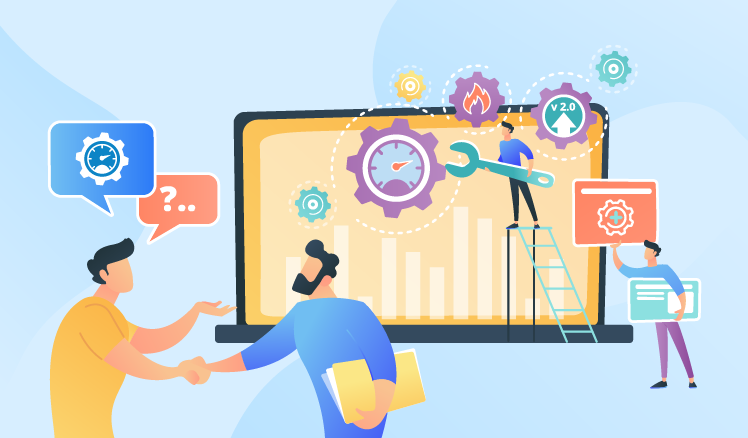 Today, the way businesses manage and maximize their IT infrastructure has a significant bearing on their long-term success. This is the reason why service providers extend all kinds of managed IT services to their clients. Some of the common jobs offered by these vendors are:
Cloud Service:
Cloud service solutions like Private Cloud Hosting, Cloud migration, server backup, and restoration, etc. are part of the managed IT services provided by IT outsourcing vendors.
Workplace services:
Managed IT service providers help their clients to maintain their workplace through support in areas such as IT service desk, network monitoring, and system upgrades, etc. They also undertake jobs like setting up software and hardware at the client location, print services, storage backup, etc.
System security:
It is the responsibility of the managed IT service provider to maintain the client's computer system and protect it from malware viruses through anti-malware software, software updates, etc.
Asset maintenance:
For unhindered business operations, AMS providers maintain the IT assets of the client round the clock through services like IT infrastructure management, server management, performance engineering, etc.
Communications services:
For smooth conduct of business by the client, IT service vendors ensure flawless communication by extending full support for voice and video communication and data sharing.
Data analytics:
AMS providers assist clients in analyzing oceans of data, investigating data patterns, and drawing meaningful and actionable conclusions from them. This helps the client make informed business decisions and work towards keeping up with the current and upcoming market trends.
Advantages of Hiring Managed IT Service Providers
Business insights:
AMS vendors help clients with purposeful recommendations to improve their IT infrastructure for the ease of carrying out daily activities. Insights from the vast reservoir of data equip businesses with priceless information to dominate the market. Also, in-house employees can obtain the required development and management skills from the AMS vendors which would help the client immensely.
Access to expertise:
For maintaining critical IT applications, businesses require a large team of specialized resources which can be difficult to manage as in-house employees. This is where providers of managed IT services come to their rescue. AMS vendors eliminate the need for the clients to spend time and money on searching for people possessing the right IT skills.
Reduced costs:
Because businesses do not have to make arrangements for training vendor employees, they save a considerable sum of money. Also, the cost of hiring and retaining in-house employees for carrying out application management jobs is significantly high as compared to hiring a service provider.
Hiring a managed IT service provider comes with a large set of advantages for businesses. It helps the in-house team to prevent backlogs, provide better service to customers, and gain business scalability. Also because AMS vendors help clients in cost-saving and enable them to focus on the more important aspects of the business, more and more companies are hiring the services of such IT service providers.
(Visited 173 times, 1 visits today)