In the past few years, the idea of in-game purchases in app games has become somewhat frowned upon. Of course, we all still do it; there's a reason most of the games on our 2014 Top 10 Grossing list use a freemium platform or in-game spending. Nevertheless, when in-game purchases aren't done creatively, or aren't part of a larger model that can be satisfying without being expensive, gamers get annoyed. And as a result, many will move right along to the next game.
Fortunately, there are a lot of paid app games that through promotions, alternative options, or gameplay structure are well worth your time. Here are five we'd point you toward.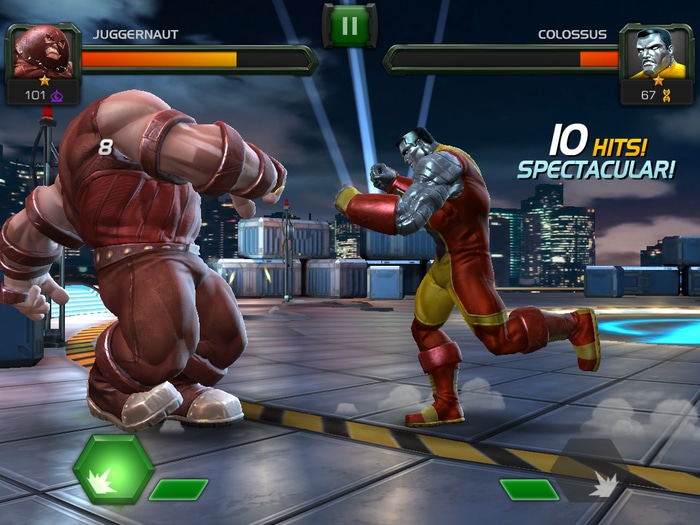 Marvel: Contest Of Champions
Marvel: Contest Of Champions has been one of the most buzzed about apps of 2015, essentially introducing a version of DC's Injustice: Gods Among Us for Marvel heroes. You can collect heroes, upgrade them as you please, and enjoy a wide range of objectives against other players, on quests, etc. Two of the main goals of the game are upgrading your characters and building your team, and for these tasks you need various forms of in-game credits that you can pay for. However, while payment fast tracks your development, the game's relatively constant stream of promotions and contests keeps it interesting even if you don't want to spend a dime. On any given day, a new hero might be available for credits or a new contest may pop up allowing you to compete to earn those credits. There's something fresh just about every day.
Flick Kick Football Legends
Flick Kick Football Legends is a delightful soccer game from PikPok that almost functions as something of a pro soccer culture cartoon as much as it does as a game. Gamezbo has a thorough walkthrough of how the game works, but the concept is simple: build a team by collecting player cards, upgrade players, sign new ones, and use them all on the field to try to advance through various leagues and competitions. The trouble, of course, is acquiring coins and cash necessary to purchase new players and enter new competitions, and this is where there is a great deal of incentive for in-app purchases. However, the game also offers the option of watching advertisements or sometimes even taking part in interactive ad games in exchange for in-game cash. It can be tedious, but there are fresh ads fairly often that make the game worthwhile.
Betfair Casino
It's pretty common for casino-related apps to offer various promotional packages once you've started playing the game, but the Betfair Casino app functions somewhat differently in that it provides you with free play options right off the bat. The welcome bonus options at Betfair can set you up with either free stashes of chips upon joining the game or with a matching bonus of an initial deposit. Both provide you with opportunities to enjoy paid games for free. Over time with a game in this genre, you'll likely need to put down some cash to keep playing, but not every casino app gives you the option of starting from scratch! Once you're set up, you can enjoy a number of popular casino games with this app, including slots, baccarat, blackjack, poker, and roulette.
Rival Knights
This game follows a similar structure to a few others on the list in that it's all about upgrading your character for new levels of competition. In this case, it's within a medieval world of knights and lords presented with breathtaking graphics. You need coins to upgrade your knight's equipment and compete against better jousters, and the quickest way to get them is to buy them with actual money. However, Rival Knights also offers opportunities for patient players. There are training fights that you can play in over and over again to build up coins, and there are also daily promotions that offer increasingly useful rewards for consecutive days that you play the game.
Plants vs. Zombies 2
Finally there's Plants vs. Zombies 2, which took a lot of criticism for jumping into the freemium model. This game, in which you use plants to fend off waves of zombies, doesn't really go for specific promotions or bonuses. Yet, it feels necessary to mention the game because, in its defense, payments are completely unnecessary. This is a top example of how in-game purchases can be useful to speed up a game but are by no means required to enjoy it. This is a pretty huge game even if you don't pay for a thing.
(Visited 277 times, 1 visits today)