In today's article we are going to answer the question, i.e. What are some best music streaming websites? And if you're the one looking for answers to the same question, then we recommend you must check this article.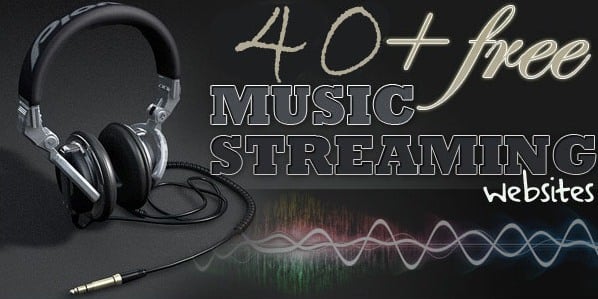 Recently we added lots of articles related to music download, but every is not fan of fill up space on their hard disk and choose to stream music online. The internet is one of the best inventions created ever and where you can find anything. Whether you love greater interest in streaming general music, music discovery, Mixtapes or anything related, you can find all just by making some clicks. You might also love to read about:
We all know that there are lots of music streaming sites over the web but due to following restriction
Service at some sort of price

Restriction in loading the page due to copyright
And due to this you might hate music streaming online, but don't worry anymore. And to give solution to this problem we've scraped through the lots of web services which provide music-streaming and gather some of the best, so that you'll find out which service made the top spot. Also don't forget to share any good web service if I missed any.
Grooveshark is one of the best web services using which provides free music streaming, online radio stations, and lets you connect with artists and friends.
Another cool website is Last.fm, which is named as the world's largest online music hub, powered by your scrobbles. Here you can listen to free personal music online, also find free internet radio, videos, photos, stats, charts, biographies and concerts.
MySpace music is another best and legit site to listen to music online for free. Here you can also discover new bands and artists, watch music videos, get tour dates, music, news, other fans, and more.
Pandora is counted as one of the music services available on the web, popular for its huge library of songs. If you love to listen music then you will defiantly play those here, at Pandora. So Indian this is not available for your country.
Rhapsody is one of the oldest digital music streaming service allows you to listen all you want from wherever you are. It's the ultimate music cloud experience, over 16 million tracks.
Ah.fm is amazingly simple website plus forum where you can listen to Streaming techno and dance music. You can also discuss music in a forum.
Another cool website where you can listen music for free. Not only this you can also download music and 100% of profits go to the artists. All you have to do is search for artists you want to hear or choose from a list of stations.
Here you can free music streaming from actual radio stations powered by CBS Radio.
Deezer is French web-based music streaming service which allows users to listen to music on various devices online or offline. You can also share music with your friends and embed music on websites
Digitally Imported is another cool website to stream music, the website is specialized in streaming dance and electronic music from all over the world.
This is another cool website with a mixture of free stations and if you want to listen music without commercial interruptions become VIP of this website.
Here you can listen or stream music of independent artist and guess what you can also buy them by naming your price, starting at $5.00.
MikesRadioWorld is another cool hub of over 5,000 streaming radio stations from the USA, Canada, New Zealand, Australia and Europe.
Like other website this is another good website to listen and download music for free. Also in spotlight section of this website you will get a review of the music and artist.
Here at this website you can collect streams from radio stations from all over, You can browse by Music Genre and top live radio right now.
At shoutcast you can join people streaming radio right now. Here you can listen to your favorite Internet radio stations including Christmas, pop, R&B, dance and much more.
Slacker is a cool website where you can listen to their pre-built stations, One thing which I really like about this website is that you can create your station own.
Streampad is another good website where you can search for music you want to listen. Music Player also creates a playlist the songs which you want to listen.
Good website to stream music for free, I really like the stylish theme of this website. This website also allows you to purchase music via amazon.com mp3 store.
Yahoo Music, owned by Yahoo, which provides variety of music services, including Internet radio, music videos, news, artist information, and original.
Another cool website for streaming music and simple search by putting your artist name and song, it will show all online radio stations that play.
Cool website where you can find, Play and download free MP3s.
At Audiolizer you can listen to music, create playlists and upload your library to listen on the go for free.
Is amazing crowdsourced radio – everyone gets a say, but no-one's entirely in charge. This can make for some pretty interesting listening.
In dilandau you can share, listen and download all your favorite music in MP3 format.
Another cool website for streaming music and one thing I really like about this website is the sound quality of its music selection. MOG's entire music selection streams at 320kbps.
Create, record and share the sounds you create anywhere to friends, family and the world with SoundCloud, the world's largest community of sound creators.
Google rolled out a personal streaming music option called Google Music Beta. Only for US citizens.
Listen to the best internet radio, crafted by people who know and love music. Or you can also legally share your own online mix, a streaming playlist with 8 or more tracks.
30.

PureVolume
PureVolume is another cool website specially for rising artists to hot their mp3 music and get exposure. You can stream music here for free, this website also showcases unsigned artist, independent labels, and major label artists.
This is another cool website which promoting Indie, Small Label free dubstep, free techno, free house music, free trance and best electronic music downloads. You can also stream those for free.
22tracks is the perfect guide in a crowded musical landscape.
This website is another cool place to find new music on the web. Hype Machine also featuring different categories like tracks, artist, twitter, remix and no remix. Now it's up to you from which category you want to hear music.
Free internet radio, just like Pandora only fewer ads and more variety. Listen to hundreds of genre stations or create your own with your favorite music.
The easiest way to listen to your own music library and discover new songs, wherever you are
Tweewoo is the best place online to listen to all the best new music and songs on our hundreds of free internet radio stations.
AccuRadio is a customizable online radio. Over 500 free Internet radio stations: Rock, Pop, Classical, Country, Jazz, Oldies, Broadway and more!
Search and listen for any song in the world for free. You can also buy music if you need.
Another cool website to stream mp3 music for free, also you can watch video of the song you listening.
Fratmusic is another good and last website of this article. You can search and stream music here in the different featured category. Also you can submit your playlist, they'll email you if we choose it.
So finally we are done, these are some of the best music streaming website which I found are better according to our niche. If you feel that I forget to miss some good name, also if you have any suggestion don't forget to leave comments.
(Visited 1,107 times, 1 visits today)