Efficient management of finances is the key to achieve desirable outcomes from a business. Only when your financial situation is crystal clear can you assess your business' performance and make confident decisions about further expenses.
As stated by the Wasp Barcode Technologies, 60% of small business owners admit that they don't know much about finances and accounting!
When you run a business, there is already a lot to do in order to keep it profitable. Besides all the hustle-bustle, managing finances accurately is definitely hectic and time-consuming. You need to track the income and expenditures, calculate taxes, prepare reports and balance sheets, and make sure everyone gets paid on time.
How can you be 100% productive with so much on your plate and so little time to accomplish everything?
The Solution?
Thankfully, the rapid advancements in technology gave us accounting software! This foolproof software can take over your accounting team and provide quick, accurate, and automated solutions to all your finance management needs. You can even invoice customers with software like Zintego.
Imagine how much money and time you will save!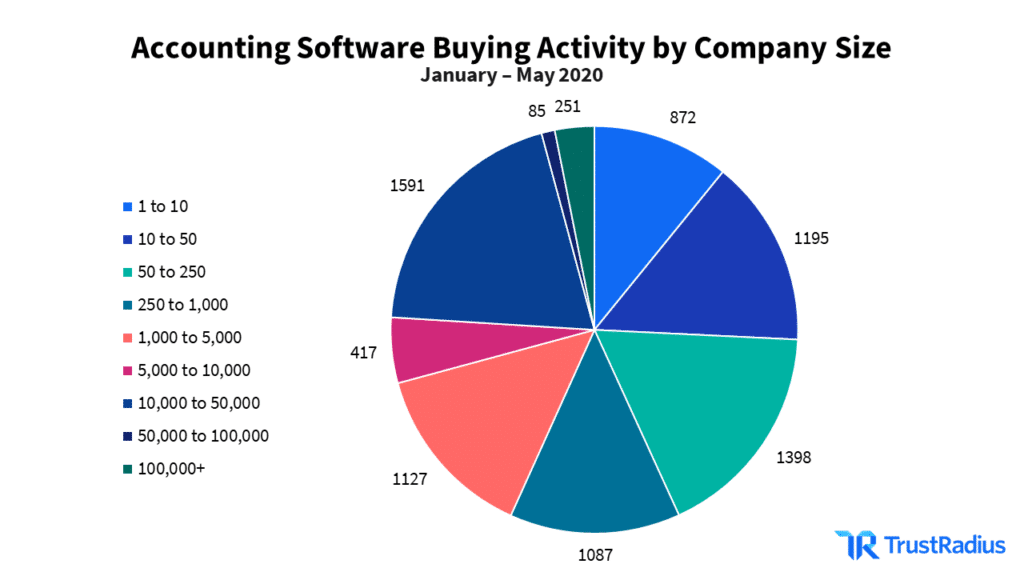 Big companies and small business owners are now realizing the importance of reliable accounting software that can help them track all the money that goes in and out of their business accounts. With a clear birds-eye view of their financial position, business owners can dedicate their time and efforts towards their growth.
How To Choose An Accounting Software That Fits Your Needs?
A quick search query on Google will give you a list of accounting software. But, what to look for before making that final buying decision?
We have got you covered with the answer! Below, you will get to know precisely what accounting software should have to make it worthwhile for your business.
Select The Type Of Software You Require
Two types of accounting software are currently available. Depending upon the needs of your business, you can choose one. For a more versatile and mobile-friendly solution, consider using cloud-based accounting systems like Finlyte, which are designed to provide secure and accessible financial management tools anytime, anywhere.
Desktop or Manual Software
Desktop accounting software can be manually installed on a single computer. Firstly, this means that a single user can access it at a time. Moreover, as it isn't available on a tablet or mobile phone, it further hinders accessibility (although the need to track finances can arise even when you are out of the office).
The features of the desktop accounting software are though accurate and helpful; the biggest drawback is that all your data is stored on the device server. It means that if the computer crashes, gets damaged, or stolen, all your data will vanish without any hopes of recovery. You also need to update the software manually.
Cloud-Based Software
Cloud-based accounting software can be used by multiple users that have login access. It can be used on the desktop, laptop, tablet, or your phone, which means your data is easily accessible wherever you are. The information is stored on the secure dedicated servers, making it recoverable at all times. The cloud-based software gets automatically updated and is available at a monthly subscription.
According to the Sage Practice of Now report, cloud-based software is the preferred choice of 67% of accountants compared to manual desktop solutions.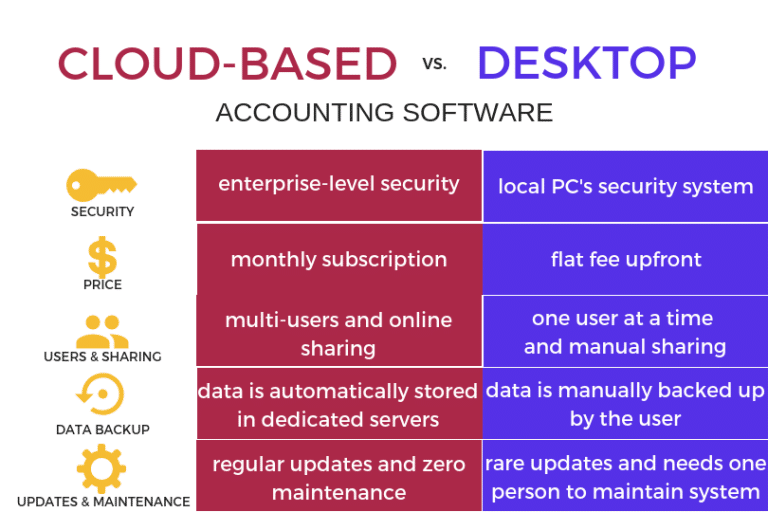 Evaluate The Features of The Software
You may have noted down a list of software which deems suitable as per your business needs. Now what?
It would be best if you made an informed choice based on what features each software is offering. Your best bet is an all in one accounting software that has all the attributes mentioned below.
A Clutter Free, Intuitive Interface
You are buying software to ease your business management, so the first thing you should look for in it is a simple interface. You don't want to get confused and frustrated with complexity. Besides, everyone on your team should be able to use it with ease.
Time Tracking Feature
A valuable aspect to check is whether the software provides you accurate tracking of the time worked in your invoices. This helps you calculate how long a specific project with a client took so that you can bill them accordingly. Also, you will get complete insights about how much time you utilized in working at the month's end.
Hassle-Free, Quick Expense Tracking
Keeping a run down at the expenses is so tricky at times. Software that provides smooth ways to organize and record expenditures should be your choice.
Automatic Invoicing For Convenient Customer Payments
A significant part of business financial handling is billing clients. A business with multiple clients and a variety of projects needs a reliable system of invoicing. Ideally, the process for recurring clients should be automated, and custom invoicing should be available for new and one-time clients.
Tax Calculations
Ahh! That not-so-exciting time when you have to pay the taxes!
The business tax reporting feature is vital for any good accounting software. If you find one that makes the process of calculating and paying taxeseasy for you, it's a big yes!
Scheduled Reports And Analysis Of Your Business Finances
Some software offers top-notch service in generating monthly business financial reports. They really help in the business growth as the company can make future alterations and decisions based on the current status shown by the analysis. The accurate reports lessen the chances of human error, which is usually the case with manual bookkeeping.
Other Add-on Features
Any other features that add to the functionality of the software are a plus. For instance, remote access, integration with other software, and payroll management are some attributes that make the software a level up as compared to other solutions available in the market. Additionally, the ability to handle and manage the EDI file format can be advantageous, especially if your business involves transactions and communication with other businesses.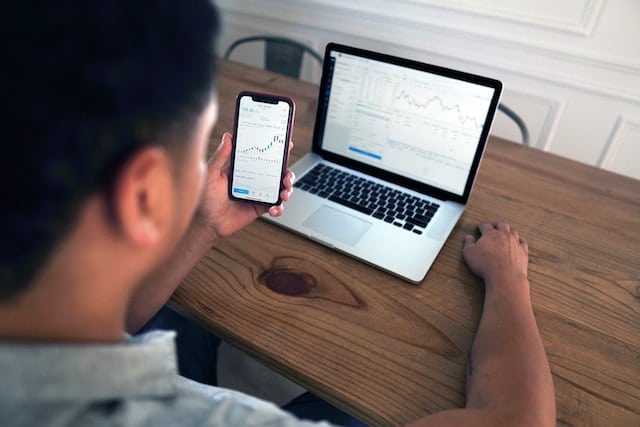 Assess The Convenience
A highly functional automated accounting software is something that every business should have. Yet, as stated earlier, the prime reason to go for software that manages your business accounting is time-saving, reliability, and convenience. Here are a few things you can consider prioritizing before making your decision about a good software.
A Free Trial Period
If a free trial period of at least a month is offered, you will be able to assess the software in terms of accuracy and effectiveness. Moreover, by the time the trial period ends, you will get the hang of using the software to get complete functionality. This will help you to make a confident decision whether purchasing will be worth it or not.
Integration With Other Apps
Seamless integration of the software with your accounting and organizing apps will be very beneficial for you in the longer run. Not only it saves time, but it keeps you and your clients on the same page avoiding unnecessary conflicts. It makes it a breeze for you to handle multiple projects at a time without missing any crucial details.
Look For The Reviews
Another way to make an intelligible choice is to look for testimonials and reviews of the software you intend to buy. Shortlist the best ones after assessing them in terms of convenience and features, and then see which one has better ratings and reviews from business owners like you.
According to recent statistics by the Trust Radius, 62% of buyers looking to purchase accounting software take help from reviews.
Should Fit Within Your Budget
Lastly, a purchase decision is always impacted by affordability. If you are lucky, you will be able to seal the deal after analyzing your budget and the quality of the software. But if your budget is tight, you still have many choices that may not have the complete feature set but will help your business grow with quick and easy financial management.
Conclusion
Efficient accounting software is all you need to curb the stress related to tedious bookkeeping. It works like a dedicated employee, only quicker and with complete accuracy. Hopefully, choosing the one that suits your business type and requirements is now easier with our in-depth advice.
If you have any other piece of advice on how to select an apt accounting software for a business, share it with us in the comment section below.
Author Bio
Audrey Throne has an ongoing affair with the words that capture readers' attention. Her passion for writing dates back to her pre-blogging days. She loves to share her thoughts related to business, technology, health and fashion.
Find her on Twitter: @audrey_throne
(Visited 155 times, 1 visits today)