If you know any preschool kids, you'll know that they have an incredible imagination and just won't stop asking questions! That's because these kids have a deep curiosity for the magnificent world around them and always want to learn more, especially about colors and painting. Luckily, the expansive world of colors can be explored through color games, and there are tons of free, online coloring games available for preschoolers to become a master of coloring! As parents, we should always encourage children's natural artistic expression.
What better way to do this than to allow kids to play easy games that can polish their coloring skills and prepare them for the world that awaits them? Not only do these games entertain, but they also help kids build their attention levels, understand pictures, as well as figure out color concepts from a young age.
So, without further ado, let's dive into why online colors games and coloring book pages are important while also looking at the best free online coloring games (plus online coloring pages) available for preschool kids!
Preschool Kids Love Colors and Coloring
It's hard to find preschool kids who don't love colors or coloring. Most kids love learning about different colors, and preschool games that focus on coloring make coloring incredibly fun to learn!
Kids who learn about colors through their favorite coloring games develop vital concepts early in their lives. These further lay a strong foundation that can help them develop an understanding of the rest of the world.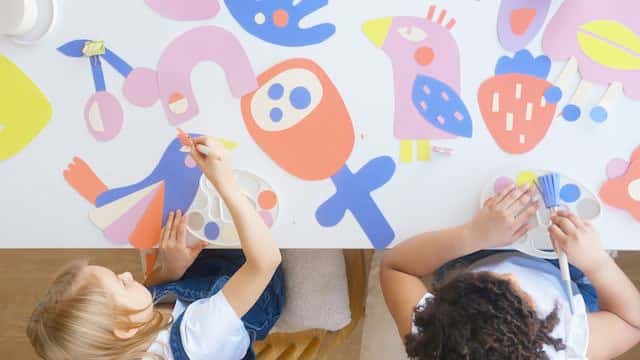 Primary colors such as Red, Blue, and Yellow are all around us and are even useful in essential skills such as driving. For example, the red light on signals means to stop whereas the yellow light means caution, and the green light means it's safe to go.
Furthermore, discovering the names of colors helps them associate objects and describe them better by using these different colors. For example, a kid would have trouble describing what an umbrella looks like without describing its color e.g. a 'Yellow' Umbrella.
By allowing preschool kids to play coloring games, we are allowing them to explore the color wheel and make the canvas their world.
Learning colors
The differentiation between primary colors and secondary colors remains lost to some individuals today. The sole reason for that is they did not focus on these basic colors and the color wheel during their childhood, causing them to miss out on the ability to define colors.
Keep in mind that learning color names is important for kids today as colors define most things around us. A shirt is either yellow, red, blue, or so on. The same logic applies to fruits, objects, and more.
By being able to define the color names, preschool kids can explain things better to those around them and form a connection with the world.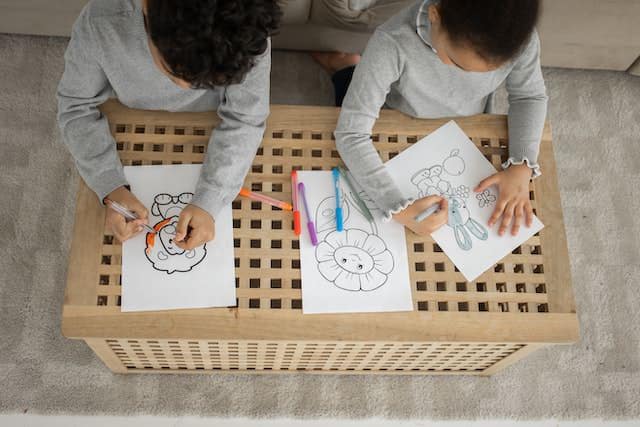 Coloring pictures
Free online coloring games offer preschool kids the chance to color pictures, providing them with a creative outlet.
This allows kids to not only have fun but also develop hand-eye coordination, as well as motor skills that will help them further in life.
Furthermore, playing coloring games allows children to enhance their imagination and express their thoughts and feelings in ways they could have never imagined.
The best thing about coloring isn't only that it's fun, but it's also a gateway to becoming an artist at an early age! Through coloring, young children can create masterpieces and showcase to the world their true coloring talents!
Combine Fun with Learning
It may be too late for some of us, but combining fun with learning is certainly the way to go in the future. Today, educational games have been developed that expand a kid's knowledge of colors to incredible heights.
Children that are in preschool love to explore and discover and what better way to do this than through educational games for preschool kids?
It's true what they say about kids learning best when they are having fun! This is found deep in the fundamental principles of child development, hence, it's necessary to try making educational exercises fun for kids.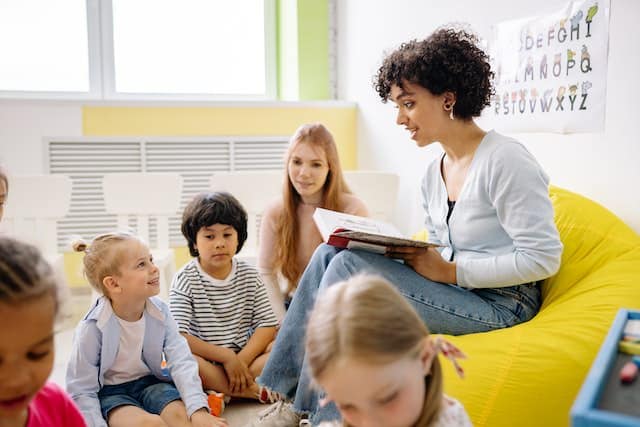 Allowing children to enjoy the task at hand makes their brains open to receiving new information. Coloring games (and other educational games) are created keeping this idea in mind, allowing the process of learning to be fun and insightful.
Luckily, coloring games are the perfect example of how fun and education can be seamlessly merged for the greater good.
Through these games, children practice interactive learning as they are encouraged to participate and experiment with different colors. The best part is they can view the results in real-time right in front of them, allowing them to perfectly grasp the concept of colors.
Furthermore, a child's knowledge of colors may be limited at first but playing these games introduces new colors to them, helping them bridge the knowledge gap regarding colors.
All primary and secondary colors are discussed here, and the games themselves act as a canvas where kids can experiment with different shades.
Not only that, but educational games like coloring games have various elements incorporated in them. They include visuals, sound, and even tactile interaction. This allows children to learn various things at the same time and allows them to grasp and retain information in a creative method.
Finally, let's not forget about how these coloring games are excellent at developing your kid's cognitive skills and fine motor skills! The focus on detail is incredible in these games and kids will soon be able to differentiate between colors and even complete intricate patterns!
So, not only are your kid's artistic needs being addressed, but they are also improvising various other life skills, all while having a blast!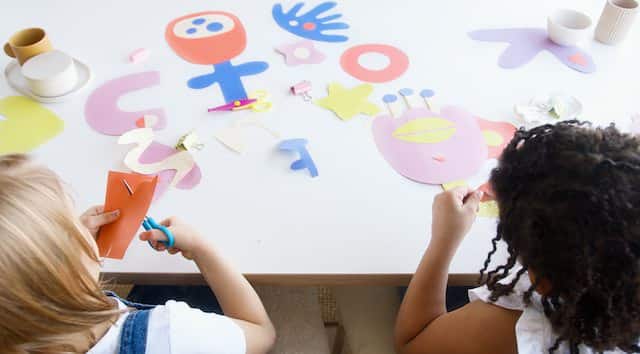 Young children learn by doing
Ever heard the phrase 'learn by doing'? For children, this is perhaps the best way to learn things at an early age.
The idea of this phrase revolves around the concept of learning from failure. When young children engage in educational games and make mistakes, they quickly realize that the method of doing things isn't correct.
After experimenting, they'll usually get to the correct way of doing things and soon, they'll become an expert at it. This is because, at an early age, kids are very curious and eager to learn.
Not only do these online educational games catch the interest of young children but they also serve as a platform to develop motor skills (small muscle movements that involve coordination and precision).
Children are always eager to know about everything around them. They constantly try to feel things and manipulate them to understand their functions and properties better.
Through interactive experiences provided by coloring games, these kids can do exactly that and hence, they end up satisfying their curiosity.
Plus, coloring games offer children the perfect opportunity to experiment with different colors, and shapes, and even create detailed patterns.
While doing so, they fill these patterns with colors and begin to internalize important concepts related to these colors and shapes. This hands-on approach works perfectly to help them grasp these concepts compared to other learning methods.
Furthermore, the development of motor skills is encouraged in these educational games. Such skills are incredibly handy for everyday tasks such as writing, using cutlery, or even buttoning up clothes.
Encouraging your child to dive headfirst into these games is the best way to go as it has a lasting impact on a kid's life. They develop a confident and independent nature that the kid carries around with them wherever they go.
By introducing kids to coloring games, we are not just providing entertainment but also allowing them to break free of their shackles and grow.
As parents and educators, it is our responsibility to create an environment that encourages active participation and hands-on learning, which serves as a strong pillar in a child's educational journey.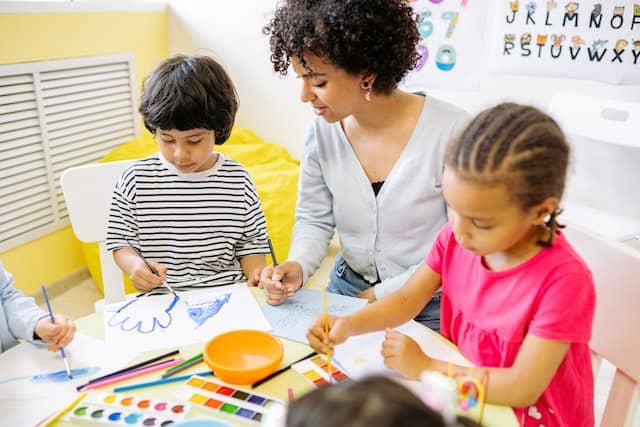 Children learn best with multi-sensory teaching tools
It's established that online learning games are a vital educational tool to possess for any parent/educator. Now, let's look at how these games offer a multi-sensory teaching approach!
Naturally, young kids are drawn to sensory experiences. It helps them learn the best way and allows them to engage several senses at the same time. Online games offer the perfect platform for this because of the several elements they possess:
Visuals
If you've played any online games, you'll be well aware that they're a delight because of the numerous visual elements that you encounter! The same logic applies to online coloring games.
With various exciting colors and fantastic graphics, these games are sure to catch the attention of young kids worldwide.
These visuals not only ignite the creative artist inside the child, but also help in understanding concepts regarding patterns, shapes, and colors.
Sounds
Another fun and educational aspect of online coloring games is the different music, sound effects, and voiceovers that are available.
This opens up the dimension of sound to young children and allows their learning experience to be enhanced.
For example, once a color is on display, the child could hear a voice sounding out the name of the child, further reinforcing the knowledge of colors to them.
Tactile interaction
Finally, online learning games also require tactile interaction, especially when playing on touchscreen devices.
Children have to move their fingers in certain ways to interact with the game. This allows children to develop tactical engagement skills and also strengthens their hand-eye coordination (essential for everyday tasks)
These multi-sensory teaching tools allow children with different learning styles to progress as well. While some are incredible at visual learning, others excel more through sound cues or hands-on activities.
This multi-sensory blend provided through online games allows children to find an effective learning method that helps pave a brighter future.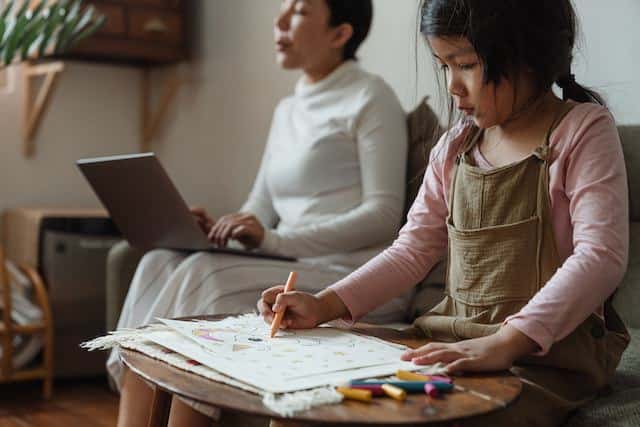 Games are fun, but also build focus
Sure games are fun educational activities, but several people argue that they don't allow children to focus on the important things in life.
On the contrary, it has been proven that it's the other way around as games improve focus in young children!
When playing online video games, young kids are expected to show high levels of focus otherwise they wouldn't be able to go past levels.
The best gamers around the world are the ones who can remain focused for the longest time. So, if a preschool kid wants to be good at a game, they would have to show dedication by remaining focused.
Luckily, the interplay of bright colors with educational activities makes that easy and makes the experience enriching and fun.
It's clear to see that colouring games capture children's interest naturally. After all, the excitement of achieving goals and getting rewards for them can't be compared to anything else!
As children go forward in these color games, they get various tasks to complete. These are centered around coloring within the lines, replicating patterns, or even matching colors to objects.
To succeed at these tasks, the children must focus and pay close attention to details. Furthermore, the bright colors being used in these games is to keep young children attracted to them even when things get a bit tough.
They add an element of visual appeal that attracts children naturally and allows them to showcase their skills in these games.
One of the fascinating aspects of online coloring games is how they seamlessly blend education with entertainment.
While children might view these games as pure fun, they are participating in educational activities (something they would have otherwise thought of as not fun.)
As they color, they absorb knowledge about colors, patterns, and artistic expression. This fusion of learning and play is a powerful method for instilling essential concepts in young minds.
Best Online Color Games for Preschoolers
Let's look at 5 of the best coloring games for learning colors available online: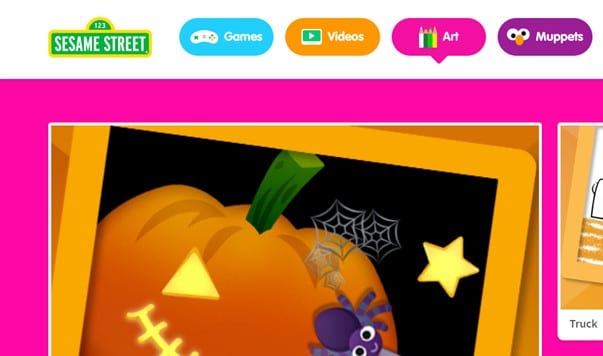 One of the best online color games available for young kids is Sesame Street Art Maker.
This contains dozens of different coloring options for children of all ages and provides a unique theme.
Young kids have various options such as choosing between painting a pizza, a cake, the night sky, or even the all-famous Cookie Monster!
Elmo will help you throughout the game, and the painting options can offer an exciting surprise too!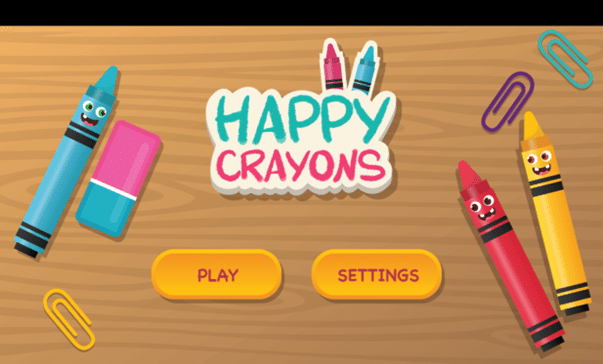 One of the best new games when it comes to coloring is 'Happy Crayons' and boy oh boy, these crayons are ready to color!
You can pick any from 36 different drawings that are available including outlines of objects, foods, and animals.
Once you've picked your preferred drawing, start coloring between the lines or outside them depending on your preference.
You can save any of the pictures you color and come back and continue from where you left off or even just admire the coloring that you've done.

If someone tells you Creative Puzzle is just a puzzle, correct them and remind them it's a coloring game that's packed with puzzles and memory games with multiple levels!
This is a game packed with various adventures for young kids and has various levels and a list of achievements that you have to complete.
Each level presents a picture that you have to make again by coloring (this can be done through memory or by giving different colors a try).
For kids looking for a challenge, it's the perfect coloring game to start your journey!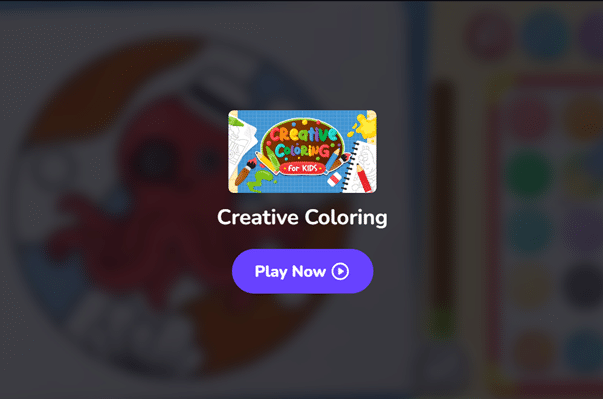 Similar to Creative Puzzle, Creative Coloring for Kids offers even more complex images and a new set of colors for kids who are tired of playing simple online color games for preschoolers.
Every image that pops up on the screen can feature up to five different colors. The catch is that you have to memorize all these colors (and other details) or try as many different color combinations as required to proceed!
If you get it wrong, you can always try again but the only way to proceed to the next level is to make the correct color options and win the level.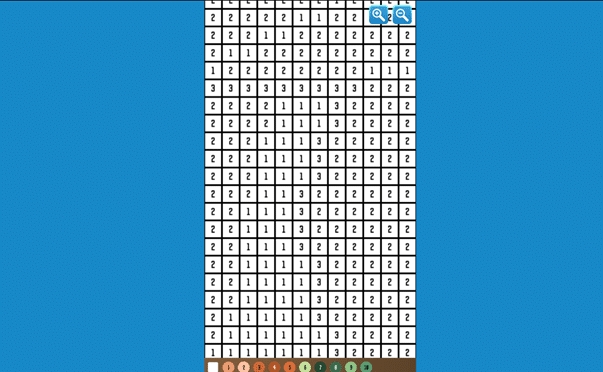 Color by number is a popular coloring game that even adults often enjoy. In this game, there's a numerical twist that makes this game exciting to people of all ages.
Young kids are required to fill in colors according to the assigned numbers. This offers them an excellent opportunity to learn number recognition while learning about colors.
The idea is simple and you can zoom in to properly fill in the details. Once you are done, zoom out to check out the bigger picture!
The game can be closed and reopened when required and all your progress would be saved.
Best Online Coloring Pages
Even though online color games for preschoolers can be fun, sometimes they just want to color fun and interesting pictures. Let's look at the 5 best online coloring pages and coloring books available:
Just Color Kids Coloring Pages
One of the most unique coloring pages for young kids is Just Color Kids Coloring Pages. These are pages that you won't find anywhere else and are currently very popular in the coloring world.
On these coloring pages, you will be welcomed by various popular entertainment and media properties that kids will recognize.
So, this gives children the chance to color in pictures of their favorite actors/actresses or even sets of their favorite TV shows!
If that's not 'educational' enough, then young children can also pick movies that are done by well-known artists throughout history to color.
Every kid wants to play the best games for coloring, and Crayola Coloring Pages offers the best opportunity for this with its old-fashioned coloring pages!
All you need is a set of crayons, some colored pencils, and a printed paper of these coloring pages to get started.
The best part is that there are tons of categories for your kid to choose from including Disney characters, celebrations, and motor vehicles.
Adore coloring and can't get enough of it? Guess what, Super Coloring Pages is ready to provide tons of options when it comes to coloring pages!
Not only do they offer tons of selection when it comes to picking a coloring page, but they also provide various sections on education by focusing on fruits, animals, and more.
Once your kid has picked the page they want to color, they can just start right away and begin their exciting coloring journey!
Trusted names can be hard to find in the field of online coloring pages, but few are as trustworthy as Crayola Kids!
Dubbed one of the best online coloring pages, Crayola Kids offers kids a digital platform to discover their inner artist.
Kids have the opportunity to choose between various coloring pages, ranging from themes on Disney, animals, or even other TV shows.
Kids can color both inside and outside the lines, as well as save their work and continue it later.
Last but not least, we have Coloring4All on our list of top 5 best online coloring pages.
They are often regarded as the perfect blend between fun and education with their uniquely designed coloring pages.
These pages cater to both the educational aspect of coloring as well as the fun aspect by allowing kids to pick between their favorite themes.
The best part is that there is a specific section based on learning the names of fruits.
We've also got a great post about puzzle games for preschoolers. Go check it out!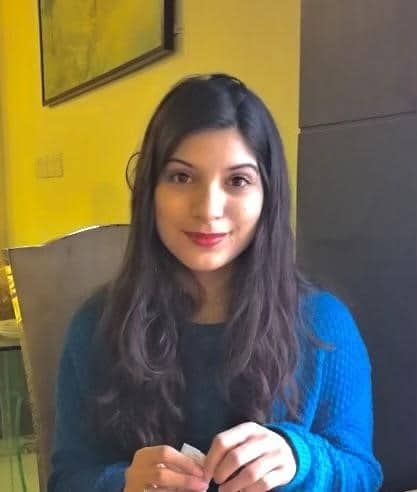 Farah Jassawalla is a technology enthusiast with a keen interest in AI, ML, and anything digital. Her passion for technology extends into her work as she currently manages the blog and social media for one of Canada's most awarded tech and IT companies, in addition to consulting and writing for other brands. She's an avid reader, writer, and researcher who is always looking out for the next big update in the digital world.
(Visited 17 times, 1 visits today)