If you've got the dream, then we have the knowledge you need to make it a reality. Intrigued? Check out these insider tips for starting a podcast!
There are currently over 660,000 different podcasts on the internet and more are uploaded every day. That's a lot of competition, no matter what your concept is.
But don't be disheartened. The key to developing a great podcast all lies in the way you go about the process. Check out these tips for starting a podcast for insight into this complex, yet rewarding creative process.
1. Develop Your Concept
If you want to start a podcast about great movies, then you need to come up with content that other people haven't already shared before you. Try to think of creative spins to put on your topics that will make your concept unique.
2. Get a Great Microphone
One place you definitely don't want to skimp on equipment is when you're buying a microphone. No matter how good your podcast content is, if you record your audio with a bad microphone, that is all people will notice. Check out this article on hyperx quadcast vs blue yeti to know which USB microphone will work better for you.
Try to avoid using the microphone that is built into your computer. It will most likely pick up a lot of background noise and static. Instead, opt for a standalone microphone that can connect to the USB port in your computer.
Or if you're really serious, buy a dedicated microphone and sound mixer so that you can control the quality of the sound that is picked up by your microphone.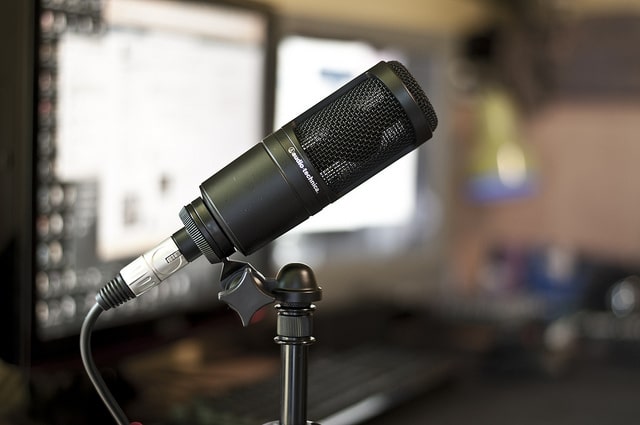 3. Set Up a Skype Account
If you ever want to have guests on your show, then you will need to be able to record them remotely with high-quality sound. One of the best ways to do that is with a Skype account.
It's a free program that your potential guests can easily download and set up on their home computer. Plus it has excellent sound quality compared to other methods.
4. Choose Your Recording and Editing Software
If you plan to monetize your podcast at all, you will need high-quality recording and editing software. Cutting corners in this part of the process can discount all of the other hard work you have done.
Make sure that the audio you upload as a finished podcast episode has a nice intro and outro as well as mastered sound throughout. Choose software that you can learn to master and that offers all of the high-quality sound options you want for your podcast. Melon offers some of the best software options, and they're free. Visit them at http://melonapp.com/solutions/podcast-recording-software/.
5. Add ID3 Tags to Your Work
In order for your work to be searchable, you will need to tag it with the title, track number, and artist through ID3 tags. The easiest and cheapest way to do this is by using a recording software that allows you to edit the ID3 tags right in it. Otherwise, you will need to buy separate software for ID3 editing.
6. Create a Hosting Account for Your Podcast
There are many different media hosting websites that will allow you to upload your podcast so that you don't have to have a high-bandwidth website. Make sure you check out Soundcloud and Libsyn for some of the more popular options to create your podcast.
7. Create Awesome Cover Art
If you want people to pay attention to your podcast, then adding great artwork for the cover is a wonderful idea. Just like in the way people choose books by their cover, they will also often choose podcasts that "look" interesting. Make sure you capture the concept of your podcast in the artwork that represents it.
8. Choose Your URL
In order to grow a major following for your podcast, you need to have a consistent URL for your show that can be used across different platforms.
To get started, choose a URL name that you want to associate your podcast with and then check to make sure it is available on all of the major platforms. Then, quickly establish your brand on that website by setting up your podcast information under that name.
If the name you want is taken on a major platform, then you need to change your name for all of them. You can't just hyphenate your name or add a period. Any inconsistencies can force you to lose audience members if someone goes to look for you the wrong way on a platform.
9. Record Your First Episode
Your first episode is the one that will set the tone for all else that follows. Make sure you take the time to develop your concept and master your sound well so that people will be encouraged to listen on.
No matter how long you have your podcast, that first episode will always be there to represent you, make it a great first impression.
10. Choose Great Post Sound Production
In order to have a high-quality show, people are going to expect you to do some post sound production effort like adding in funny noises and sounds like audience applause and laughter.
But you can also take your concept one step further by adding in royalty-free music options. People will love being able to groove to your show and will become more absorbed in your content if it has music.
11. Tips for Starting a Podcast and Getting it Listed
In order to get the message out about your podcast, you need to try to be featured on websites and playlists that recommend content to people.
Growing your audience will be key to monetizing your content and being able to continue your podcast so that the time to reach out to people in the industry to see if they will feature your content.
More Great Advice
The tips for starting a podcast in this post can help you develop your concept and get your first episode uploaded so that you can start to gain a following. After that, it's all up to you to market your concept and grow your audience.
You can do it. Start chasing your dream. For more great advice to help you on your journey, check out our other posts today.
(Visited 89 times, 1 visits today)