In the year 2021, the cannabis community experienced tremendous growth and surpassed essential milestones. As legalization efforts continue to take root across the globe, more and more people opened their minds to the possibilities of Mary Jane. Now, over 60% of Americans use herb regularly, and experts predict sales from cannabis to surpass $35 billion in the next five years. The future of the herbal industry is bright. Consider these six trends that will spark conversation in 2022. 
The rise of e-commerce
With the added convenience of order-now buttons and doorstep delivery, it's no surprise that online shopping outranks brick-and-mortar alternatives in popularity. Fortunately for 420-friendly consumers, Ganja products are no exception to this worldwide phenomenon.
As a result, a whopping number of retailers have invested in apps and websites to sell herbal products, such as CBD oils and smoking accessories. In the past few years alone, the CBD industry experienced a 700% increase in sales, primarily due to explosions in e-commerce platforms. Consumers will continue to acquire their favorite herbal items online in 2022. Forecasts also show that most major flower-friendly merchants will expand their virtual markets in the coming year.
Growing public approval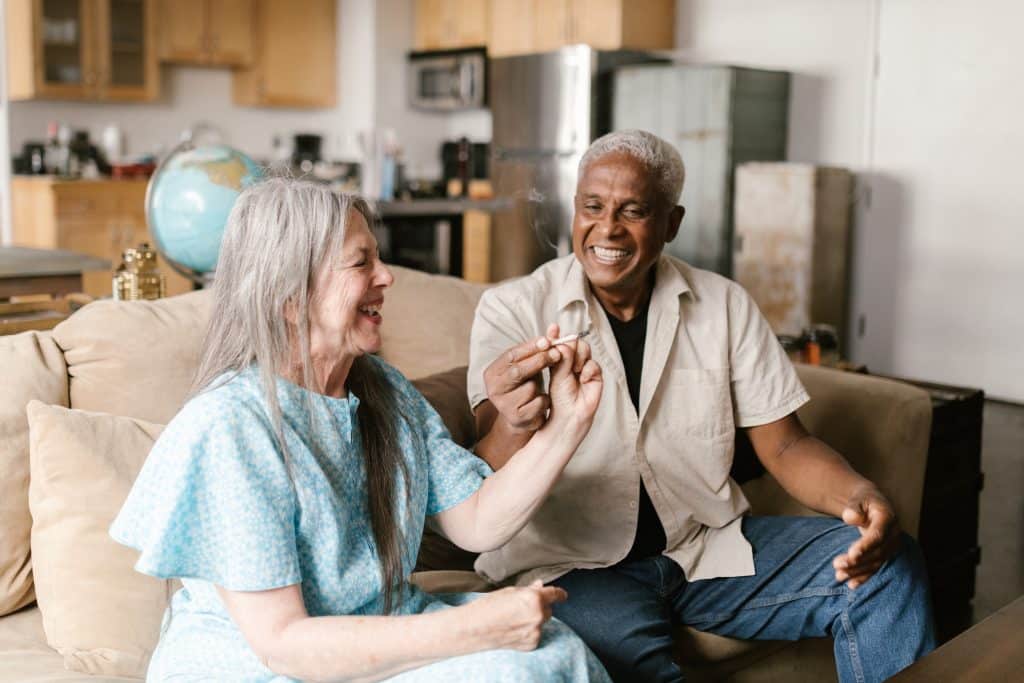 Over the past ten years, Americans have drastically changed how they think about cannabis. Taken from a 2020 Gallup poll, 68% of United States residents agree with legalization efforts. The data shows that, despite confusing state-by-state laws, Americans as a whole want access to recreational and medical marijuana. The trend of public approval is bound to skyrocket in 2022 as skeptics are exposed to positive media representation and cannabis rebranding.
Mainstream herb use and acceptance
Scroll through any mainstream media source from Vogue to New York Times, and you'll find plenty of positive discourse surrounding herb. Long gone are the days of confining Mary Jane to the outskirts of society. Now, leaders in politics and entertainment praise herb for its many benefits. As retailers and growers finally get the recognition they deserve, the entire herbal industry has grown. Take dab rig retailers like MJ Arsenal, for example, whose online shop has seen an explosion in popularity over the past few years, thanks to their state-of-the-art collection of fully-fused quartz bangers. 
An explosion in diversity
As the industry continues to expand, the race is on to create the next innovative product or potent strain. High-tech accessories are hitting the market at a remarkable pace, and now every large retailer must offer a cutting-edge product. Growers are also being pushed to breed new strains. The average consumer will now have a broader range of options that vary in potency, flavor, and appearance.
Legalization remains uncertain
In 2021, 15 states have officially legalized herb for recreational and medicinal use, while 19 have approved medicinal use exclusively. State legalization is expected to increase in 2022, although the possibility of federal legality remains uncertain. Apart from the United States, countries across the globe are experiencing decriminalization and legalization. Mexico, in particular, has approved the recreational use of cannabis and is predicted to play a significant role in the global herb industry in the coming years. 
Research studies reveal new insights 
Cannabis has only recently begun to be researched by professionals, and it's still widely unknown how cannabinoids react within the body. As studies continue to discover the various functions of terpenes and other chemical compounds, many predict a shift in how herb is categorized. Instead of labeling strains as either Indica or Sativa, producers will begin to understand how different characteristics impact bud's performance, quality, and taste. 
Final thoughts
As public perception of herb is reshaped, many are predicting cannabis is growing into its golden age. There is no doubt that the industry will continue to reach new milestones in 2022, and consumers will have access to even more of their favorite herbal products.
(Visited 205 times, 1 visits today)