In today's article we decided to cover some of the best alternatives to Google Official Android Apps, Or you can say apps which are similar to Google Official Apps for Android. So if you're looking for some of them, then I'm sure you will definitely going to enjoy reading this opinion piece.
Android, the one of the most popular Smartphone OS, which is getting better day by day. Also, to lock users into its ecosystem Google is trying hard and creating lots of news app which are very simple, easy to use, and yea free. No doubt all of them are good, but many fall short which make users to find something better.
There are many Android available over Google Play Store that you can use in place of Google own Android apps which do a better job. So what are you waiting for guys, uninstall previous unstable apps and try apps which are listed below:
Email Apps for Android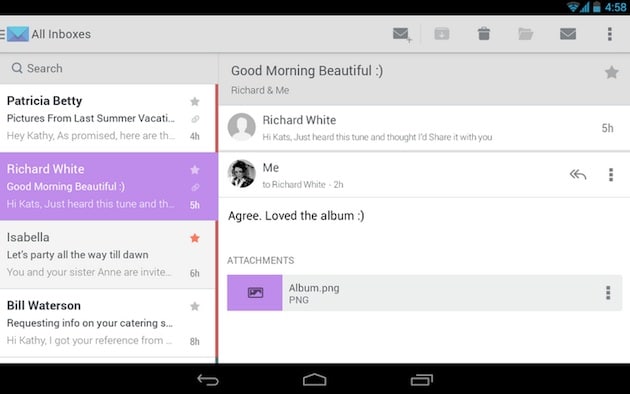 1. Cloud Magic
One of the best email app with fast magical search for your phone and tablet. This app works with Gmail, Exchange, Yahoo, Outlook, iCloud, Google Apps, Office 365 and any IMAP account. CloudMagic is free and supports up to 5 email accounts.
Price: Free
2. Aqua Mail
AquaMail is an email app for the Internet and Exchange mail. This app provides easy automatic setup for popular email services: Gmail, Yahoo, Hotmail, FastMail, Apple mail services, and more. It also recognizes mail accounts at domains hosted by Google Apps, Yahoo BizMail, and others.
Price: Free
3. Evomail
Its a modern mobile email app which quickly archive, trash, and label messages with simple swipes. This gives you the ability to quickly triage your email throughout the day as it comes in. Stop waiting until you're back at your desktop.
Price: Free
4. SolMail
SolMail is a powerful e-mail client that helps you to manage all of your e-mail accounts & messages in one app. It supports many other email services via standard Internet email protocols: IMAP/SMTP/POP3. No additional fees for using our special features, its 100 free.
Price: Free
5. MailDroid
MailDroid is an ad-supported Webdav/POP3/IMAP Idle Push email client written from the ground up and not based on the stock Android email client. It has all the features you could want from a mobile email client and it continues to be built around user feedback.
Price: Free
Messaging Apps for Android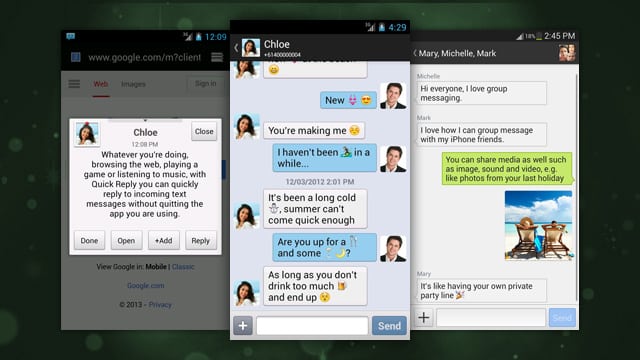 1. Textra
Textra is a seriously beautiful, feature rich SMS and MMS replacement app. This app includes a bunch of great features like 800+ emoji's, animated GIFs, animated emoji's, themed dark mode, a cool quick reply popup, better MMS and GROUP messaging. Plus 'oh so easy' per contact customization of bubble colors, delivery reports and notifications (icon color, led color, sound, vibrate pattern, privacy and popup.
Price: Free
2. Hello SMS
It's the fastest way to text using which you can group chat easily, send and receive photos quickly, and switch between chats with a single touch. Hello is a streamlined way to test: no Inbox, no clutter, no ads. Just you and your conversations.
Price: Free
3. EvolveSMS
EvolveSMS is a powerful texting replacement app that makes talking to your friends quick, fun and easy. It's been designed from the bottom up with the newest Android guidelines in mind to look beautiful and just plain work. Feel completely immersed in the app with a design that flows freely between, you, all your friends, and Android.
Price: Free
4. 8sms
8sms is a port of the Android stock messaging (sms and mms) app with a few extra useful features then added on. The current version is ported from Android 4.4.2 and a very early version of CyanogenMod 10.2. The app featuring Quick reply pop-ups, Gesture based templates, Emoji support, Optional dark theme, Clean and no bloat
Price: Free
5. Chomp SMS
chomp SMS is a souped-up alternative to the boring stock messaging app, with a heap more features. It has feature like 800+ emoji's, passcode app lock, message lock, heaps of privacy options, scheduled SMS sender, stop a text while sending, backup, blacklisting / SMS blocker, signatures, text snippets, quick reply popup, better MMS and GROUP messaging and much more.
Price: Free
Calender Apps for Android
1. Cal Google Exchange and Calendar
Amazing Calendar app sync all of your current calendars including Google Calendar and Exchange. It also merges business agendas and personal life planning in one place. Uniquely flexible to meet changing needs, your calendar will always feel tailored to you.
Price: Free
Agenda is a beautifully designed calendar for your Android phone that gives you various "at a glance" views. We've stripped away all the stuff you don't need, so you can more quickly manage your day.
Price: $2.00
3. SolCalender
SolCalendar will turn your calendar and diary into a thing of beauty. SolCalendar works with all the calendars you've already got on your phone and the other calendars which support CalDAV like as iCloud, Yahoo! Calendars as well.
Price: Free
Camera Apps for Android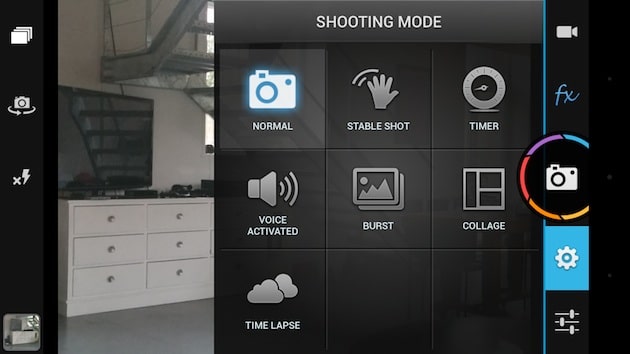 1. ProCapture
ProCapture adds advanced features to the Android camera experience. Multiple advanced camera shooting modes are supported: Timer, Burst, Reduced Noise, Wide Shot and Panorama.
Price: Free
With this app take better photos with your Smartphone which actually helps you take better pictures. Pack your phone with pro features and get more creative control with the following standard and exclusive Android features like shooting mode, composition guide, face recognition, creative editing tool and more.
Price: $2.99
Award winning camera app replace all your camera / photo FX apps with just one. This app featuring optical zoom, best photo mode, live preview, silent camera and lots more.
Price: $2.99
4. Instagram
It's a simple way to capture and share the world's moments on your Android. Customize your photos and videos with one of several gorgeous and custom built filter effects. Transform everyday moments into works of art you'll want to share with friends and family.
Price: Free
5. Photo Grid
With PhotoGrid you can make your photo collection into amazing collage. This app easily creates collages, wallpaper and photo albums. You can edit pictures in our photo lab and share on Instagram and other places with Photo Grid.
Price: Free
Productivity Apps for Android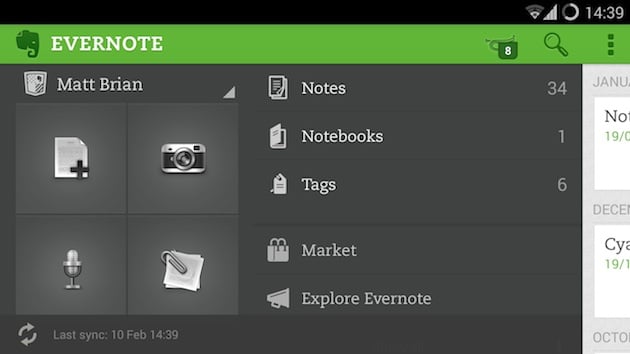 1. Evernote
Evernote is an easy-to-use, free app that helps you remember everything across all of the devices you use. Stay organized, save your ideas and improve productivity. Price: Free
2. Any.do
You can use this app to remember all the tasks they want to-do and make sure they get them done. Key benefits: Seamless cloud sync, Speech recognition, Alerts, Any.do Moment, Snooze tasks, Google Task Sync, Notes, Sub tasks, Amazing Widgets, Repeating / Recurring Tasks, Missed call, Auto complete, In app actions, Gesture support & much more.
Price: Free
3. Todoist
The perfect to-do list app is there wherever you need it: on your phone, tablet, desktop, browser, Gmail, and more.
Price: Free
Browsers App for Android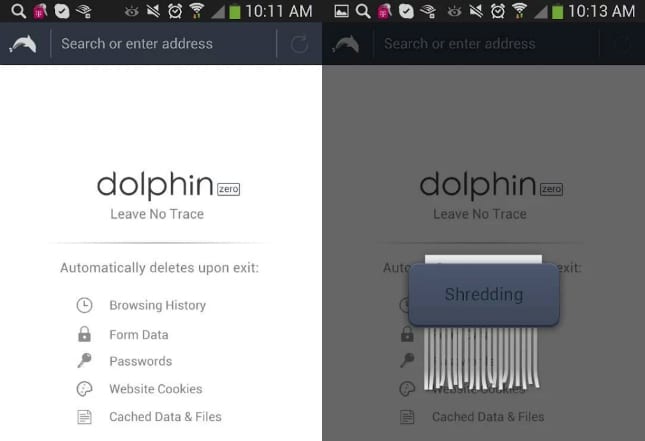 Dolphin makes mobile browsing easy, adapting to the way you want to browse with a personalized home screen, voice and gesture control, customizable settings and sharing features.
Price: Free
2. Firefox
Firefox for Android is the free web browser that puts the power of the open web in your hands. This is fast, easy to use, & customizable, with the latest security and privacy features to help you stay safe on the internet.
Price: Free
Navigation Apps for Android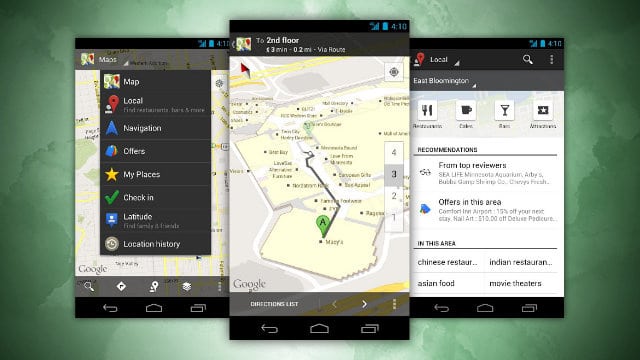 1. MapQuest
MapQuest is your go-to app for GPS, voice navigation and live traffic updates. It has the trusted directions and features you need for stress-free navigation.
Price: Free
2. Waze
Waze is a fun, community based mapping, traffic & navigation app, 70 million strong. Join forces with other drivers nearby to outsmart traffic, save time & gas money, and improve everyone's daily commute.
So these are some of the best Android apps which you can use to replace the official Android apps. But, if you think you have better app recommendations, we'd love to hear them.
(Visited 368 times, 1 visits today)