If you want to get rid from sticky third party apps give try to these Best Android Uninstaller.
Daily lots of Android users visit Google Play to get some best Uninstaller for their Smartphones but all of them are not able to get the best one. In the previous article we have shown you three possible ways for uninstalling apps from Android Mobile and one of them shows the way to remove app using Android Uninstaller. So In this article I have decided to share some of the best Android Uninstaller which you can use to get rid from application you're not able to uninstall.
Basically Android OS has a basic procedure to Uninstall Android application but sometimes it becomes difficult to uninstall apps from your Smartphone specially when it is a third party app. So below is a list of best applications which help you to uninstall apps from your mobile. So choose the best one for your Android Device.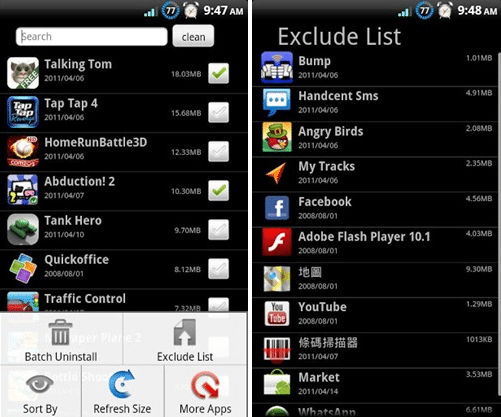 Easy Uninstaller is an android app to uninstall apps from Android OS which is very easy to use. By using this application you can uninstall single and multi application just by one click.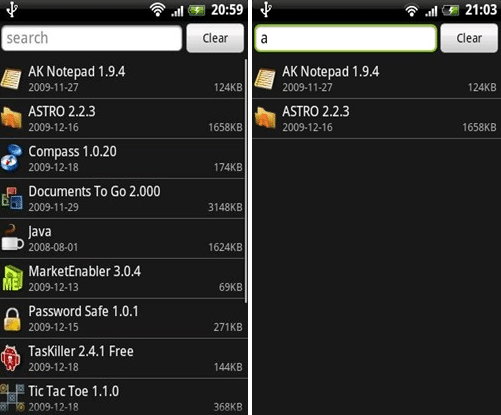 Fastest and simplest Uninstaller tool for android. You can Remove user application easily by a single click. It also Displays application name, version, install time and size.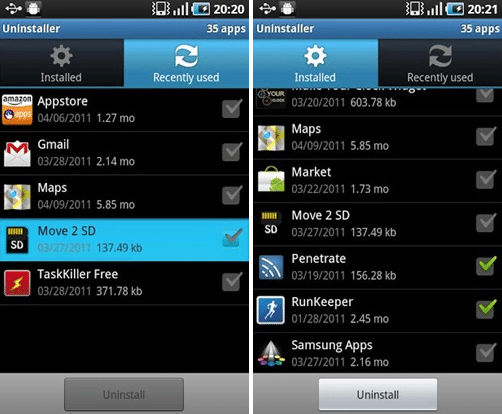 Simply the best uninstaller for Android. You can Use this to uninstall any of the App which is no longer required in seconds. It also shows Free memory on your phone to install other applications or to take more photos.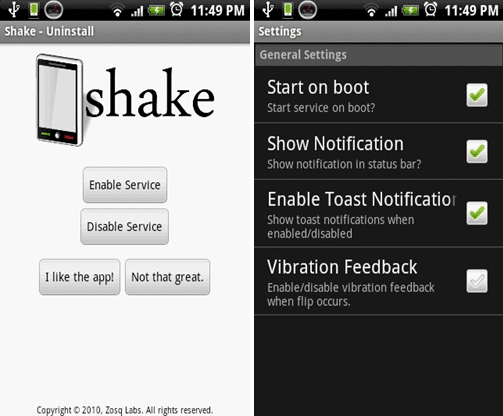 If you browse the android market for apps every day, use this to uninstall the ones you don't like.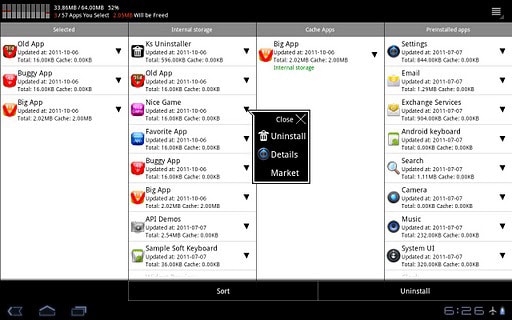 This is another Useful Uninstaller using which you can uninstall a bulk of apps that you don't need and this will help you to manage the list of apps which have cached files or are movable to SD.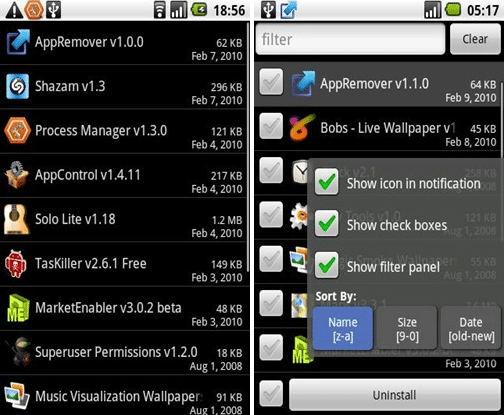 App Remover is another Application which is easy to use and uninstall an app very fast. This App Allows you very easy and fast uninstalling features to uninstall an app from your phone.
App Uninstall is a lightweight software that can quickly uninstall application on your phone. You can search by keyword and uninstall it.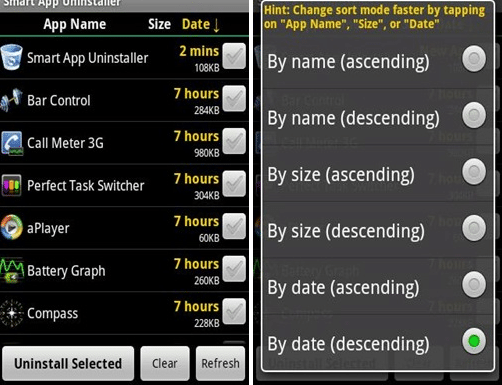 Easiest way to remove unwanted apps from your Android device and save storage space! Select multiple apps to uninstall. Change sort mode from main screen. Display app date info in elapsed time format.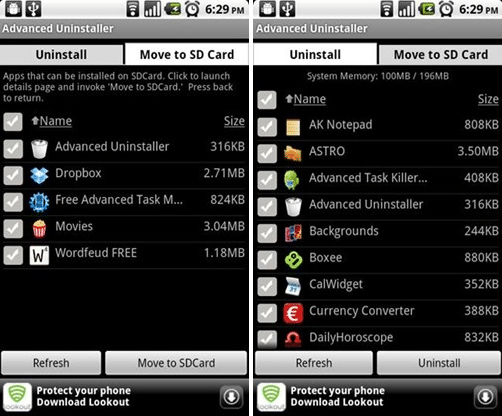 An extremely Quick & Advanced Uninstaller that will allow you to uninstall applications easily. If on Android 2.2, it also displays apps that you can move to SD card to save phone's memory.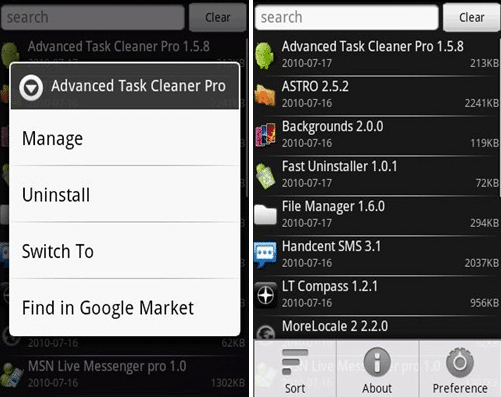 Fast Uninstaller is a useful tool for developers to remove unused application quickly,they don't need to find application through the system application manager.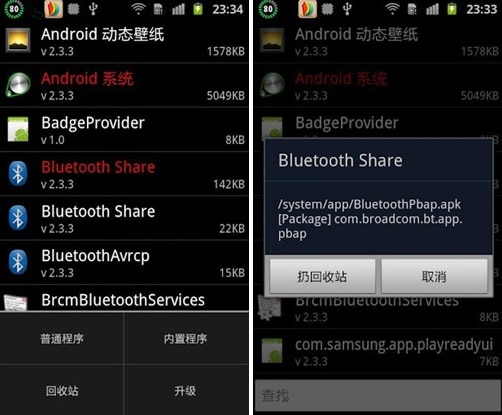 Best root Uninstall Tool For Rooted Android Phones, best Uninstaller app remover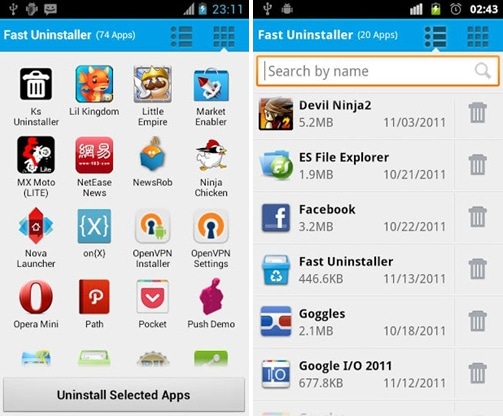 Fast Uninstaller & Backup is a fast, advanced, powerful, and easy to use and user unfriendly System Uninstaller. It comes with functions like uninstall and back up by 1-click, search application in your devices, Fast Uninstaller provides a total solution for the uninstalling task.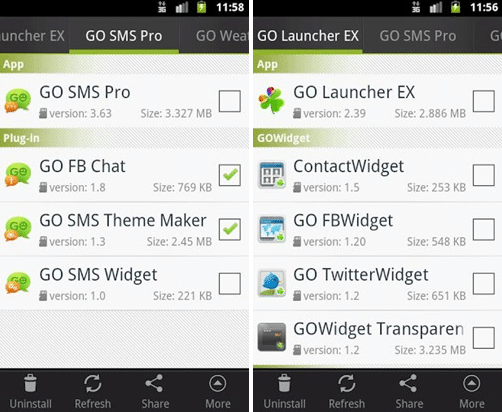 Go Uninstaller is a convenient tool to view GO series apps installed. Using this app you can quickly uninstall GO series apps and their add-ons you do not need.
So these are some of the best android Uninstaller for rooted and non rooted android mobile. But still if you feel I forgot to add any good app, please feel free to share with us.
(Visited 8,271 times, 1 visits today)