If you're looking for a new Smart TV, you can choose to spread the cost of this item over time instead of stumping up the cash upfront. With a UK catalogue, you can pay for your order in installments instead. There are several retailers that offer this service, with various finance options to choose from, including buy now, pay later and pay monthly. Here are the top 3 value-for-money smart TVs.
1. 32-Inch HD LED TV from Hitachi
This 32-inch HD-ready television set comes from super-brand Hitachi, who specialize in consumer electronics. The Smart TV has a wide range of features, including an HD-ready display, and a motion rate of 50. You get the best audio and picture quality, allowing you to watch your favorite programs from a wide range of broadcasters in one place. What's more, this set has a resolution of 1366 x 768 pixels.
You can order an item like this through a UK catalogue, where you can spread the cost of your order and make repayments in installments. With most retailers, you can apply online or over the phone and receive a quick decision about your application. You will just need to provide a few details to get started. If you have been accepted for finance, you can then choose from various consumer electronics and TVs, opt for your favorite one and have it delivered to your door.
2. LG 43LH5100
This 43-inch television from LG has loads of features that enhance your viewing experience, with full 1920 x 1080p resolution, HDMI and excellent picture and audio quality. What's more, the Smart TV set comes with Freeview inbuilt, so you can watch television shows from broadcasters such as the BBC, ITV, Channel 4, Five, W and any more.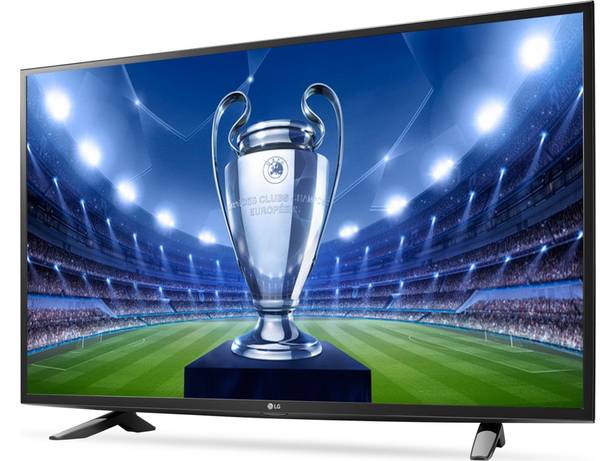 Televisions like this are available on finance if you want to spread the cost of your payments. This might help you to budget more effectively and manage your finances. When shopping for consumer electronics online, look out for discount codes which could entitle you to money off your order or free delivery.
3. Seiki SE40FO04UK
This 40-inch Smart TV from Seiki comes with the latest features such as vibrant colors and crystal clear sound. There is also a panel resolution of 1920 by 1080. When you open a new credit account and order a TV like this, you will receive a monthly statement with the minimum amount you will need to pay, as well as your outstanding credit limit. You can then make repayments online or by speaking to a member of staff over the phone.
If you are looking for a new TV and are unsure how much you should pay for a certain TV then you should always use a comparison website so you know how much the average price of the TV you are looking at is. You could also consider buying the TV on finance with many stores like Argos and Currys offering pay monthly tv deals.
(Visited 139 times, 1 visits today)