The sports industry has been taking new shapes ever since the emergence of smartphone apps specializing in sports. In fact, it is said to believe that by 2028, this industry will reach a whopping value of USD $36.2 billion. Thus, you will soon find a plethora of sports apps that will make you keep in touch with sports for a long time. In this guide, we have covered the top 6 apps so that you can choose the best sports betting app to know about all the latest updates perfectly.
Top 6 Sports apps that all Sports fans will love
Yahoo Sports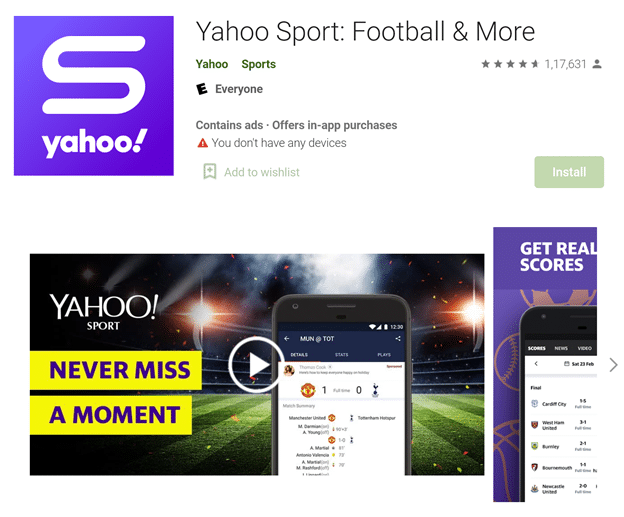 Available for both iOS and Android users, this exclusive app updates you swiftly about all the latest sports updates in no time. Its intuitive and clean interface is useful for sports fans and makes them fall for the app even more. The best part is that it enables users to watch all types of games live even without holding any paid subscriptions. Also, it covers all football leagues and even shares custom updates for their favorite teams. Moreover, its enhanced search capability involving article and video search is excellent. Different sports-related articles and blogs also aid in providing valuable information time and again.
LiveScore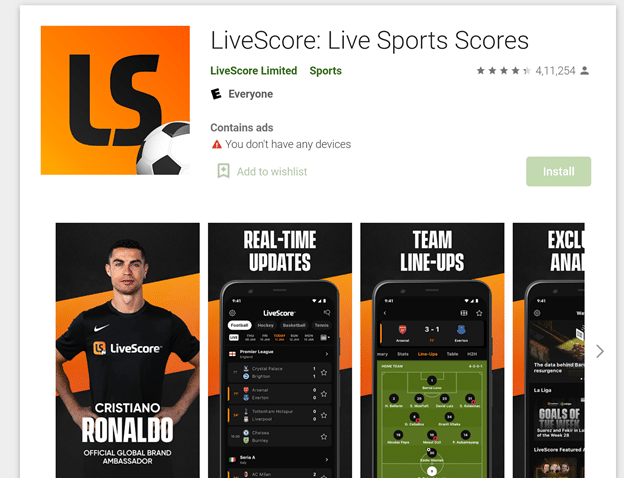 This sports app has been flourishing since 1998 with its real-time score updates for all types of sports be it, hockey, cricket, soccer, tennis, etc. This statistics app also imparts live commentary, which makes it quite easy to stay updated at all times. Its efficient calendar feature is apt to track all the upcoming matches in the best way. Its live notification and explore option also plays a key role in locating their favorite matches and staying updated with their specific tournaments and matches. Further, its ball tracking option also serves its purpose quite well.
365Scores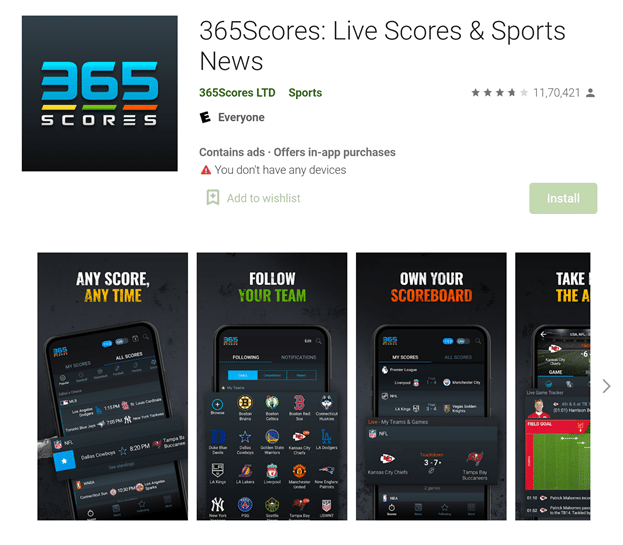 This comprehensive sports app is a fantastic application that offers live game tracking with exclusive real-time updates. Its amazing features help users in staying updated with all the latest videos, scores, schedules, and statistics. Moreover, the players' and teams' heatmaps and ratings impart live updates and information on different players and teams from all across the world. There are special options to aid users in following their teams and matches in Android as well as iOS, besides many other options to keep the users engaged in the app.
BetMGM Sportsbook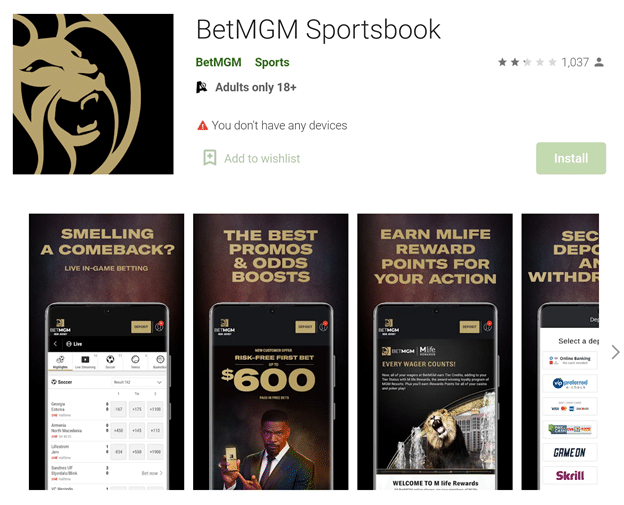 After joining hands with GVC in a joint venture, "Roar Digital," BetMGM has amped up its services on the mobile platform. There are several types of bets available in the app, like prop bets, parlay bets, money-line bets, in-play betting, etc. When you register yourself with the app, you get an exciting bonus. Besides this, there are other exclusive offers that will seek your attention. The app is quite user-friendly, with all the buttons at the bottom. So, you can access them smoothly without any unnecessary hassle and have a premium experience while using the app.
PointBet Sportsbook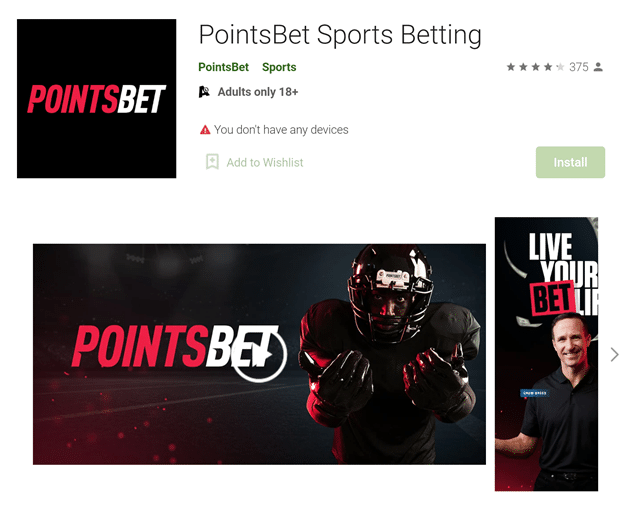 Since its launch, the app has become quite popular in the sports betting world. The app has a simple, easy-to-use, and clutter-free interface. You will get the next-level sports betting experience while using the app. The app covers fifteen different supports, so basically, all the major leagues are covered by the app. Besides superior user experience, you get easy access to your withdrawals and deposits.
This unique app offers a different feel and layout as it has its own risk-management team, which further provides different odds and pricing. So, if you want to try something new and unique, you should opt for PointBet Sportsbook. You will enjoy the thrill of high-risk and upside betting, which may not be available with the other apps in the sports betting world. On top of all this, you can also enjoy exclusive bonuses and offers with excellent customer service that is available 24X7 through live chat.
FanDuel Sportsbook
FanDuel is one of the best fantasy sports providers and offers superior services to its customers in the iGaming world. The app comes with a user-friendly interface that allows you to get well-versed with all the features in a jiffy. The app is available for both Android and iOS platforms. You get access to all the services through the app. Besides this, you can even access the online casino through it and enjoy different games.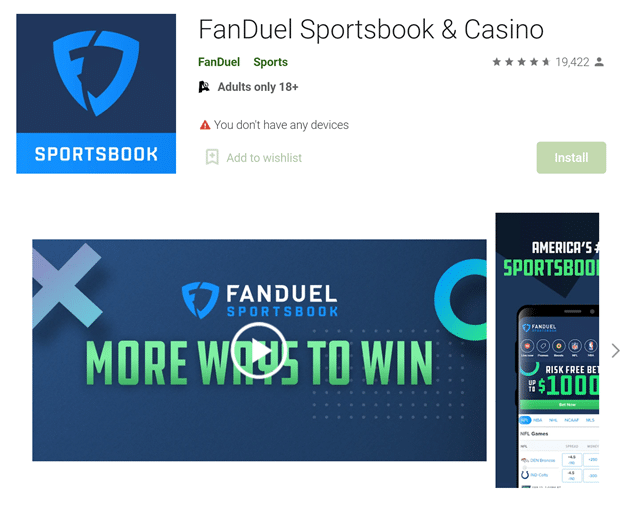 All you need is to download the app into your smartphone and find your favorite sport or game to place your bets. After this, just submit the slip and stay tuned for the outcomes. Besides this, you will get several fantastic opportunities to climb up, so keep an eagle eye on them.
Final Verdict
Here are the top sports apps that will offer you next-level experience and help you get a glimpse of the iGaming world. Every app has its own features and offers exclusive offers and bonuses. Go through the whole list and select the one that caters to your needs.
(Visited 61 times, 1 visits today)