On 31 May 2014 the inaugural section of Edinburgh's new tram system was opened. The light rail scheme first received planning permission in 2007, and while construction has not been without issues, the tramway transport network is now an integral part of the transportation infrastructure for Scotland's capital.
The technology of construction
The tramway represents a considerable feat of engineering. The ground works that commenced back in the autumn of 2007 involved pioneering development. Utility companies were approached with a view to securing agreement to move gas, electric and water pipes and cables along the planned routes. The thought process behind this was that future maintenance work would be streamlined.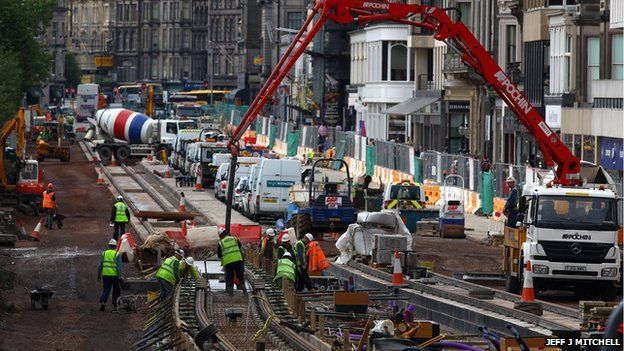 The tramway itself relies on a standard gauge track – 1,435 mm – along with tram stop platforms, shelters, ticket dispensing machines, lighting systems and CCTV. In accordance with regulations, disabled access is mandatory throughout the network.
As well as the tram line itself, constructing the route also involved considerable conventional building to be undertaken. Bridges had to be built to cross railway lines, while a tunnel was bored beneath the A8 road near the Gogar roundabout west of the city. An existing railway bridge at Balgreen was widened. Finally, the depot required to house the trams, along with the various maintenance equipment, was built near Edinburgh airport. Because of concerns about sound insulation this involved excavation work to be carried out.
The Rolling Stock
Under the terms of a £40 million contract, Spanish firm Construcciones y Auxiliar de Ferrocarriles (CAF) supplied a fleet of 27 trams. Spread over 30 years, CAF will now build the rolling stock required for Edinburgh's tramway, as well as ensuring the trams are maintained and repaired when necessary. Each tram is 42 meters in length, consisting of seven separate modules riding on four bogies.
During off-peak periods such as night operations, parts of the tramway can be screened off. This gives the staff much greater flexibility when they are dealing with smaller passenger numbers.
Passengers
The tramway offer a frequent service linking the capital with its airport, with trams running every seven minutes from shortly after six in the morning up until almost 11 at night. The journey into the city takes around half an hour, avoiding the congestion that builds up on a daily basis around other transport arteries.
As well as being ideal for airplane passengers, other important stops include Princes Street – among the capital's main retail thoroughfares – and Murrayfield Stadium, home of international Scottish rugby. Currently the cost of an adult return ticket is £8.50 and this is open-ended. These can be purchases through vending machines or via an app called m-ticket. The trams are built to accommodate buggies and also bicycles.
The trams represent a fluid and seamless way of traveling, but a note of caution is required for passengers when approaching the rolling stock. The tracks themselves have caused issues for cyclists, with wheels getting trapped in the rails and causing collisions. Pedestrians should be very careful when negotiating the tracks en route to a boarding area, especially if there are young children in tow.
The trams themselves are much wider than the tram tracks, so it's important to give the vehicles sufficient leeway. They also take longer to stop than you might think when seeing them approach. If you prefer to drive around the city, you can find some cheap car hire options in Edinburgh at Enjoy Travel. They offer a wide range of vehicles and competitive prices.
(Visited 136 times, 1 visits today)