The Russian capitals of St Petersburg and Moscow are must-sees for any tourist visiting the country. How best to see them both? The answer is the "Sapsan" (Russian for "peregrine falcon") – a sleek, modern, bullet train connecting Moscow and St Petersburg. With a top speed of 250 kilometers an hour, the Sapsan St. Petersburg to Moscow can take travelers between the two cities in three and a half hours. And while some may say there are direct flights that can make the same trip in only one hour, there are a number of reasons why that experience just doesn't compare to traveling via the Sapsan.
Saving Time, Saving Hassle
Nothing saps the joy out of a vacation faster than the hassles of traveling – delays, long queues, papers and inspections – and flying has those things in abundance. Both the Moscow and St Petersburg airports lay outside the cities themselves, which means a long drive to get to and from the airports (and possibly contending with the frequent traffic jams to boot) or using the airport shuttle, which can take almost an hour to get to or from the city center even without traffic delays. Not to mention the long wait times at the airport itself as you deal with security screenings. Combined, these things can add hours onto that "short" flight. By contrast, the Leningradsky Station in Moscow and the Moskovsky – St Petersburg railway station – are both located conveniently in their respective cities, making them an easy and quick trip. And the more streamlined security processes of the railway can save you hours.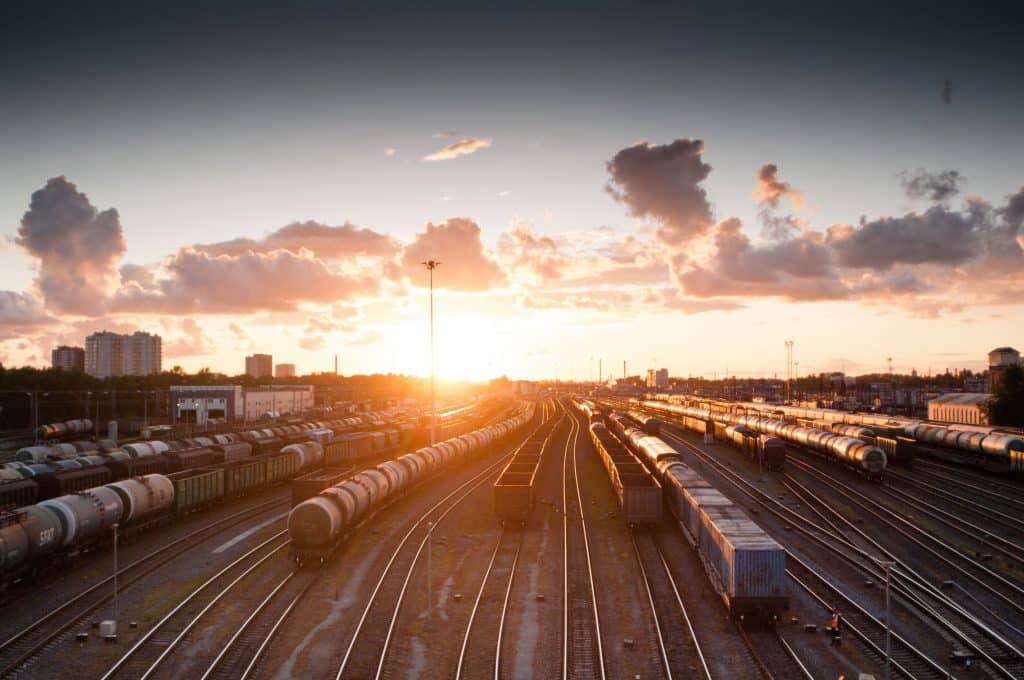 And a plane's posted departure time can fall victim to weather delays – and those can be all too common during a Russian winter – as well as scheduling delays caused by connecting flights, security and mechanical problems and other unforeseen circumstances. Compared to this – and even to European railways – trains in Russia are models of precise scheduling where delays of even a few minutes are considered surprising. 
Comfort and Convenience
Why spend time stuck in a cramped seat on an airplane? Even the economy seats of the Sapsan offer more comfort than its counterpart on a Rossiya plane – as well as the ability to get up and walk about once in a while. And the comfort level escalates quickly as you move up through Business and First Class.
Also, on an airline, while you're stuck in a seat, your luggage (beyond a few carry-on items) is stuck in a hold, completely out of reach until you get to your destination. But luggage on the Sapsan can always be accessed if needed. And the weight and size restrictions are more flexible on a train than an aircraft, without the surprise fees for additional or oversize bags, allowing you to pack for your trip thinking only about what you need, not what the airline will let you take.
More to See, More to Do, More to Eat
Isn't the point of going to Russia to actually see Russia? There are few better ways than riding a train and seeing the Russian landscape glide by, and the large windows of the Sapsan offer wonderful views of the countryside. On the Moscow to St. Petersburg train route, the Sapsan passes through the historic city of Tver as well as picturesque towns like Vyshny Volochyok on the Tvertsa and Tsna Rivers and Bologoye. What you can see from 30,000 feet out through a small airplane window just doesn't compare. Not to mention the Sapsan stations themselves – housed in twin 19th-century buildings, Moscow's Leningradsky and St Petersburg's Moscovsky stations are not only modern and convenient train depots but beautiful scenic spots in their own right.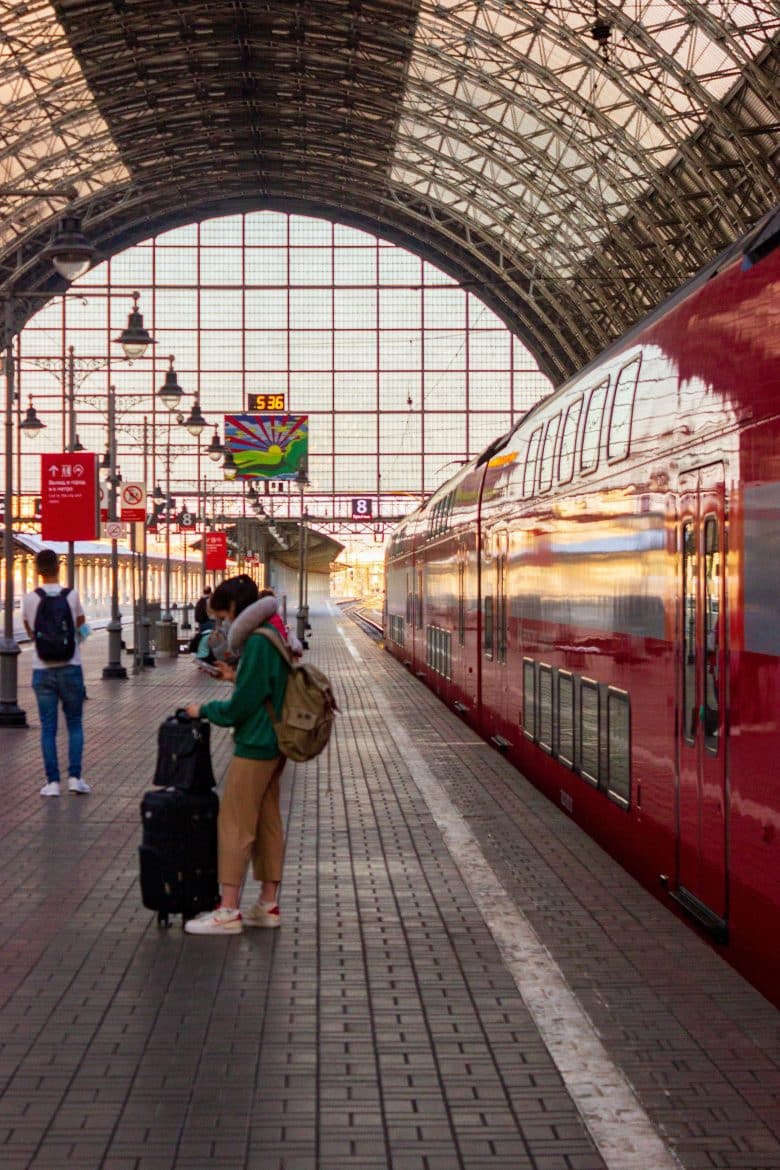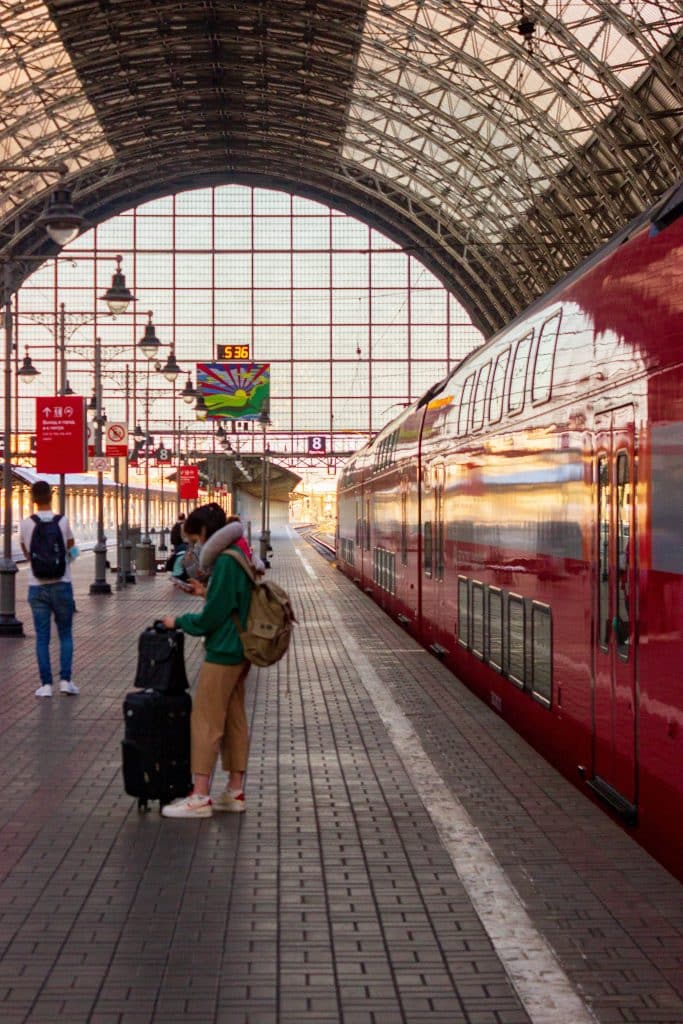 But if you do want something more than just gazing out the window, the Sapsan can provide for that, too. Economy cars have 4 TVs spaced around the car, while the Premium seats each have individual TVs. Seats at all levels have built-in audio-visual units. All cars also have Wifi available, though there may be an extra charge depending on class. So-called "short flights" in Russia, on the other hand, don't currently offer anything in the way of entertainment. And while airline food is, well, airline food, the Sapsan's dining car offers a variety of meal and snack options for your journey.
In Short, Sapsan is the Only Choice
The comfort and convenience of the Sapsan, combined with the scenic views and the entertainment and food options, make the rail trip between Moscow and St Petersburg a pleasure rather than just the necessary hassle of getting from A to B. Buying Sapsan train tickets is also easy. The streamlined, no-hassle process and timely departures make it even more attractive compared to the airline options available. For anyone looking to tour Russia's two landmark cities, there's just no better way to go than the Sapsan.
(Visited 55 times, 1 visits today)