Most people desire to join the software development industry because of the well-paid career options, job flexibility, as well as tremendous career opportunities one can get. Today, there are many companies, both startups and well-established, looking to hire software developers. Further, the electrical, mechanical, and civil engineering industry is looking for reputable software developers. This article on the Ramotion site shows how a career in software development can land you a good job. 
But, have you ever thought of the pros and cons of a software development career? Read on for more information.
Pros
There is a high demand for software developers
The great thing about being a good software developer is that you will always have multiple job opportunities waiting for you. Interestingly, you can even get a job opportunity before finishing your studies. However, some people only get employed after completing their studies.
As a software developer, you will not be limited to working in certain domains or specific companies. All companies require the skills of software developers, regardless of their customer niche.
Good pay
Software developers, irrespective of the industry they work in, are some of the people who earn a lot of money. Also, since there are new things to learn in the industry contributes to a better salary for software developers.
In the software development career, you will always have opportunities to update yourself and get new certifications, which will allow you to earn more money. Moreover, the salaries and other perks are more enticing like free meals, vacation time, good gratuity, and regular retreats, among others.
Statistics released by PayScale indicate that developers earn an average of $102,592 – $115,000 annually. Moreover, a State of IT report released in 2018 revealed that most companies anticipate their IT budgets to grow in the coming years—which is great news for software developers since they fall into this category.
The benefit of working as a freelancer
Although certain software development jobs require full-time commitments, all software developers don't have to report to a physical office every day. Also, you don't need to work an 8 – 5 job. Also, the current trend of working with clients remotely is very common with software developers.
When working remotely, you will always communicate with your team members or clients via emails or video call, and then submit your work and reports via the internet. Also, when you work remotely, you will have an opportunity to work for several clients simultaneously.
Cons
You will be spending a lot of time staring at a computer
Experts from Entrance Consulting say that spending a lot of time on a computer can significantly affect your social life. With this, you will realize that you'll miss out on most social meetings, and in the worst case, it can affect your relationships. In the long run, you might start finding the occasional meeting unnecessary and irritating, even if they are brief.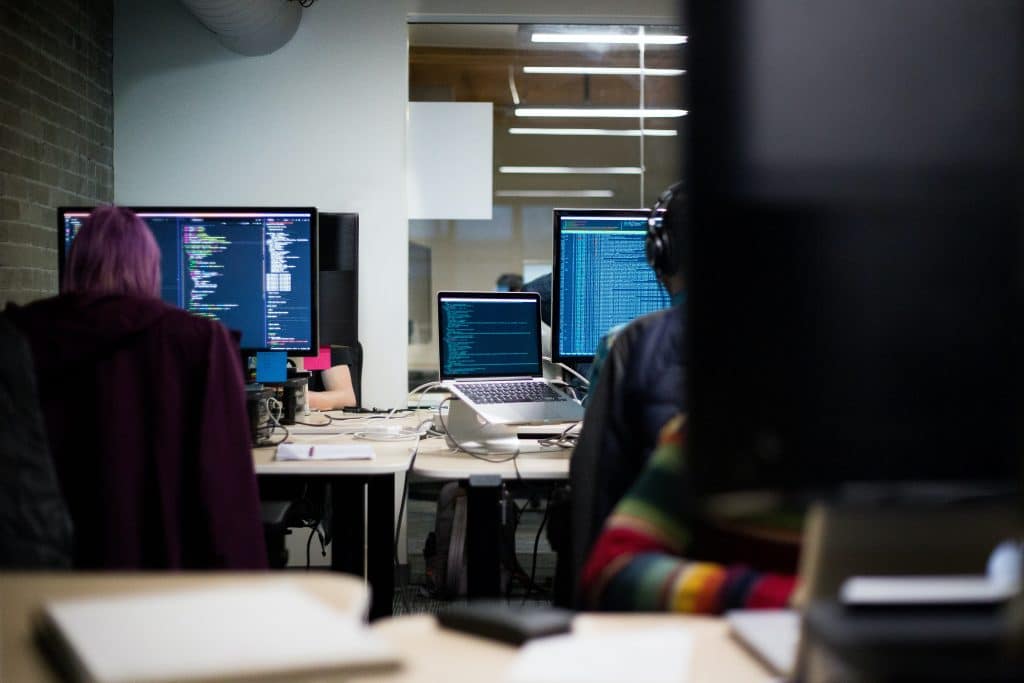 Also, spending most of your time on a computer presents multiple health hazards. Continuous exposure to a computer screen can affect your spinal church and brain. Also since you will be sitting down for long times, your waistline and heart can be affected. This can also increase the risk of diseases like diabetes and cancer. However, you can deal with this issue by taking regular breaks and exercises.
Software developers work for long hours
At times, you will be working on tight deadlines to deliver work. So, you might find yourself working on the weekends or overtime to meet the deadlines set by your clients. And, although you might be working from home and getting good money, you will be forced to sideline your family and social life whenever necessary.
Software development is very stressful
A simple task like meeting deadlines makes software development very stressful. Further, the nature of the work is very demoing. At times, you will need to deal with technical problems and design amazing logic flows. Such kinds of tasks demand high levels of focus and this can drain you over time.
Now, when you add these tasks with the requirement to avoid making errors, things can become very tough. A minor coding error can manifest later as a serious bug. Because of this, software developers have a big responsibility for maintaining clean code to avoid problems in the future.
You will never stop learning
Programming languages recede with time. A coding language might be very common today but recede in the future when a better programming language comes into play. With this, developers who might have focused on one coding language might find themselves out of job.
Therefore, software developers need to constantly learn new coding languages, development platforms as well as new methods of working if they want to remain relevant. As a software developer, you cannot rely on your current success.
(Visited 358 times, 1 visits today)