Tesla has released photographs of its four new solar power roof tiles that were announced by CEO Elon Musk earlier at a press event in LA on October 28. The solar tiles come in four distinct architectural styles- Tuscan, Slate, Textured and Smooth, and have been developed in a partnership between Tesla and SolarCity.
The textured solar power glass tiles are hydrographically printed, incorporate photovoltaic cells and can be combined with Tesla's Powerwall 2 battery. According to Elon Musk, the solar glass 'can also incorporate heating elements, like rear defroster on a car, to clear roof of snow and keep generating energy.'
The photographs of the solar roofs are indeed stunning, and the end result looks far better than what you see on conventional roofs. The stark difference from the awkward looking aftermarket solar panels you see applied on roofs these days indicate that Elon Musk is firmly committed to his aim of making incredible sustainable energy products with visually appealing aesthetics.
Elon Musk Aims To Make Solar Roofs Sexy
Earlier at the company's event at Universal Studios in LA, Elon Musk announced Tesla's own range of solar roof tiles and integrated batteries, while outlining his vision to create an integrated system of solar panels, wall-mounted batteries and electric cars through the proposed merger of Tesla Motors and SolarCity. Musk unveiled a range of textured glass tiles with integrated solar cells, as well as an update to the company's energy-storing Powerwall.
The billionaire entrepreneur also showcased an entire row of houses, used on the set of Desperate Housewives, with the four new styles of solar roofing. The solar power roofs were indistinguishable from the conventional ones and retained the traditional looks of the textured slate shingle or the terra cotta tile. According to Musk, the tiles, made from quartz glass, would be more durable than an asphalt tile and should last 'longer than the house'.
Musk also stated that the company was working with manufacturing conglomerate 3M to develop improved coatings so that the current version of the tiles, which have a 2 percent loss on efficiency, could exceed the normal efficiency. He also mentioned that Tesla's roof would cost less than the full cost of a traditional roof, though pricing details are yet to be revealed (owing to uncertain installation costs).
'People always think of Tesla as an electric-car company, but really the whole point of Tesla was to accelerate the advent of sustainable energy. The goal is…to make solar roofs that look better than a normal roof, generate electricity, last longer, have better insulation and an installed cost that is less than a normal roof plus the cost of electricity,' said Musk.
'The key is really to make solar something desirable where if you install a solar roof on your house, you're really proud, you want to put it on the most prominent part of the house, you want to call your neighbors over and say, 'Check out the sweet roof,' added Musk.
Powerwall 2- Tesla's Upgraded Battery Storage System
Along with the new, sleek solar power roofs, Tesla also announced the Powerwall 2, its new generation home battery storage system that can store 14 kWh of energy, with a 5 kW continuous power draw, and 7 kW peak. That means a four-bedroom home can be easily powered for an entire day.
The battery, can be floor or wall mounted, inside the house or outside, and is warranted for unlimited power cycles for up to 10 years. The Powerwall 2 can also be used for load shifting or back-up power and would cost USD 5,500.
U.S. Solar Market On A Growth Trajectory
According to the U.S. Solar Market Insight Report 2016 Q3 published by GTM Research and the Solar Energy Industries Association (SEIA), solar installations in the U.S., led by the utility-scale segment, are expected to reach 16 gigawatts (GW) in 2016, increasing a huge 119 percent from 7.3 GW installed in 2015.
Both residential and commercial markets are expected to register strong growth in 2016, thus giving a strong boost to the Tesla's plan to expand its solar footprint in the American market. Solar capacity additions are projected to exceed 20,000 megawatts direct current (MWdc) by 2021, thus clearly establishing the future for investment and research in the solar market.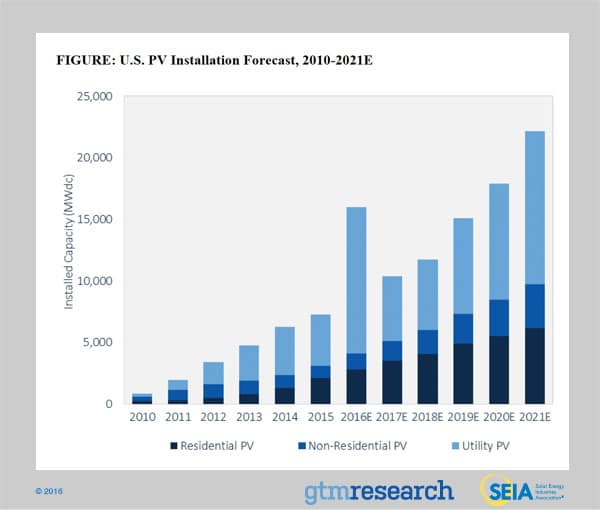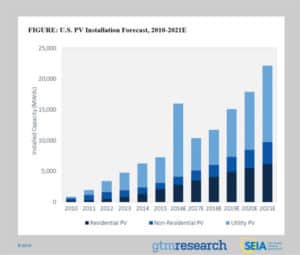 'This is a new energy paradigm and the solar industry officially has a seat at the table with the largest energy producers. Because of the strong demand for solar energy nationwide, and smart public policies like the ITC and NEM, hundreds of thousands of well-paying solar jobs will be added in the next few years benefiting both America's economy and the environment,' said SEIA president and CEO Rhone Resch.
(Visited 901 times, 1 visits today)