Call of Duty: Black Ops 4's first beta session for its Battle Royale mode, called 'Blackout' is set to release on September 10, according to Activision. The game, which is scheduled for an official launch for PS4, XBox One, and PC on October 12, 2018, will offer its Blackout mode in a limited beta version initially for PlayStation 4 owners, followed likely by PC and Xbox One. Pre-orders will likely be required for access, though it is quite possible that the PC version could be open.
Blackout to Feature Three Modes, Massive Map
Though Activision hasn't revealed many details about Blackout, which was announced earlier at E3 2018, we do know that there will be three different options to play the Battle Royale mode in Call of Duty: Black Ops 4:
Additionally, developer Treyarch has stated that the Blackout mode will feature the largest map it has ever created, around 1,500 bigger than Nuketown, and will include air, ground , and sea vehicles.
Black Ops 4 To Be The First Call Of Duty Game Without Campaign Mode
Traditional single-player campaigns are the backbone of most games. However, Call of Duty: Black Ops 4 will be the first game in the series to forego single-player mode, probably inspired by the growing popularity of online multiplayers like Fortnite, PUBG and Overwatch. Instead, there will be different solo missions revolving around the game's Specialist characters, including returning ones like Ruin, Firebreak, and Seraph, as well as new ones called Recon, Crash, and Torque.
This is what Dan Bunting, studio co-head at Treyarch, had to say:
"When we set out to make this game, we never started with the idea that we would make a traditional campaign. That was just not part of our plan. We started from a place that we were gonna make a game that across the board can be playable with friends. That's been our mission from day one.
Of course, through the course of development, as always happens with every game, we're to challenge our conventions … trying different things. Sometimes those things are bold and crazy and innovative sometimes things work out, sometimes they don't work out. As development goes on though, you're always pushing the best ideas forward and that's what was reflected today."
Three Cooperative Zombie Modes
In a game that is so heavily associated with its gritty and semi-accurate depictions of World War II, having a zombie mode seems quite out of place. However, who can resist the temptation of blowing up hordes of zombies in a Call of Duty setup?
Call of Duty: Black Ops 4 will feature a zombie mode, with three complete story experiences. Activision recently when they unveiled a new trailer for the Blood of the Dead map, the third story in the Zombies mode. The official description of the Blood of the Dead, which will see the return of familiar heroes like Richtofen, Dempsey, Takeo and Nikolai, reads as follows:
"Blood of the Dead" takes the classic Zombies heroes on a journey to a secret laboratory beneath the iconic Alcatraz Penitentiary. Encountering a familiar enemy Hell-bent on imprisoning them for all eternity, the Primis crew quickly realize that the future predicted by the Kronorium – the future they sought to secure – is now in serious jeopardy."
The other two modes are called 'Voyage of Despair' and 'IX'.
Mystery Box Edition To Provide A Range of Goodies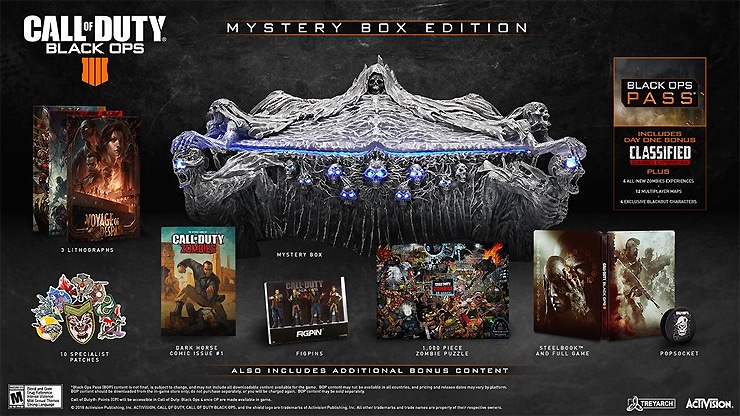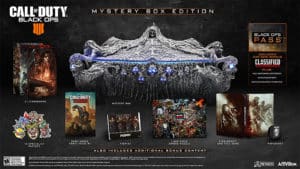 In addition, there will be a $200 Mystery Box Edition, which will include loads of goodies and stuff in a noise-making skeleton sarcophagus that also lights up. How cool is that! The best thing is that it will also include the game, unlike other collector editions.
Here is everything that you will get in the Mystery Box:
Call of Duty: Black Ops 4 Game – The multiplayer game, three undead adventures, and a battle royale mode.
Collectible Steelbook – Limited edition SteelBook game case featuring unique art.
Collectible Zombies Mystery Box – This collectible box has a creepy external skeleton cover that includes scary sounds and lighting. A definite must-have!
10th Anniversary Zombies Puzzle – This 1,000-piece puzzle features unique art celebrates a decade long history of Treyarch Zombies.
Zombies Heroes FiGPiNS – Get your hands on the exclusive set of the new Zombies Heroes FiGPiNs that features Scarlett Rhodes, Bruno Delacroix, Diego Necalli, and Stanton Shaw from Call of Duty: Black Ops 4
Dark Horse Zombies Comic Issue #1 – This first issue of the Call of Duty: Black Ops 4 Zombies Dark Horse Comic comes with an exclusive cover for the Mystery Box Edition. The comic series will throw more light on the backstories of the Zombies Heroes.
Zombies Lithographs – These three collectible lithographs commemorate Voyage of Despair, IX, and Blood of the Dead, three Zombies Experiences in the game.
PopSocket – With its eerie looking skull logo, the limited-edition Call of Duty: Black Ops 4 PopSocket is something you can proudly show off to friends.
Limited Edition Specialist Icon Patches – Call of Duty: Black Ops 4 reintroduces the fan-favorite Multiplayer Specialists, with each having their own unique weapon, equipment, and icons.
Black Ops Pass – The Call of Duty: Black Ops 4 Black Ops Pass includes Classified, a bonus Zombies experience, available at Launch, 4 additional all-new Zombies experiences, 12 Multiplayer maps, and 4 exclusive Blackout characters.
Additional Bonus Content
(Visited 93 times, 1 visits today)