Daily we read lots of news related to Facebook, sometimes it's big and sometimes its smallest. But today I have something which is very big and exciting news for Facebook lovers. Its about a new feature on Facebook which make easier for users to convey how they are feeling and what they're doing at the moment. It's not only about moods and emotions, but yea it also goes to promote the pages you have liked.
You might love to read about:
Many Facebook users are looking for this feature badly, So I decided to give a tutorial review about how this new feature going to work on your Facebook Account. Let's take "music" as an example using the screenshots below
1. The first thing you need to do is, update your Facebook status, but before you post it, Click on the smiley Facebook below where you type your message.

2. Now you will get an option, select your action like feeling, watching, reading etc. In this example I'm going to share with you "Listening to" actions.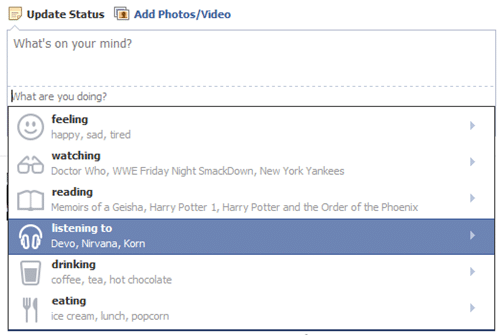 3. Once you select your action, it will ask you again what you're listening to. Now you will get a list of popular music band pages which you have already liked and listed in your music section.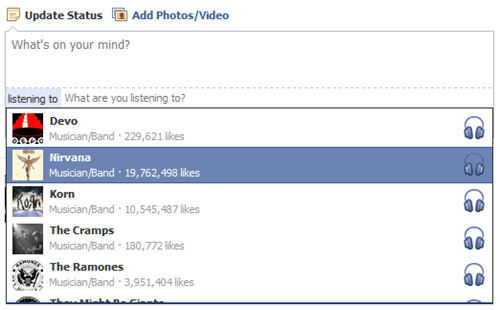 4. Select the band you're listening to and this will be added to your status.
5. You're done now your status is ready to post, click on post.
Above I showed up example related to listening to the action, you can also try other actions. The working principle is very similar and I'm sure you're not going to face any problem.
You don't have the smiley icon yet reasons:
Right now this feature is limited to users

of

the United States and I'm that sure soon it will reach your shore. So if you don't belong from United States, be patient and wait for your account gets updated.

If you're login to your Facebook account using Google Chrome, then you might not able to access this feature as doesn't seem to work in Chrome yet for some reason. But its working fine on Firefox.
So this is all about my article, but now it's your turn to give try to this amazing feature and don't forget to share your opinion with me. Whether you like it or not.
(Visited 230 times, 1 visits today)