The bathroom might just be one of the most overlooked areas of our homes when it comes to décor and design. Yet, think about how much time you spend there. Mornings often start in the bathroom, and evenings often end there.
With that in mind, doesn't it deserve a bit of personality and flair? Similar to how our bedrooms and living rooms reflect our tastes and preferences, our bathrooms, too, can echo our unique style. Plus, giving your bathroom a personal touch isn't just about aesthetics. It can enhance your mood, make relaxation more effective, and even add a hint of luxury to your daily routine.
And if bathroom remodeling cost is your worry, know that it can vary based on the scale of the project. In Fresno, CA, for instance, the average bathroom remodeling cost ranges from $7,722 to $15,273. Smaller changes often mean less costs, so you don't have to worry about expensive updates.
1. Tub Replacement
The bathtub isn't just a place to get clean; it's often a sanctuary. After a long, stressful day, there's nothing quite like sinking into a tub filled with warm water. Now, imagine if that tub was sleek, modern, and perfectly matched the style of your bathroom. That's the beauty of considering a tub replacement.
Over time, bathtubs can show signs of wear and tear. They might get chipped, stained, or simply become outdated. Replacing the old tub can instantly give your bathroom a fresh look. There are plenty of options out there: from classic clawfoot tubs to contemporary freestanding models, the choices are vast.
But when it comes to replacing your bathtub, it's essential to get a Fresno tub replacement company involved. Why? Because a tub isn't just a decorative item. It requires proper installation to ensure that there are no leaks and that it fits perfectly in your space. Hiring a tub replacement company can save you a lot of hassle.
They bring experience and know-how to the table. Besides, they can guide you in choosing the right tub for your bathroom's dimensions and your household's needs. Remember, it's an investment. Not only will you be getting a brand-new look, but you might also find that the value of your home goes up with this simple upgrade.
2. Customized Tiles and Wallpapers
Tiles and wallpapers are the canvases of our bathrooms. They play a significant role in determining the overall look and feel of the space. Think about it: even before you notice the fixtures or the tub, it's the walls and the floor that catch your eye.
Gone are the days when we had to stick to bland, one-tone tiles. Today, the world is your oyster when it comes to designs and colors. From vibrant, intricate patterns that tell a story to subtle textures that add depth and character, there's a lot you can do to add a personal touch.
3. Statement Lighting Fixtures
Lighting isn't just about visibility. It's about creating an ambiance and mood and highlighting the features of your bathroom you're most proud of. Swapping out old, dull lights for statement pieces can make all the difference.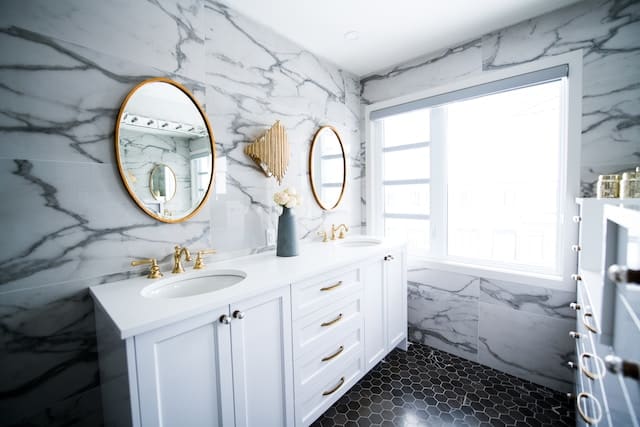 Consider pendant lights that dangle gracefully, casting a soft glow over your sink area. Or maybe a modern chandelier that becomes the centerpiece of your bathroom. With the right choice of lighting, you can make your bathroom shine, both literally and figuratively.
4. Innovative Storage Solutions
Everyone has those little things they need in the bathroom – from toothbrushes to towels, creams to shampoos. The challenge is where to put all this stuff without making the space look cluttered. That's where clever storage comes in.
Let's start with vanities. Floating vanities, for instance, not only provide ample space for your essentials but also make the floor area seem larger, giving the illusion of a more spacious bathroom. They're both practical and stylish.
Next, consider adding ladder shelves. These are trendy and can fit into almost any bathroom design. They're great for towels, plants, and other decorative items, combining function with style. And the best part? You can easily move them around if you decide to change things up.
Hidden cabinets behind mirrors or under sinks are another excellent way to maximize storage. They keep your items easily accessible yet out of sight. You can also jazz up these storage units with some paint or unique knobs and handles to match your bathroom's theme.
5. Greenery and Plants
Bringing a bit of the outdoors into your bathroom can make a world of difference. Plants not only improve air quality but also add a touch of freshness and liveliness to your space.
Now, you might think, "Plants in a bathroom? Really?" But yes, many plants thrive in the humid environment a bathroom offers. Ferns, for example, love the moisture. They can be hung in baskets or placed on shelves. Aloe vera, which is great for your skin, is another good choice and adds a touch of green without needing much care.
You don't need a green thumb to keep these plants alive. Just ensure they get the light they need, and they'll happily add some nature to your bathroom. Using unique pots or baskets can also add an extra layer of personalization to your space.
6. Art and Decorative Pieces
Your bathroom walls can be more than just walls. They can be a gallery showcasing pieces that resonate with you. Hanging up some art can be an instant game-changer. Whether it's a serene landscape that brings calm or a colorful abstract piece that energizes, art adds depth and personality.
Besides paintings or prints, you can also look into decorative items like ornate mirrors, handcrafted soap dishes, or woven baskets. These not only serve a function but also contribute to the overall theme and vibe of your bathroom. It's the little details that often make the biggest difference.
7. Unique Faucets and Fixtures
The faucets and fixtures might seem like small details, but they play a huge role in determining the overall look of your bathroom. Swapping out the standard ones for unique pieces can add a touch of luxury and elegance. Whether you prefer a vintage vibe with bronze taps or a modern look with sleek stainless steel, the options are endless.
Waterfall faucets, for instance, can give a spa-like feeling right in the comfort of your home. Remember, it's these details that tie everything together. So, when looking to give your bathroom a personal touch, don't overlook the importance of unique faucets and fixtures.
Conclusion
Your bathroom is an integral part of your home. By incorporating some of these creative ideas, from functional storage solutions to artful decorations, you can truly make it your own. So why wait? Start adding your personal touch today and transform your bathroom into a sanctuary of comfort and style. Looking to update more of your home? Check out this post!
(Visited 19 times, 1 visits today)