In an era where technology has become a significant attention stealer, older generations fear what the future holds for their children. However, such a technological boom unlocks new opportunities for children to master the English language.
As we live in a sophisticated society, changing the rules of the game in the online world can turn the tables to our advantage. However, the journey to language mastery is never easy. But it does not need to be boring and tedious.
Gone are the days when learning English was only done using grammar drills and books. Why choose an irksome method of learning English when you can opt for a thrilling language-learning adventure? But the challenge is choosing the best English learning games.
How English Learning Games Help Young Children?
When it comes to effectively learning a new language, or learning your native language as a child, memorizing the language may not be enough. It's a good thing that English language games are here to the rescue.
There is a wide array of English games for young learners that help make English language learning more engaging yet less expensive. Compared to the idea of getting face-to-face English classes, which can sometimes break the bank, the use of English learning games for free has become a crowd's favorite language learning tool.
Aside from cost-effectiveness, the use of English learning games among children entails a number of benefits. These include comfort, independent learning, improved engagement and healthy competition, and interpersonal skills enhancement.
Comfort
As an old quote says, "There is no place like home", many children love to learn new things in the comfort of their homes. After school, they can grab a phone and spend an hour on language-learning games.
A study space at home can do the trick. If children love sitting by the window while enjoying their preferred English learning games, give it a go.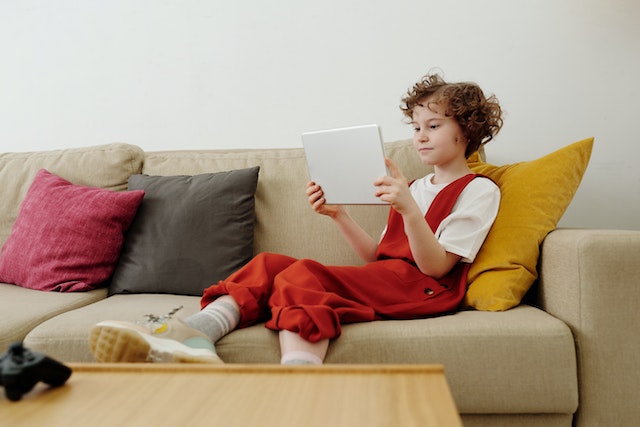 Independent Learning
Online English language learning tools come in many varieties. Children never fall short of resources to improve their English listening, writing, and reading skills. They also have the freedom to choose what English learning games to play, when to play them, and with whom.
Improved Engagement and Healthy Competition
As technology continues to permeate people's lives, children have access to loads of digital lessons and interactive learning English platforms. They can play against other children in an online quiz, fostering healthy competition.
Interpersonal Skills Enhancement
Nobody wants to be isolated. Getting to hang out with other children in the same boat as you boosts not just the children's interpersonal skills but also their motivation to reach their goals.
Top 10 List of English Learning Games
Before moving on to the ten best English learning games that are well-loved by many children across the globe, understand that learning English may not be as easy as many people think. Children may juggle extra challenges, but language learning can be made fun and engaging. The secret is choosing the right English learning games.
Price: Free
Solo vs. Multiplayer: Solo Play
Category: Spelling, Phonics, Vocabulary, and Grammar
LearnEnglish Kids is an online platform that helps children learn phonics through songs, develop reading comprehension, and improve vocabulary through stories, videos, and poems.
This free online resource for teaching English holds a vast collection of English games and activities for children. It also has interesting stories, videos, and songs that they would surely love. Users of this platform can never get bored of the handful of interesting articles and printable texts that await them.
This language-learning resource goes beyond reading. Children can groove to the different action songs, work on flashcards, work on spelling and phonics challenges, and play games that help improve their vocabulary and grammar skills.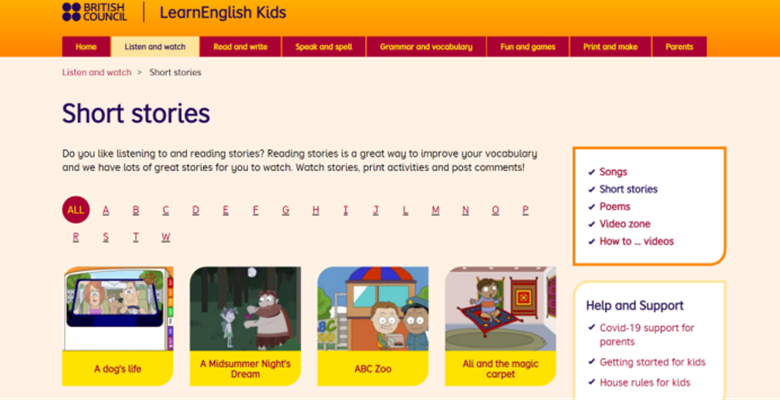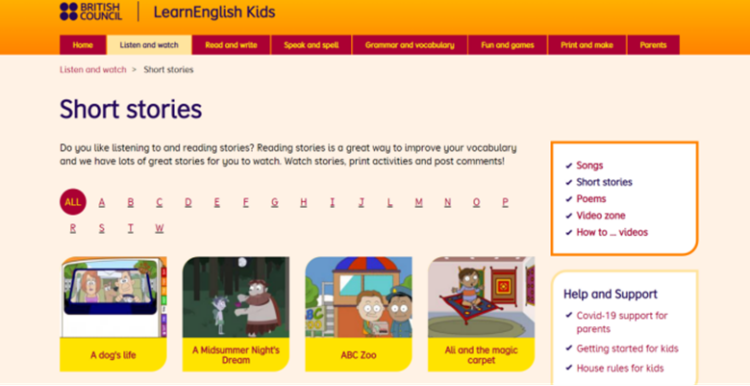 Price: Free (Premium version is $50/yr)
Solo vs. Multiplayer: Solo Play
Category: Phonics, Vocabulary
The reason behind Lingokids' success is the team of talented and committed that work behind the curtains. Seasoned education leaders, child psychology experts, and game designers gather around to create activities and tasks for children.
Lingokids' pool of age-appropriate learning content, videos, audiobooks, songs, and games is mind-stirring and habit-forming. It is also self-paced, which means that children can pass through every challenge at their own pace.
Lingokids Basic (the free version) lets children enjoy limited access to printable activities, games, videos, and online content. But for those who would love to create multiple profiles and gain unlimited access to the app's offline version, a paid version is recommended.
At $50 per year, Lingokids' unlimited access to English learning resources and real-time progress tracking enables parents to vividly see how their children progress in learning English. They can easily pinpoint their children's needs for improvement in just a few clicks on the platform.
Bridging academic success and children's imagination and curiosity, Lingokids believes that gameplay triggers effective independent learning. Children at a young age are exposed to loads of opportunities for phonics and vocabulary development.
It's no wonder that Lingokids is a trusted name in its chosen field.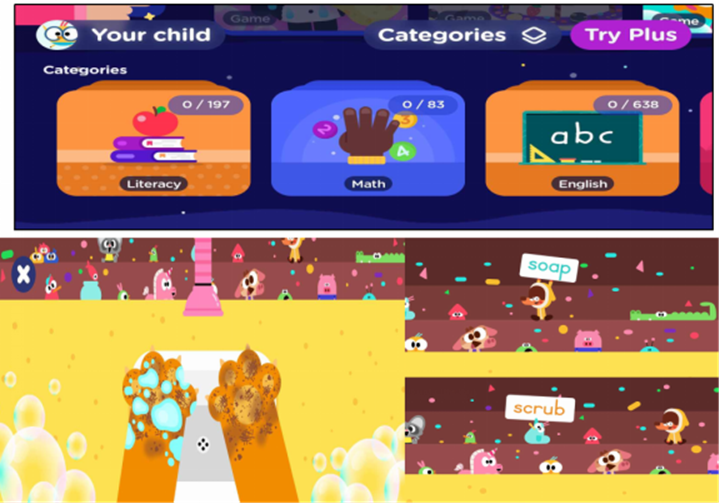 Price: Free (Premium version is $59.99/yr)
Solo vs. Multiplayer: Solo Play
Category: Spelling, Phonics, Vocabulary
Studycat is designed for children who want to learn English, Spanish, Chinese, French, and German as a second language. Recognizing the challenge of second language learning, Studycat crafts a collection of intuitive and motivating English games for children.
This English learning games platform comes in a free version where children can take advantage of the two unpaid English language packages. But a paid subscription offers limitless access to more than 500 short vowel games and activities for improving vocabulary costs at $59.99 per year.
This is a solo-played second language learning resource that contains English language packages and developmentally-suited games played independently.
Studycat has a huge collection of worksheets and activities that help improve children's skills in spelling, phonics, and vocabulary.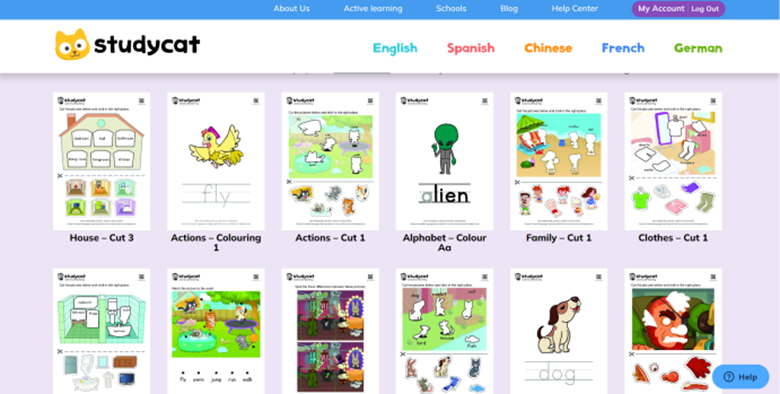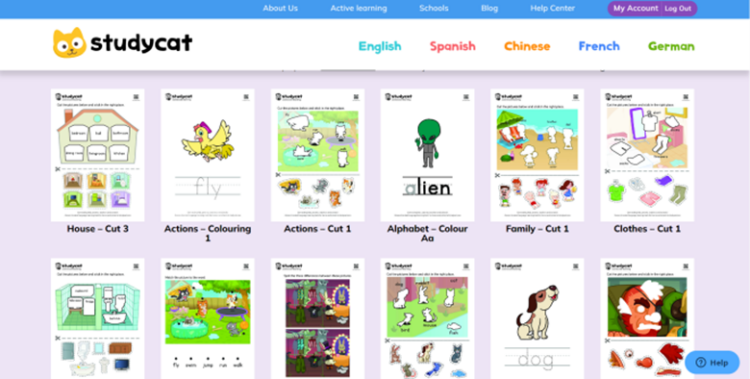 Price: Free Trial, then $9/mo
Solo vs. Multiplayer: Both
Category: Spelling, Phonics, Vocabulary
One of the best English learning games for vocabulary, spelling, and reading comprehension enhancement is VocabularySpellingCity. Taking advantage of repetition and gameplay in language learning, it holds a bunch of engaging technologically-assisted language learning practice exercises that help children master the English language faster than traditional teaching.
English language learners may utilize the learning phonics games for free upon sign-up. Right after the 14-day free trial, a monthly subscription of $9 per classroom is required to get these premium resources.
This online platform holds a variety of language acquisition resources that can be played either solo or in a team. Children learn to become independent in solo played tasks. On the other hand, team games played in the classroom help develop a sense of camaraderie and fulfillment among them as they win rewards for challenges completed.
All premium tools and materials for vocabulary development, spelling, and phonics or short vowel games are stored in VocabularyA-Z, which needs a paid subscription.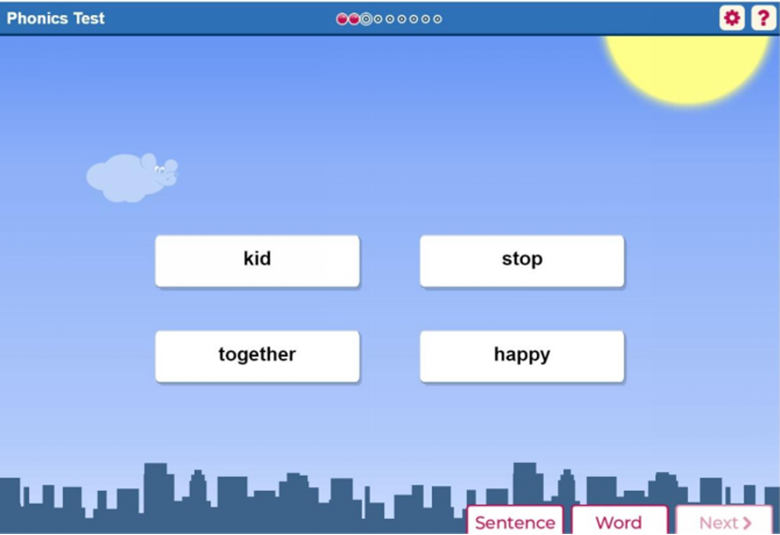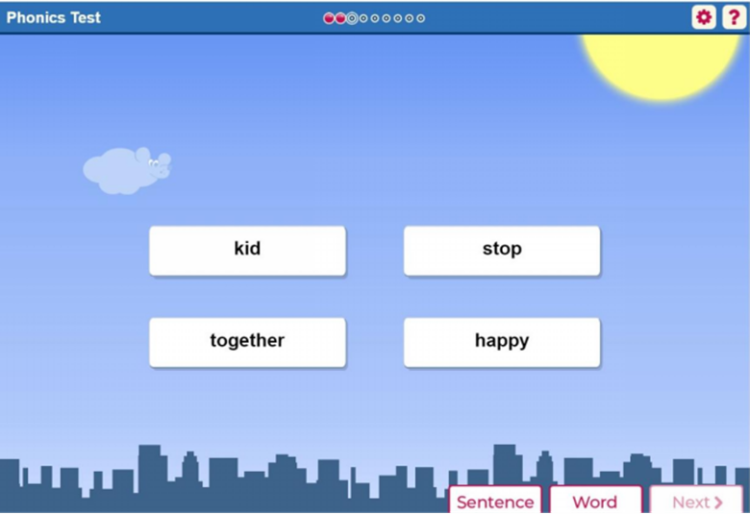 Price: Free
Solo vs. Multiplayer: Both
Category: Spelling, Phonics
This online platform for English language learning employs a mishmash of colorful images and audible narrations. Children are challenged to sound out letter sounds, blend sounds correctly, and hunt for matching images on the screen.
It is a free interactive and fun-filled phonics game that lets children break words into syllables, and blend them back afterwards. This game can be played alone or in teams.
The phonics games this platform contains sharpen kindergarten and first graders' rhyming, spelling, and phonics skills. These are the three essential skills in reading.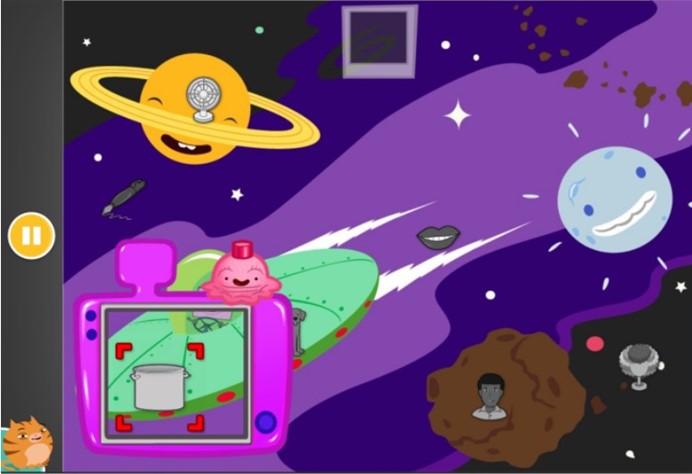 Price: Free (selected games are paid)
Solo vs. Multiplayer: Solo
Category: Spelling, Listening Comprehension
Safe Kid Games incorporates English games for young learners that focus on literacy and numeracy. It is suited for children from Kindergarten through the seventh grade. Since these young folks love to manipulate and explore, they will certainly find these typing games, word games, and puzzles fascinating.
Although not all Safe Kid Games are offered free, children can take on the spelling challenge of Animal Words for free. The challenge of spelling the given word before the time runs out enables self-reliance and independent learning among children.
Safe Kid Games' Animal Words is a favorite game of children who are passionate about animals. It helps them improve their spelling and listening comprehension skills.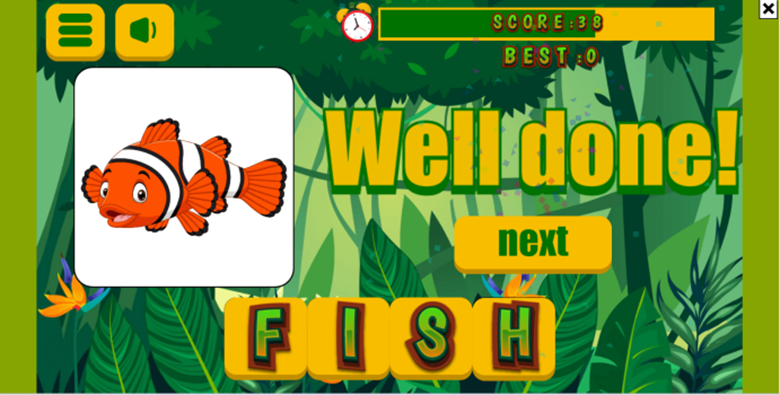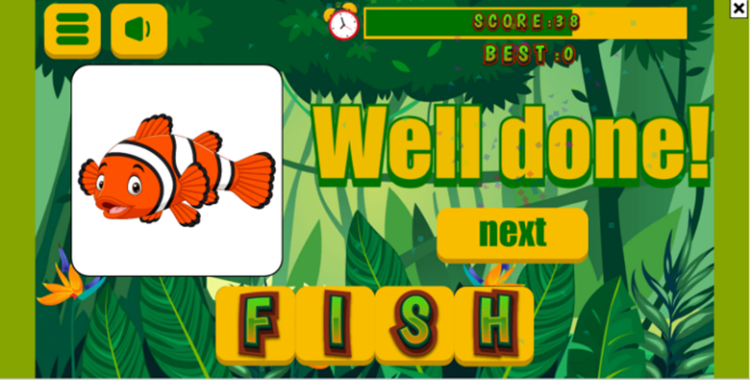 Price: Free (selected games are paid)
Solo vs. Multiplayer: Both
Category: Spelling, Reading, Alphabet
This English learning game app features kids' favorite characters such as Wonder Red (word recognition), Alpha Pig (alphabet knowledge), Super Why (reading comprehension), Webster (word meanings), and Princess Presto (spelling skill).
It offers free games for children aged two to eight. New games and learning activities are added weekly, making this second language learning platform more engaging for young English language learners.
Key stage one learners or those children who are in Kindergarten to third grade can find many interesting English games that can be played solo or with friends.
This free curriculum-based media offers abundant opportunities for children to hone their reading comprehension, spelling, and alphabet knowledge skills.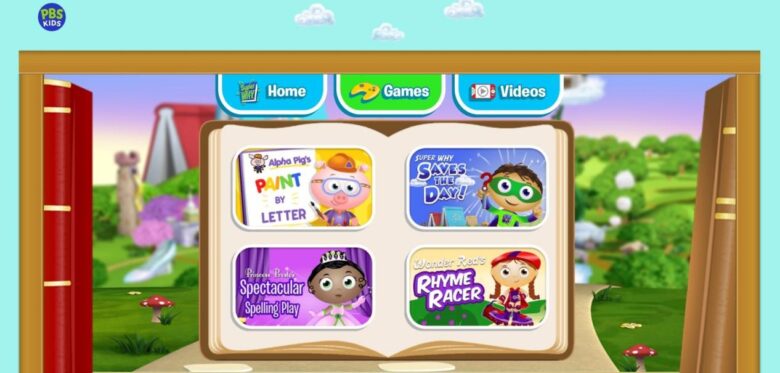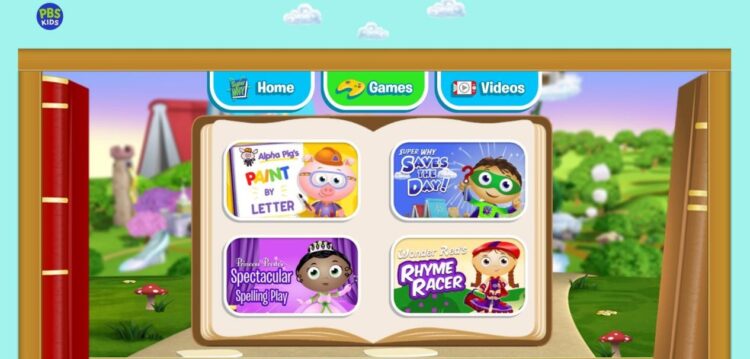 Price: $14.99/mo (lifetime for $159.99)
Solo vs. Multiplayer: Solo
Category: Listening, Reading, Grammar, Vocabulary
Engaging, theme-based lessons in English are well-arranged with a structure based on the needs of children. In this user-friendly app, children can personalize their practice sessions and choose which game to play or exercises to work on.
Though it is offered on a monthly subscription basis, your children can get a lifetime subscription once you place a one-time payment of $159.99.
Aside from detailed grammar explanations, children make use of more than 100 interesting stories to learn new words and practice speaking the English language. However, they need to pass the quizzes to access the succeeding lessons.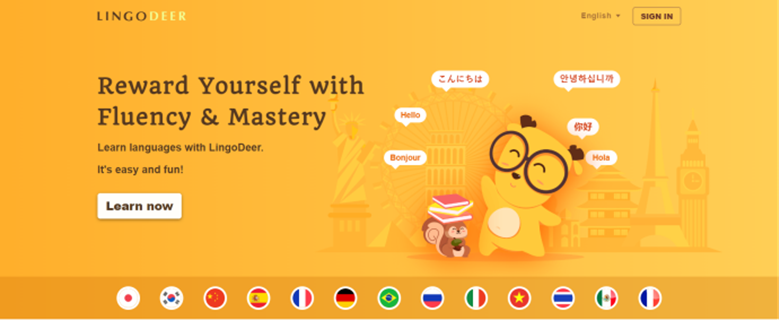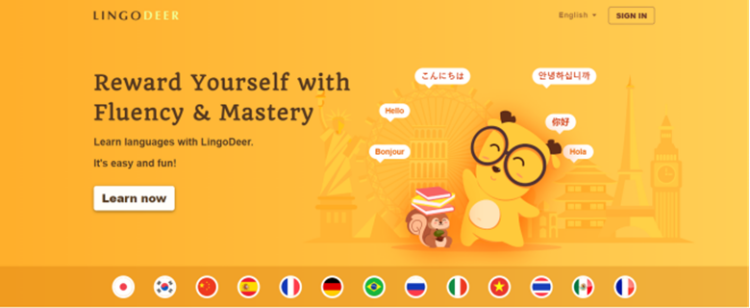 Price: Free (Premium for $9.99/mo or $47.99/yr)
Solo vs. Multiplayer: Solo
Category: Vocabulary, Pronunciation
Downloaded by over 100 million users across the globe, Mondly is the easiest and fastest way to become fluent English speakers. It also offers other languages like Spanish, French, German, Italian, and many others. With its conversation-focused curriculum, the platform brings together the power of speech recognition and bite-sized lessons in one platform.
The gamification strategies that this platform uses help children memorize common words and phrases and utilize them in simple conversations. They learn how words are pronounced through voiceovers.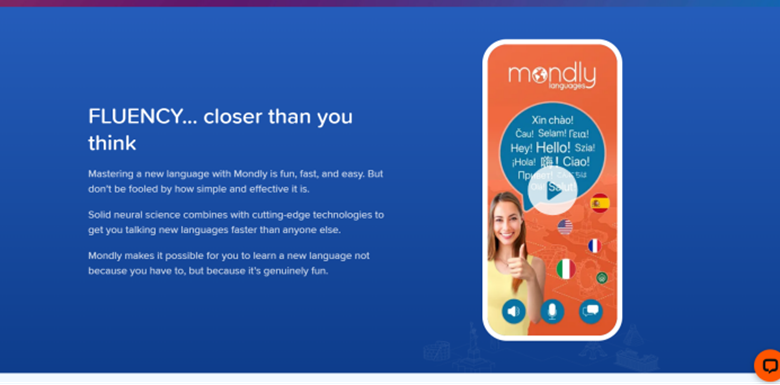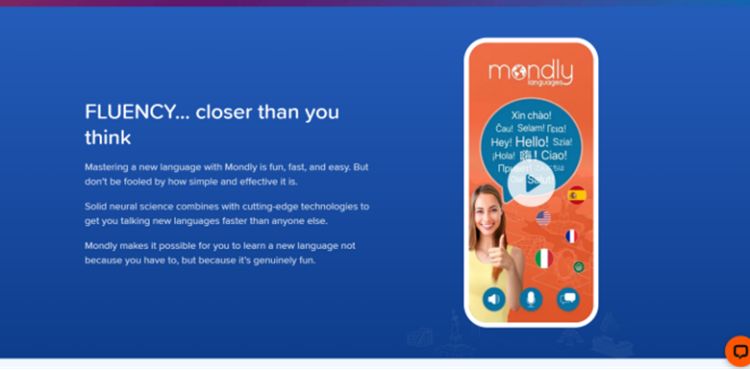 Price: Free (Premium for $6.99/mo, family plan for $9.99/mo)
Solo vs. Multiplayer: Solo
Category: Reading, Writing, Listening, Pronunciation
This is a famous English-learning app that is enjoyed by millions of second-language learners. It contains free quizzes and activities that help children test their English skills. Children take charge of their own learning by deciding the amount of time to spend in the short language lessons.
Although it comes with the free version, this English learning online resource offers paid features too. The Super Plan starts at $6.99 monthly with a one-year commitment. Meanwhile, a maximum of six people can use Duolingo's premium Family Plan at $9.99 monthly.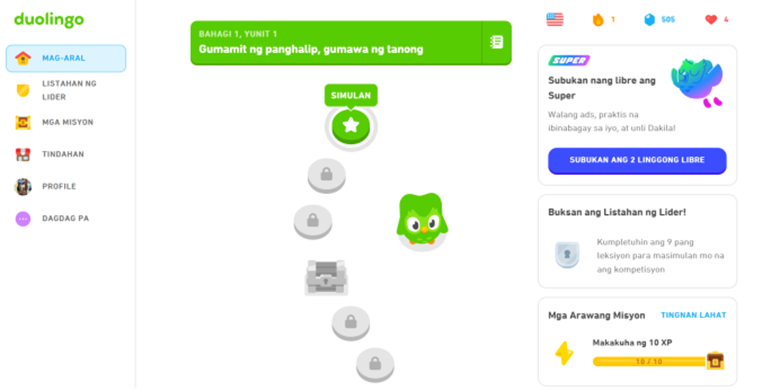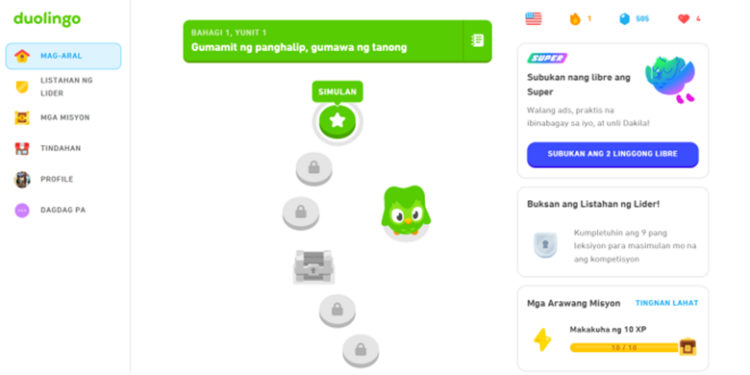 This is just a sampling of the wide array of English language resources available for children. Whether they are native English speakers learning English in school, or they want to learn English as a second language, these options will do the trick!
If you want to learn more about educational resources for your children, we have a whole series of articles on that topic. Give these a read: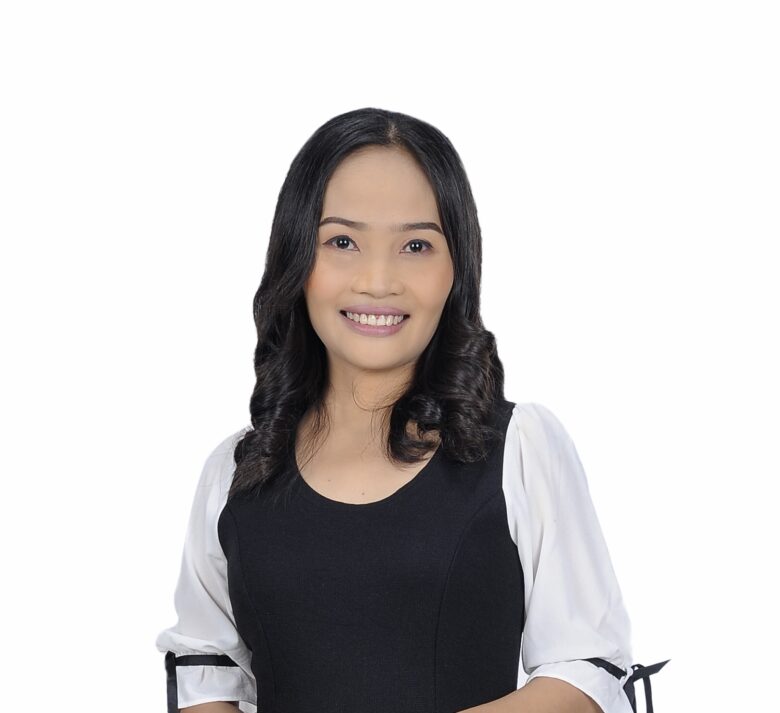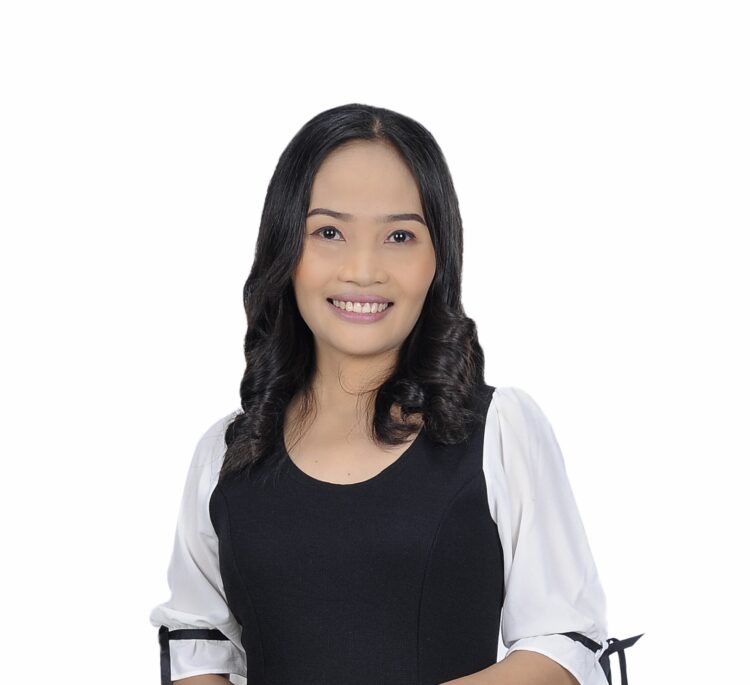 Josephine M. Dilema, Ph.D. is a Master teacher in the Philippines who has been working in the Department of Education for the past ten years.
(Visited 344 times, 1 visits today)