One of the biggest reveals at the ongoing CES 2017 has been the launch of a new electric car from a company which has rarely made headlines in the automotive world, save for some controversies it has been shrouded in. At the start of the annual gadget show in Las Vegas, CA-based intelligent electric vehicle startup Faraday Future introduced a prototype of its much-hyped FF 91 model, in an event surrounded by self-adulation and grand promises.
The company, which has received substantial funding from Chinese billionaire and LeEco boss Yueting Jia, showcased a presentation where the FF 91 was pitted against Tesla's fastest Model S electric sedan, a Bentley and a Ferrari in a series of drag races, beating out the Model S by reaching 0-60 mph in just 2.39 seconds.
Over the past year, Faraday Future has established itself as a potential rival to Tesla, with claims of disrupting the electric vehicle (EV) market in a major way. So are we looking at a potential Tesla killer or is this merely hyperbolic bluster from an upstart that is grossly overestimating its future? Let's analyze: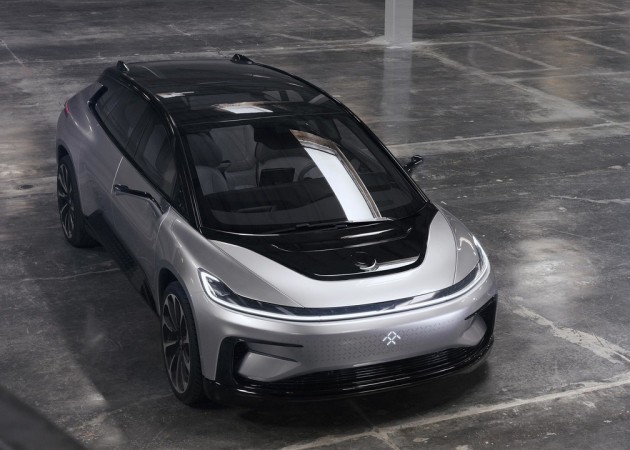 On Paper, the FF 91 Makes a Solid Case As The Vehicle of the Future
The FF 91 makes a solid case for being the new disruptor in the EV market, with superior specifications on battery range, power and acceleration.  The car boasts of 1050-horsepower, highly-packed 130 kWh battery and a travel range of 378 miles on a single charge, thus outperforming Tesla on key benchmarks. Put in additional features like over 30 advanced sensors for autonomous driving (also helps in self-parking), multiple modems to connect to the internet, doubling as a mobile WiFi hotspot, cameras, radar, ultrasonic sensors and a retractable Lidar unit, and you have a clear winner on your hands.
The selling price of the FF 91 has not been revealed yet by Faraday Future, though it did promise to start rolling out the vehicle from a new $1 billion assembly line in southern Nevada from 2018. According to the company, it has registered more than 60,000 registrations already for its new model. That's way less than the record number of 232,000 pre-orders received by Tesla for its Model 3. Also, Faraday hasn't said how many made the $5,000 payment for the priority reservation and how many went for the free standard option.
Can Faraday Future Overcome Its Troubles To Make a World-Beater?
Faraday Future's road ahead has been plagued with all sorts of troubles, from mounting financial debts and lawsuits from vendors, to top executives leaving the company as recently as on the eve of CES 2017. Speculations were high in December of the company shutting shop by February 2017, if it is unable to secure enough funds after CES.
Apart from that, there is also the harsh reality that production is entirely a different ball game altogether. Tesla took nearly 10 years to come up with the Model S and this was after the leading EV maker started off with an existing factory and without facing any financial woes.
In comparison, Faraday is building a new production factory right from the scratch. It again intends to start construction of its 3 million square foot production factory at the Apex Industrial Park site in North Las Vegas, where work was suspended in November to focus on the launch of the FF 91 for CES 2017.
Also, let's not forget the fact that Tesla has established a nationwide network of superchargers and has continued to work on improving its battery cells and design at its gigantic Gigafactory in Nevada. It is highly unlikely that Tesla will welcome Faraday to its growing supercharger network or plan collaborations in any other aspect.
Then there is the aspect of hubris driving Faraday Future's vision. For a fledgling in the EV industry, the company Senior Vice President of Research and Development, Nick Sampson, has actually compared themselves to visionaries like Tim Berners-Lee (invented the internet) and Karl Benz (invented the internal-combustion-furled motorcar). Big words for a company that has yet to make a mark for itself in the market.
All said and done, test drives of the FF 91 suggest that if Faraday Future indeed carries out mass production of its flagship EV and successfully convert it into sales, then it will be a force to reckon with. Tesla and all other EV heavyweights such as Nissan, GM and Chevy will have to pull up their socks in terms of both innovation and research to ensure that they are not upstaged by a vehicle built by a startup.
With growing focus on renewable energy, federal incentives for electric and hybrid vehicles worldwide, and rising investments by companies in clean automotive technologies, we can expect the world of electric cars to become more interesting over the next few years!
(Visited 359 times, 1 visits today)