Keyboards and text messages have taken the place of ink pens and notepads these days. So many people, particularly younger individuals, rarely, if ever, write on paper since these devices are available. Typing, texting, and hitting the enter button is far easier than sitting down to construct a handwritten note or letter, but it's also less personable.
Electronic or typed communication is suitable for some documents, but never forget the importance of actually sitting down to write a letter or other document.
Whether it's a letter to a friend or a drawing of your favorite cartoon character, putting pen to paper has a plethora of benefits. Writing with a pen and paper gives you the chance to put deeper thought into your words and delivery choose what you'll say. A far more meaningful, well-stated correspondence results.
But, that's only one benefit that writing offers. You'll also enjoy benefits like: – Improved vocabulary
– Express your feelings
– Express talents
– Relief stress
– Improve memory
– Enjoy a hobby/ fun pastime
– Relaxing
– Enjoy a fun ink pen/journal
Pretty impressive benefits from doing something as simple as writing, wouldn't you agree? It only further proves that it's time to enjoy this exciting activity in your life.
It doesn't matter who you are. Gender and age are unimportant; all that matters is that you want to write. The sooner you start writing, the sooner you enjoy the excitement that thousands of other people already enjoy.
Don't be shy. You know that you want to do it. What is holding you back?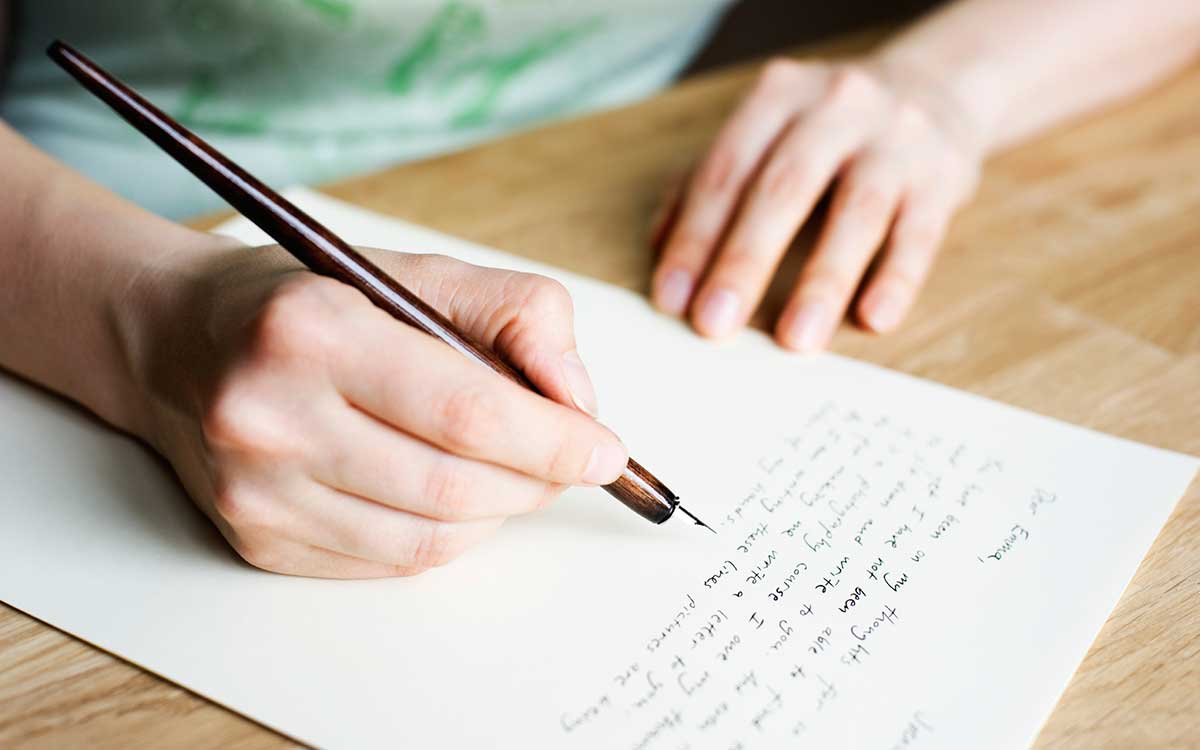 Start With a Pen
Choosing a writing instrument is a significant part of the writing experience. No two pens offer the same smooth, fluid writing as the next, nor is every pen designed for the same use. There are great drawing pens, beginners calligraphy pens, advanced fountain pens, fountain ink pens, and ballpoint pens are a few of the choices. Carefully research the pens before purchase to learn important information about each type of ink pen.
It may take a bit of trial and error to find the right pen, but that is all a part of the fun.
Many resources make finding the right ink pen much easier than you probably think. Resources include word-of-mouth information from people that you know, social media, and reviews. Use all of the information available to research the various ink pens to find the most suitable instrument for your writing needs.
How to Choose a Pen
First, determine the amount of money you want to spend on the writing instrument. Some pens cost a couple of dollars while others may cost $100 or more. As the saying goes, you get what you pay for, even in your writing instruments. Even Still don't go broke to buy an ink pen.
– Purpose: Choose an ink pen that is designed for your specific purpose, whether writing, drawing, calligraphy, etc.
– Brand: Is there an ink pen brand that you prefer more than the next? Is there a brand you've always wanted to try? Keep those brands first in mind, but keep your options open.
– Ink Pen Features: Pen features such vary from one brand and product to the next. Take the time to look at the feature, which includes ergonomic design and rubber grips that oftentimes make using the ink pens more enjoyable.
– OPP: Other people's opinions are important when spending money on any product, including your ink pen. Take a peek at some of the free online reviews customers have posted to find the ink pens they most rave about.
Keep the tips above in mind when choosing your pen. These tips help narrow the massive selection to find the ink pen that works best for your needs.
What Will You Write In?
Now you have a good ink pen and nowhere to put that ink. What to do?
Journals, notebooks, notepads, and loose-leaf paper are available to jot down your thoughts, to draw your portraits, and otherwise put pen to paper. Just as you carefully research the pens, take the same time to learn more about the paper options.
Some paper is better suited for one purpose more than the next, more aesthetically appealing, or has other benefits that you'll appreciate. Consider costs, pros and cons, and information from customer reviews to find the best paper for your writing needs.
It's Time to Write
Whether you write a letter or a poem, draw a picture, or create a list of goals, it is important to put ink to paper and let technology have a break. There are a plethora of reasons to sit down and write; some of which we've talked about above. Find the right ink pen and notebook for your needs and let the fun begin
(Visited 82 times, 1 visits today)