Want to make the most out of available commercial kitchen space? Then invest in a stainless steel wall shelf to arrange every inch even of vertical space properly. Thus, you can free up the working tops, so personnel has more surfaces for cutting, chopping, and other food prep processes. Also, you can ensure access to those items that are usually hidden in the drawers or cabinets, so it takes time to get to them. A properly selected stainless steel wall shelf with excellent weight capacity can also serve as a stand for microwave ovens, toasters, or blenders. In case a solid structure won't solve storage issues, you may consider other shelving solutions:
wire shelving for great ventilation;
complete shelving kits with multiple levels for optimizing space even more;
dunnage racks to keep boxes off the floor;
bakery racks for cooling the pastry and dough products.
The market of stainless steel equipment is full of functional and durable constructions to meet food establishment needs. It's also easy to maintain with cleaning solutions, like polish for steel. So, make your choice only after defining the objectives and goals you strive to attain in your kitchen.
Reasons why a stainless steel wall shelf is a great addition to commercial spaces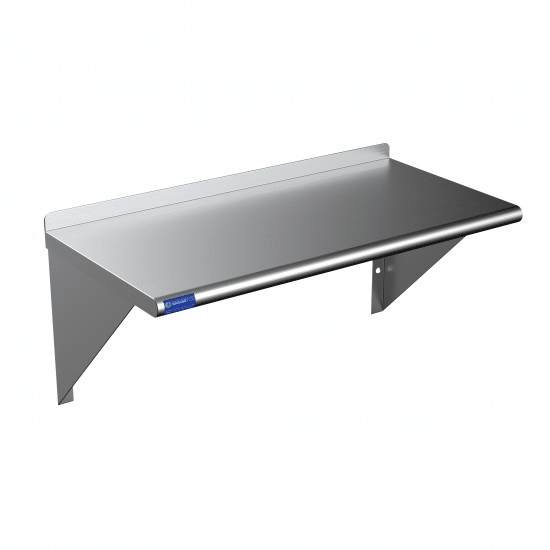 Better and sturdier storage options. In a harsh restaurant environment where the workflow is always in full swing, a stainless steel wall shelf can drastically boost the speed of cooking task execution. Install a solid unit above the prep table, so the staff can quickly grab the stored ingredients, spices, bottles of sauces, tools, devices, utensils.
Neat outfitting even of tight rooms. Attaching wall shelves, you can make even the smallest kitchen with a limited working area functional and spacious. In addition, all the necessary things will always be close at hand. Versatile metal shelves instead of cabinets are the perfect choice for the modern interior of the busiest kitchens, so nothing will prevent the smooth work.
The wise use of vertical space. Competent space management is a top priority for those who want to reach the highest level of efficiency. And if you have no floor area for entire shelving systems, then installation of wall constructions will greatly boost storage capacity.
Care and maintenance for restaurant equipment
Definitely, stainless steel is considered one of the most easy-care materials. However, cleaning and the proper care for metal equipment are of high importance no matter if it is an equipment stand, stainless steel tables with casters, or cooling bakery racks. In most cases, it is sufficient to wipe the stainless steel surface with a soft cloth dampened with warm water. To wash stainless steel products more thoroughly without damaging the surface, use handmade solutions to remove grime and dirt and keep them shiny, adding a drop of dish detergent. Avoid abrasive components. After washing the surface with such a solution, rinse with clean water and wipe dry.
The surface of metal shelves or worktops can be matte or glossy. The latter is the most difficult to care for since even fingerprints are visible on its surface. To give it the maximum shine, use the window cleaner. It will help to bring back an eye-pleasing look and will not leave streaks and stains behind. At the same time, you don't have to worry that the solutions or chemicals that you apply will damage the solid wall shelf, racks, stands, commercial sinks, or stainless steel table with casters, because no external factors will affect the steel, and neither corrosion nor rust will develop.
(Visited 104 times, 1 visits today)