Do you love Disney movies? Have you ever wanted to purchase a set of stamps that are modeled after your favorite characters and scenes from the movies? Well, the Disney stamp collection is your chance.
The Walt Disney Company has created a new line of stamps for this year's release. These stamps include some fan favorites such as Peter Pan, Cinderella, and Snow White. This article reviews the stamp collection and provides links to where they can be purchased online.
Are Disney Stamps Valuable?
If you have a collection of Disney stamps and don't know if they are valuable, the answer is yes! You may be surprised to learn that some of these stamps are worth thousands (definitely a good sign!)
While the world's first adhesive stamps (Penny Black) were issued in 1840, the first Disney stamps found their way into the world in 1968. Since then, they have had a fair share of suitors in the United States as well as the rest of the world.
While these Disney stamps may be easy to sell, none of the stamp collectors want to let them go! That's how highly they are valued. Unlike the George Washington stamp (one of the most popular U.S. stamps), the purpose of these Disney stamps wasn't just to send mail. It was more of a collectible, making it perfect for topical collectors.
Today, various Disney postage stamps are available for stamp collectors including Disney characters such as Mickey Mouse, Minnie Mouse, Little Mermaid, The Lion King, and more!
If we look at the history of these Disney stamps and their beloved characters, we'll see that the first Disney stamp was created as a reminder to honor the life of Walt Disney (a commemorative stamp) on September 11, 1968. This was known as the 'Walt Disney stamp' and is easily one of the rarest stamps available.
Later, Walt Disney's Daughter 'Diane Disney Miller' took over as president of the Walt Disney Family Foundation.
This stamp showcased children worldwide watching from the Disneyland castle, alongside a portrait of Walter Elias Disney. This masterpiece of a stamp was the work of Disney artists 'Bob Moore' and 'Paul Wenzel'. The first day cover ceremonies took place in Missouri.
Later in 2004, the U.S. Postal Service entered into a partnership with Disney to create a series of 'Art of Disney' Disney-themed 37¢ postage stamps. It was a huge hit on the first day of issue and went on to sell more than 250 million copies.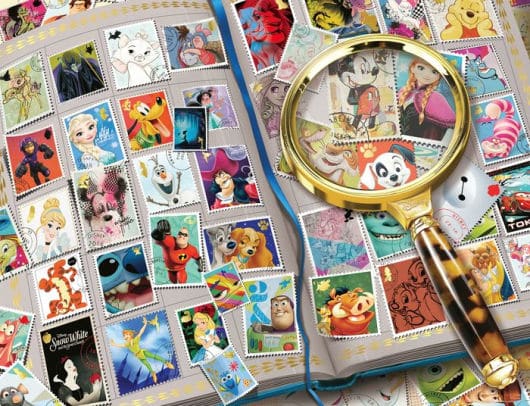 If you plan to appraise or are looking for places to sell your stamp collection, some resources are available. The Walt Disney Company is the original creator of these stamps, and their prices are on par with other valuable collectibles such as baseball cards, coins, or antiques.
A few examples include:
A set from 1959 with 12 different designs will cost around $400-$450 in near-mint condition. This is the only set from that year.
A special edition set released in 1988 has a black stamp with Mickey Mouse on it, which can cost up to $100-$150 alone.
The rarest Disney stamps include sets of two or three designs worth at least several hundred dollars each. These were often sold as collected editions.
One of the most valuable Disney stamps is called a "Bicentennial" stamp. It has Donald Duck on it and was issued in 1976. A single copy will sell for at least $750 if it's not damaged or creased.
An Overview of Disney Stamps
Disneyland has released several sets of stamps in the past, but this is the first time that Disney World will be doing so. The stamp collection includes 20 unique illustrations and a booklet with more information about each image. Some of our favorites include "Bambi" from Bambi, Cinderella's Castle for Cinderella, or Peter Pan's "Tinkerbell" for Peter Pan.
The stamps can be purchased on the Disney website or at most Disney World and Disneyland locations, including parks, hotels, gift shops, restaurants, and more. The primary purpose of these stamps is for mailing. However, a limited-edition set of stamps can be used as gift tags or mini postcards to send directly to friends and family.
The five most popular Disney Stamp released are the following:
The Lion King
Mulan
Snow White and the Seven Dwarfs
Beauty and the Beast
Cinderella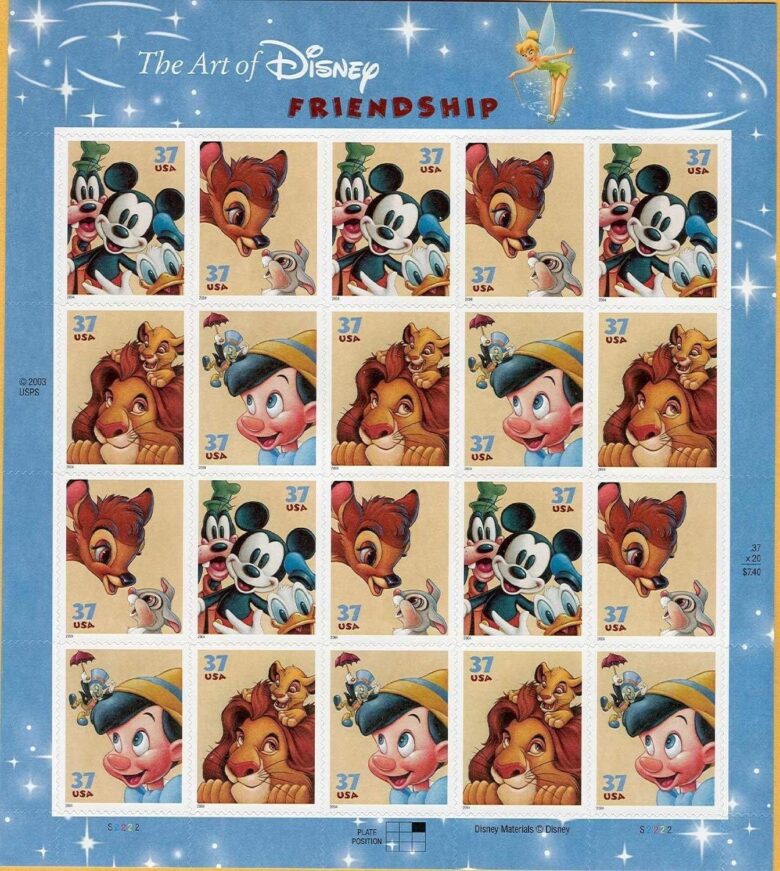 The world's most valuable stamps when it comes to Disney are a set of stamps released in 1994 for Walt Disney World Resort (Walt Disney World) that cost $25 per stamp with four different designs portraying Mickey Mouse, Snow White, and the Seven Dwarfs, Mulan, and The Lion King.
The other stamps worth mentioning are a set of six commemorative Disney Stamps issued in 2001 for Walt Disney World Resort (Walt Disney World) with five different designs portraying Winnie-the-Pooh; Aladdin's Magic Carpet Ride; the Beast; Mulan and Mushu; and Cinderella.
The last stamp collection worth mentioning is a set of 12 stamps issued in 2013 to commemorate Disneyland Theme Park's 50th anniversary (Disneyland) with 11 different designs. Alice, Dumbo, Ariel, Belle from Beauty and the Beast (Beauty), Maleficent, Cruella de Vil, Winnie-the-Pooh, Alice from Alice in Wonderland (Alice), Roo and Tigger.
The first two stamps were issued on January 24th, 2001, for the Olympic Winter Games of 2002, while the last 12 were issued on July 11th, 2013, to commemorate Disneyland's 50th anniversary.
Collecting stamps is more than a hobby, especially if you have kids. Disney stamps represent a world of imagination and fantasy that both you and your children will enjoy. This gives you a whole new world to explore when designing your stamp collection.
You may encourage children to create stories, make up characters' names, and even design their stamps for the collection. It can also be a great way to teach youngsters history and geography.
The beauty of a Disney stamp collection is that it can grow with your children as they get older and their interests change. They may start out loving the characters in Toy Story, but then when they're older prefer Pirates of the Caribbean instead. As they become more invested in this hobby, you can help them find stamps for their favorite movies.
The most important thing is to share your love of this hobby with them. You might be surprised by how interested they are and get hooked themselves!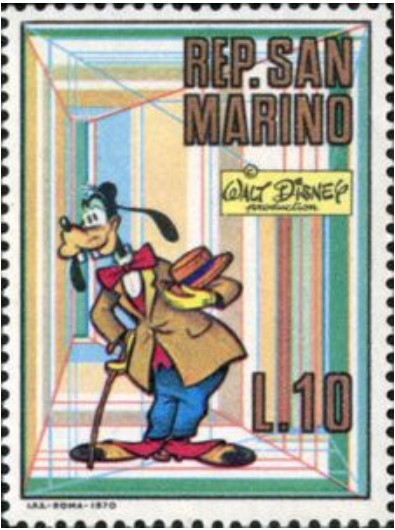 International Disney Stamps
The magic of Disney isn't just limited to the U.S., it spreads across borders to the children of the world. The 1968 Walt Disney U.S. Postage stamp was only the start. 3 years later in 1971, the Walt Disney stamp was followed by a set of 10 new stamps from the tiny Republic of San Marino.
These stamps consisted of various popular characters such as Minnie Mouse, Mickey Mouse, Little Mermaid, Jungle Book Characters, and more. The last stamp issued in these portrayed Walt Disney and in the background, you could see Mowgli and Bagheera from the feature film Jungle Book, which was one of the most popular animated films you could watch on VHS tapes back in the day.
Unlike stamps like the 'The Benjamin Franklin Z Grill' (a 1-cent postage stamp issued by the United States Postal Service), these Disney stamps were developed to make money since it was unlikely that people buying them would use them for sending out mail.
Watching the San Marino stamps make so much money, other countries couldn't resist getting involved so, lots of stamps followed and it was an open market in the small world of Disney stamps. Some were made to honor the opening of Disney parks, while others were developed for revenue generation.
In 1972, the Persian Gulf sheikdoms distributed some unauthorized Disney stamps that brought about the licensing of Disney characters on stamps to be used by only the Inter-Governmental Philatelic Corp. in New York. The spine of this case rested upon the copyrights of Disney's beloved characters. This allowed them to create stamps of Disney's lovable characters for small countries around the world.
This led to the formulation of a whole new stamp-collecting field, full of special albums, catalogs, and even newsletters for those fond of Disney stamps.
However, by the time this legal matter was settled, most of these unauthorized stamps had been widely distributed and continue to be easily available. That being said, professional Disney philatelists don't enjoy these stamps because they were created to generate money.
In 1979, Disney Studios developed rare Disney stamps for the 'International Year of the Child'. This project was headed by William D.Cox and led to the appearance of Mickey Mouse in New York to preview the first 3 sets of stamps made by Disney's creative geniuses.
When the plan was initially developed for 'Disney World of Postage Stamps', it was thought to be a 24-stamp set that would be issued by several countries such as Grenada, Grenada Grenadines, Maldives, etc. However, within 10 years, it grew to more than 100 sets issued by over 20 countries worldwide.
Every set's artwork was specially designed by Disney's artists, with souvenir sheets showing scenes from Disney shorts/features with one of the stamps displayed in the artwork.
In 1980, Togo issued stamp sets with Disney versions of African animals. When Christmas came the same year, the production of Sleeping Beauty stamps started for Dominica, the Seven Dwarfs stamps for Grenada, and Bambi stamps for Grenada Grenadines, followed by several others.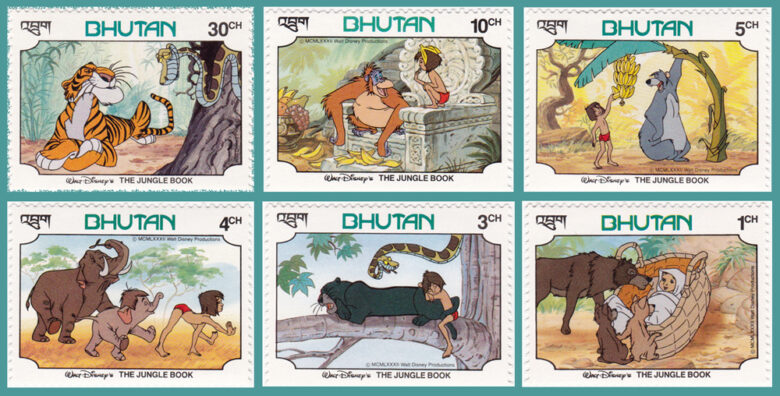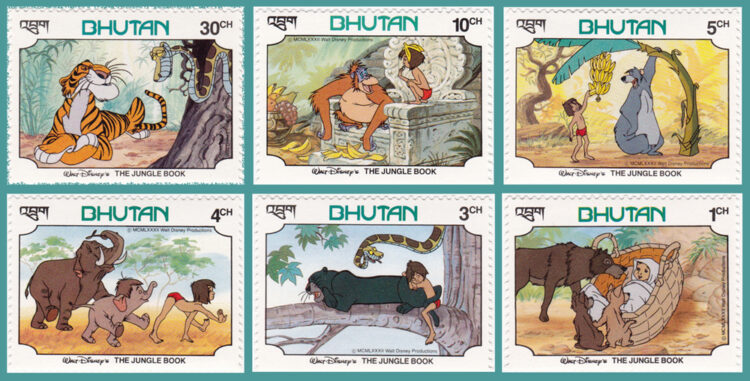 In 1996, Canada jumped onto the bandwagon by issuing a 4-stamp set commemorating Winnie the Pooh. Furthermore, the 100th birthday of Walt Disney was celebrated by Portugal by issuing 10 stamps showing a portrait of Walt as well as individual stamps for several popular Disney characters.
Soon after, in 2003, Hong Kong and the Republic of China entered the Disney stamp game as well. The opening of Shanghai Disneyland was honored with a special booklet with 4 stamps.
Where Collectors Can Find Disney Stamps
What good is all this information about Disney stamps if you don't know where to find them? Well, we're here to solve that problem for you!
Disney stamps hold a special place for various people worldwide and luckily, these stamps are easily available on the internet for purchase.
You can find some of the most expensive stamps as well as rare Disney stamps online on these 3 websites:
So, why not start a beginner collection of stamps by visiting these websites and purchasing some high value Disney stamps?
Final Words
This collection is a way for collectors to enjoy the magic of Walt Disney's original art. With this set, you can share your love with family and friends while also introducing them to an essential piece of American history. It's time to honor our past by embracing it head-on.
You don't have to be a collector or even live in America to get these stamps; they are available worldwide at most post offices around the world. If you're looking for something new that will make great memories with your loved ones, be sure to check out the stamp collection today!
(Visited 944 times, 1 visits today)