There's nothing better than diving into a riveting read after a long day of work. Even better is having a go-to nook that makes reading and unwinding an even more enjoyable pastime. If you haven't already created a reading nook in your home, then you might want to, particularly if you are an avid reader.
Your reading nook doesn't just have to be for reading either! It can be a great place for any quiet activity, such as knitting and journaling. Why not create one in your home today? Here is a guide to creating the reading nook of your dreams:
Choose The Location
Select a quiet and peaceful spot in your home. There isn't a particular room where the reading nook has to be. It can be in the living room, bedroom, recreation room, or even in a wider, empty part of your corridor. They are typically situated within room corners, but this isn't a must, they can be in any empty part of a room!
You will also want a place where external noise is minimal, or can be contained if needed.
Pick The Right Furniture
Reading nooks are all about comfort, which makes comfortable seating absolutely paramount. Consider a comfy chair, armchair, or window seat if you have one in your home. If space is limited, you can use a bean bag and floor cushions to still achieve coziness.
Add Cushions & Throws
Comfort being a key part of reading nooks is why cushions and throws are key! Add to your seating with cushions to support your back, and throws to drape across the arms of your chair or beside it so it can be within reach. This is a good time to establish a colour scheme within your reading nook, so make sure your cushions and throws are complementing each other well.
Lighting
Ensure there's adequate lighting for reading in your nook. Gauge how bright the natural light is during the day, and how bright it is when you turn on the nearest light source at night. If both don't yield your desired light source, then you might want to place a lamp in your reading nook for more light.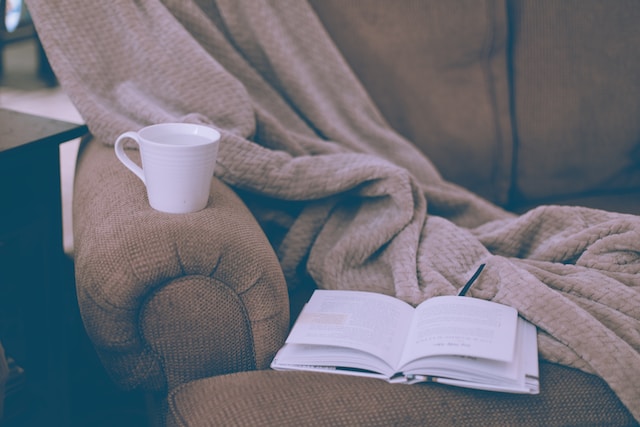 Bookshelves Or Storage
What is the storage situation looking like in your reading nook? Is it near a bookshelf or bookcase of some kind, or is there enough room in your nook to add one? If you're short on space, then you might want to add a side table or storage stool instead. A storage ottoman is a great way to put your feet up whilst having plenty of storage space at your disposal when it opens up.
Personalise The Space
Continuing from the previous point, incorporating a storage piece not only adds a personalized touch to your space but also enhances its practicality. You can place things, such as your current read, cup of tea, and reading glasses on it, as well as photo frames and other decorative pieces.
To personalize it even further and incorporate greenery, you may like to add real-touch fake plants to your space. Fake trees are also a good way to add decoration surrounding your nook rather than taking up storage space.
If the walls next to your reading nook are looking a bit bare, you might like to spruce them up with artwork or hanging plants.
How is sound going to play a part in your reading nook? You might like to read in silence. Or, you could consider adding a Bluetooth speaker to play soft background music or nature sounds, creating a soothing ambiance.
Adding a pleasant aroma to your reading nook will further contribute to the serene atmosphere. This could mean scented candles, essential oil diffusers, or potpourri placed on your side table or in between your bookshelf compartments.
Unwind In Your Reading Nook
The reading nook is a setup that can be enjoyed in any home. It is perfect for diving into your latest read, basking in the quiet, or enjoying other solitary hobbies. If you want to create a serene and calm pocket in your home, then the reading nook is for you! Next step, Bathroom upgrades!
(Visited 14 times, 1 visits today)