How's your bathroom looking these days? It may have been a bright, refreshing room when new, but the dinginess is now bringing down the whole vibe. With bathroom renovations being so expensive now, why not consider a few DIY upgrades?
As long as you remain within the limits of safety and do your homework, bathroom DIY shouldn't be an issue. Don't touch the plumbing unless you're a professional. For the rest, you can have some amazing results within a day's work.
Of course, the right tools and know-how are necessary to get the ball rolling. Not sure where to start? Here are some essential tools and tips to make your DIY bathroom upgrades possible:
1. Consult an Experienced Shower Installation Company
A shower is one of the quickest yet relaxing activities you do in the bathroom. If you enjoy showering, it might be worthwhile to invest in a new shower.
Here are some tips for revamping your showering experience:
Replace the showerhead, hardware, and faucet
Get new shower hooks or rings
Get a new shower rod
Replace the towel racks or install them if there aren't any
Make sure the new shower hardware matches the bathroom decor
Replace the bathtub with a shower stall to save space
Consider installing a shower/tub combo, as retaining at least one bathtub increases the resale value of a home
If you have the space and expertise, installing a walk-in shower will be a luxurious upgrade. Before any of these undertakings, though, it's wise to consult the Bath Planet shower installation company. This way, you'll have some guidance about complex installation. With a reliable shower installation company helping out, you can also avoid unnecessary complications.
2. Update Your Tool Collection
If you regularly work on DIY projects, there might already be various tools in your home. Here are some of the most helpful tools that are usually necessary during a bathroom upgrade:
Caulking gun
Gloves, especially when working with paint and cement
Safety mask for protecting the face from debris and restricting the inhalation of chemicals
Goggles to protect the eyes
Hammer
Silicone sealant
Spackle and spackle knife
Tape measure
Power drill
Stud finder
Pry bar
Flathead screwdriver
Bucket
Hacksaw
Adjustable wrench
Chisel
Chalk line
Utility knife
Extension cord for electric equipment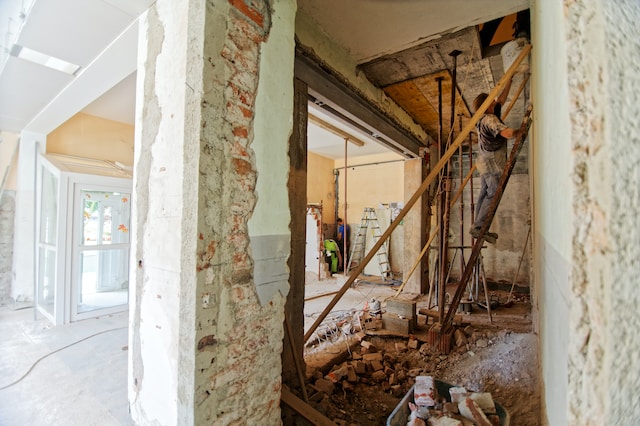 The exact tools you need will depend on what projects are in the works. Here are some optional tools that are also highly recommended for bathroom renovations:
A Wet-dry Shop-Vac for sucking up water spills and other forms of debris
Cordless drill
If you don't have all these tools at home, don't think that it's necessary to buy them. These can cost quite a lot, which is why it's wise to look for rental options first. Ask at your local home improvement stores if they have these tools available for rent. You can also ask your DIY-enthusiast friends to lend their tools for a while.
3. Fresh Coat of Paint
A new coat of paint can instantly refresh any room, and that goes for the bathroom, too. Most of your bathroom might be tiled, but there's usually some regular wall showing above that. Retiling is a difficult, time-consuming, and expensive option, so focus on painting first.
Not sure how to paint your bathroom or what color to use? The following tips should help out:
White, cream, or ivory shades are usually suitable for any kind of decor or tile. These are also the best choices for reflecting natural light.
If you don't prefer whitish shades, pick a light, neutral color. It's usually the best choice for prospective buyers and your own experience
Make sure that you get high-quality primers and mold-resistant paints for the bathroom. Primers will prevent peeling and bond the paint, which will prevent moisture from seeping inside
4. Add Textures
Even after repairing the walls, some texture is necessary to upgrade the bathroom's overall look. You don't want a monotonous look in this room, so see how you can break up the room with natural textures, fabrics, materials, etc. Here are some ways to go about it:
If the walls aren't tiled, install wainscoting or beadboard around the walls' bottom half. You can save time and hassle by going for peel-and-stick options.
Buy and install a shower curtain with some pattern or texture. It will work like a large painting in a room, pulling the whole decor together. If there isn't much light in your bathroom, go for a transparent curtain instead
Select accessories like rugs, towels, and window treatments with matching patterns or textures; these will add some depth and variety to the space
5. Change or Revamp Hardware
Other than the shower hardware, there are plenty of fixtures, knobs, and cabinet pulls to consider in a bathroom. If you don't have the time or inclination to do a major upgrade, focus on just the hardware. A little effort in this area can make the whole bathroom seem more modern. Here are some tips on how to work the hardware in your favor:
Switch out the old hardware for shiny, trendy new models
If you still like the old models, uninstall them and give them a good cleaning
Consider painting the old hardware if you want a change but would like to retain the shape
If you're giving the hardware a new coat of paint, try to use products that will prevent the material from rusting and mildew.
You can also introduce new types of hardware, such as new lighting fixtures. Evaluate whether the bathroom needs better lighting and install new fixtures where required. The addition will give some texture to the space, provide the necessary light, and match the decor you have in mind.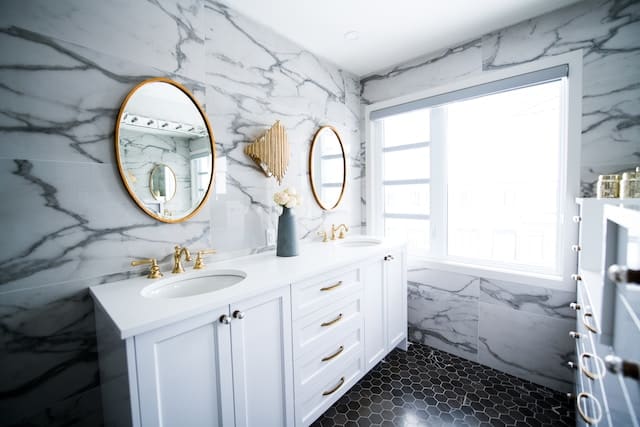 The hardware in your bathroom might be small, but it still has an impact. Plus, there are plenty of ways to make your bathroom feel luxe.
Conclusion
Over time, your bathroom's charm can fade. Even if it looks fine, making a few changes and upgrades can instantly boost your lifestyle. With the tips and tools above, you can start on a safe yet effective DIY upgrade for this important room. No more waiting around; take note of what your bathroom needs today and start planning that upgrade. Read about more home decor tips.
(Visited 16 times, 1 visits today)