If you are a writer and worried about your content get copied by someone else, then this article is specially dedicated to you. Because today we're going to share with you an answer to the question which is asked by every writer who runs an online blog. That is, what are the best online plagiarism checkers? Before we answer this question, lets review a little about Plagiarism.
What is Plagiarism ?
Plagiarism is a serious and growing problem on the Web. At any moment, anyone in the world can copy your online content and instantly paste it onto their own site. After making minor changes, they will claim your content as their own.
As a blogger, I know the importance of own written content and feel very bad if someone publishes my work on his website without taking permission. I don't know about others but when someone does this with my content, my eyes got red due to anger and frustration. But we don't need to worry anymore because developers have developed lots of online plagiarism checkers. They search for originality (or lack of it) using a few phrases taken from different parts of the document.
So without wasting any time lets we start with our article which ultimate answer to the question which is asked in the above lines. So below you are going to read about some of the Top Plagiarism Checker Services Online. So lets get started!
Originality.AI is one of the newest and best plagiarism checkers out there. But it doesn't just check for plagiarism. It also checks for AI-generated content. In the new world of ChatGPT, this is a must have tool. I use it on a regular basis myself! Plus, it has the advantage of not requiring a subscription. You can buy credits that are used based on the number of words you have checked. If you are interested in a a more seamless experience while online, you can get some free credits by downloading the Google Chrome extension.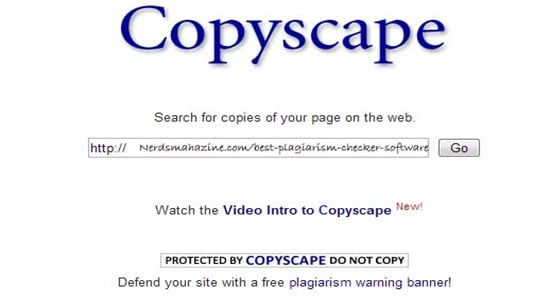 CopyScape is one of the most well-known websites to help you detect plagiarism for free. By using this online tool you can check who copied from your website. You can buy Copyscape paid detections tools as well which helps you to give full satisfied information.
Advanced Plagiarism Checker free article checker is a tool that checks the web for plagiarism of your content. All you have to do is paste your text to compare in the text box. And then they will break it up into small fragments and scan the Internet for it. Paste your text in the text box, then press the button. You can also adjust the sensitivity of the search by using the slider bar.
Article Checker is a solid online, free tool to check plagiarism, while also giving very fast results.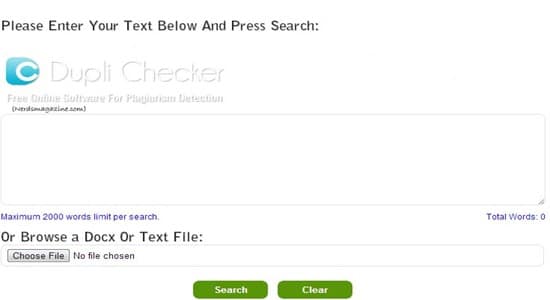 By Dupli Checker you can check for plagiarism in few seconds. It is very simple website to detect plagiarism, and it is totally free.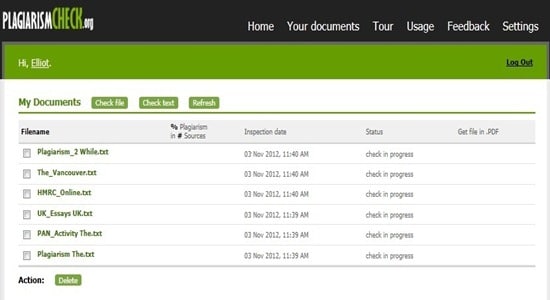 Plagiarismcheck.org is an amazing web service which will determine if the content of your paper appears in other online sites or in books registered with the system. The only thing which you might not love about this tool is that you have to register first to use their service.

Plagium is an innovative, fast, and easy-to-use means to check text against possible plagiarism or possible sources of origination. This online tool also gives you the option of setting relevancy, pages in and display the summaries, text found, timeline and real time result.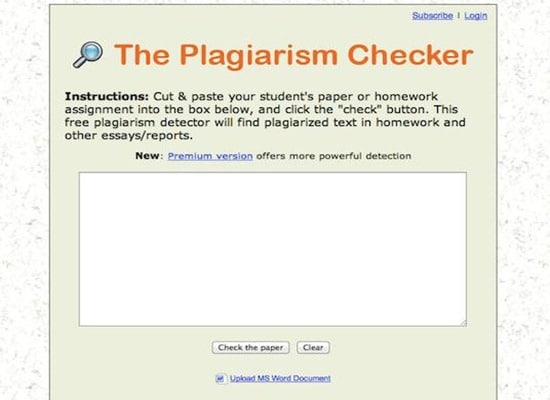 This free plagiarism detector will find plagiarized text in article, any written paragraph and other essays/reports which is available over the web. If you want to get some more features, you can sign up with this website a monthly price of $8.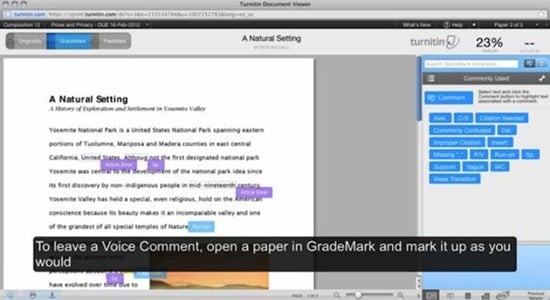 TurnItIn is another leading academic plagiarism checker technology for teachers and students. Online plagiarism detection, grammar check, grading tools, etc.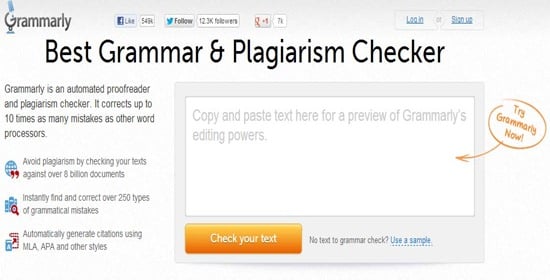 Grammarly is an automated proofreader and plagiarism checker which corrects up to 10 times as many mistakes as other word processors. Using this service you can avoid plagiarism by checking your texts against over 8 billion documents, and it also instantly finds and corrects over 250 types of grammatical mistakes.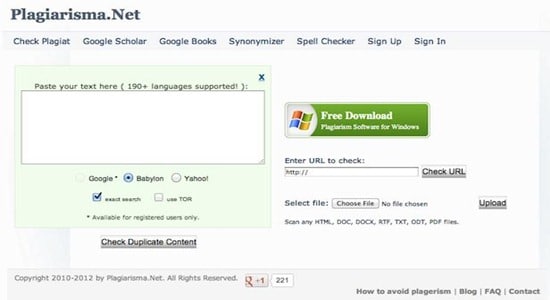 Absolutely free online plagiarism checker Plagiarisma.net will help you to easily scan uploaded file in seconds. Using this online and offline plagiarism checker users can search for entire URLs and files in HTML, DOC, DOCX, RTF, TXT, ODT and PDF formats. You can also download this software to your Windows-based desktop.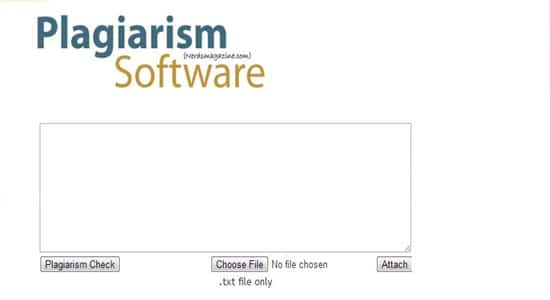 Another simple and easy to use plagiarism checker which makes detecting plagiarism easier. All you need to do is copy-paste or uploading a file, and you will get the results by clicking 'search' button.
So these are top 12 internet tools to check plagiarism for free, But if you feel we forget to add some good name which deserves their name in this list, the comment section is all yours.
(Visited 1,793 times, 1 visits today)