I believe that many users choose to use cloud services as storage destinations for files such as photos and videos on their computers, smartphones, iPhones, tablets, or iPads. Cloud storage has gone mainstream, but which cloud storage manager should you use?
In the process of using cloud services, users inevitably need to register an account. Therefore, depending on the application, users who enjoy various cloud services may need to register multiple accounts, and accordingly, the number of management items and the number of management items (such as account names, IDs, and passwords) will increase.
While I was searching the internet for a good way to perform cloud storage management operations, I found a very useful software called MultCloud. Without further ado, I would like to introduce a software I discovered called MultCloud.
What is "MultCloud": Best Cloud Storage Manager
If you use cloud services on computers, smartphones, iPhones, tablets, iPads, etc., and you have registered multiple cloud service users, you need to enter the account and ID for each different cloud to open the screen and perform actions such as saving new files and deleting saved files.
And MultCloud is software that allows you to centrally manage multiple cloud storage accounts, such as transferring and synchronizing existing files and deleting existing files. Using this software, you can manage multiple accounts, transfer files between the same cloud, and transfer files between different clouds, which is a very convenient software. By the way, the cloud services MultCloud provided here include Google Drive, OneDrive, Dropbox, etc.
All features of MultCloud:
You can easily transfer files between different clouds with multiple accounts registered. If you have multiple accounts for your own use or other purposes, you can easily "copy and paste" files between different clouds with one click.
Unified sync or backup of multiple accounts between different cloud services. Files stored in different clouds by multiple accounts can be synchronized or backed up together.
Unified management of all registered cloud services and multiple accounts. You can centrally manage registered cloud services, multiple accounts, IDs, passwords, files, and more.
Remotely upload files to the cloud account. In addition to basic upload operations, you can use MultCloud to directly resolve data in URLs, torrent files or magnet links to your cloud account.
How to Use MultCloud to Manage Cloud Storage Services
The following items are explained when using MultCloud.
About cloud management
Cloud management refers to the operation or management of applications, software, network services, etc. used by registered cloud services through the Internet.
Cloud management function
If you have registered multiple accounts, you need to manage each account separately. In addition, if you want to manage each account in different clouds, you need to enter the ID and password every time you log in to the cloud. Therefore, the cloud management function came into being to manage multiple accounts in a unified manner and reduce the trouble of cloud management.
Cloud management function details
1. Register the account name and cloud name of multiple registered accounts, and manage the ID and password required for login in a unified manner.
2. Move files between cloud services, such as Google Drive, OneDrive, Dropbox, etc.
3. Can synchronize or backup files with the same name saved in each cloud.
If you use MultCloud with the above functions, it only takes three steps to easily operate with one key to improve your work efficiency.
Step 1. Sign up for MultCloud and log into your account.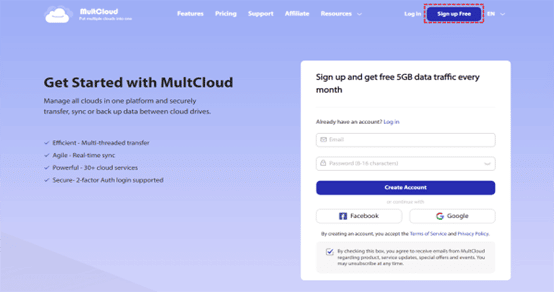 Step 2. Once your access to the cloud is authenticated, select the cloud you want to manage.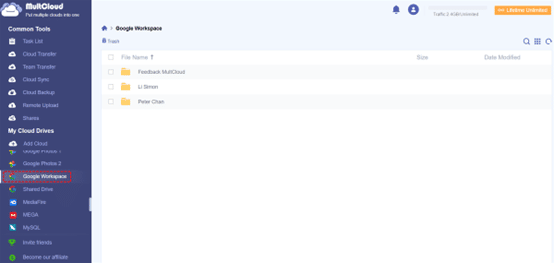 Step 3. You can perform operations such as copying, downloading, sharing, cutting, pasting, deleting, previewing, renaming, and duplicating files in the cloud drive.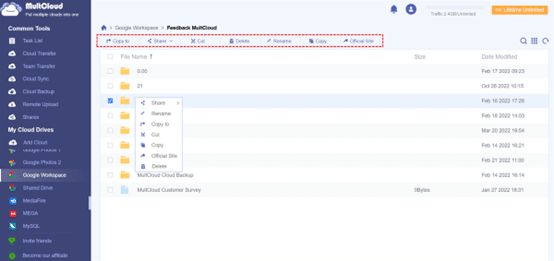 Step 4. If you need to transfer, synchronize or backup data, for example, move files from Dropbox to OneDrive, you only need to select the corresponding option, and then select the source and destination.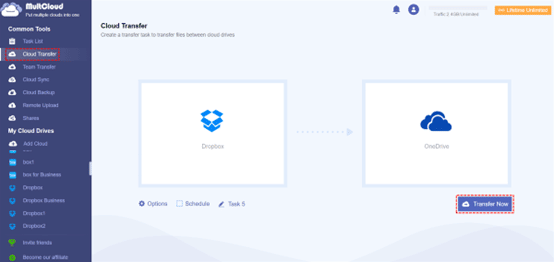 Summary
MultCloud is one of the must-haves for anyone who needs to sync and move files between multiple cloud storage accounts. In addition, it is said that MultCloud recently launched a mobile application, but only supports the core function of data transmission, and I believe that more core functions will be launched soon.
(Visited 41 times, 1 visits today)