Games are a big part of our lives, especially on our computers. It only makes sense, since we do spend a large chunk of our time playing games. In today's article we manage to get some of the best action games for PC. So if you're the one who love playing action games don't forget to read this opinion piece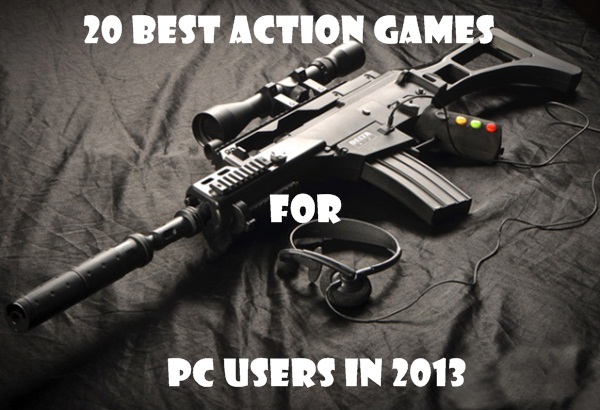 Here is a list of the 20 Best Action Games for PC users to get started. Let us have a look at first one i.e.
1.
Watch dogs
Following the footsteps of the Assassin's creed, Ubisoft has come up with Watch Dogs, a game that has a huge scope with warfare and participation for multiple players too.
2. Dead Space 3
This is a space horror type of game an has themes based on insanity as well as the more traditional scare that comes from jumps and body horror
3. Tomb raider
This one has a vulnerable and innocent Lara Croft shipwrecked and all alone on an island. The game is far different from the confident and powerful Lara we see in movies
4. Star wars 1313
It is set in the depths of Coruscant the deeper level of 1313, where your role in the game is that of bounty hunter who is trying to solve a criminal conspiracy
5. Strike Suit Zero
Space fighting is really in now and this one is really beautiful and polished and will appeal to the audience
6.
Fortnite
This one is based on a cartoon like character with neat and light visuals and the players have the freedom to come up with their own fortifications against zombies
7.
Starforg
Is an anmbitous project that has you building a fortress to defend yourself against aliens and then when this does not work out you use a shotgun to defend yourself
8. Grand Theft Auto 5
This is supposed to be about a world where cars are being stolen, with car chases, shoot downs and other things
9. Remember Me
You have the chance to get to the conspiracy and also the chance to play around with people's memory to ensure they only remember things that you want them to
10. Tom Clancy's Splinter Cell
You will see Sam in the prison fighting out with a armies and other exciting things happening to this spy in this game
11. Lost Planet 3
It is a prequel to the earlier series so you will see some exciting things happening like the hot jungle freezing into icy temperatures
12. Star Trek Publisher
This one promises to have some big cinema glitter thrown in and you will see some great third person action
13.
DmC

: Devil May Cry

You will hear cries of terror in this favorite where you can bash up a few demons and the moves on this game are glorious
14. Clang
A game that is made for Personal computers with one on one combat, sword fighting with a great story line
15. Smite
This one has tribal theme with Gods taken from many religions and mixed in battling the evils out
16.
DarkPublisher
A game involving stealth as the player has to assume the role of a anti hero in vampire avatar trying to defeat a shadowy futuristic outfit
17. Devil's Third
This is a combat game that is base d on earth in the future which has been ravaged by war
18. Battle Cry Of Freedom
A game based on the American Civil war, has interesting possibilities of battles, trenches, explosives and other exciting things
19. Furious 4
This is a action game inspired by Tarantino which promises to deliver action that the most bloodthirsty among us will enjoy
20. XCOM
A strategy game which takes off on the earlier version of the game.
So give try to these action games and let us know whether you like this or not. Also you can share with us your favorite action which you think can be part of this list.
(Visited 1,064 times, 1 visits today)