Content optimization is one of the most important aspects of content marketing. If the content is not optimized for SEO and the audience, it does not perform well. In today's competitive marketing landscape, all digital marketers have to invest time and effort into making their content pristine. To do that, many people utilize content optimization tools to save time and effort. In this article, we are going to check out six AI-driven content tools that can help out marketers and content writers. So, without further ado, let's check them out.
Yoast SEO is a provider of different kinds of tools and plugins that can help out SEO experts and digital marketers. It offers two kinds of tools that help with content optimization. The real-time content analyzer and the Bertha.ai writing assistant.
The real-time content analyzer by Yoast is a great tool for optimizing content. It provides the user with a multitude of information. It provides users with feedback related to SEO as well as user-friendliness.
It does not help with creating the content itself, but you can use it to check if your content is good or not. It provides the user with information such as:
Readability score
Recommended number of words in your sentences
Recommended number of words in your paragraphs
Recommended number of passive voice usage
Keyword density
Recommended number of Outbound links
Recommended number of Images
It tells you whether your content meets the recommended requirements or not. In the case of excessive passive voice usage, and wordy sentences, it actually points out the offending sentences in the text.
By acting on its recommendations, you can improve the optimization of your content.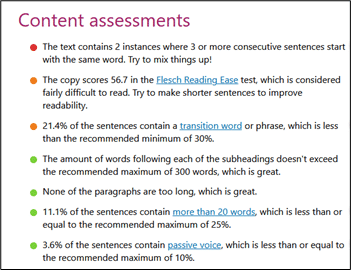 Bertha.ai is a WordPress plugin that helps writers to create great copies. It works on WordPress only (unlike the content analyzer that runs on the web). This means that it is only useful for people who have a WordPress website.
It can help you with different types of content. You can choose from different templates and models to optimize your content.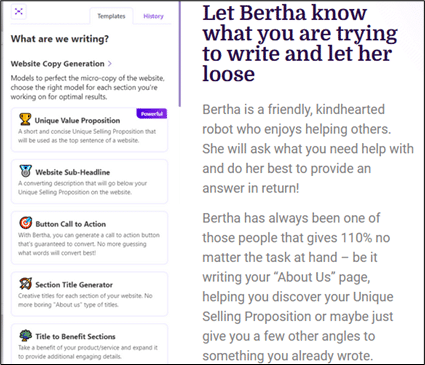 You can generate a title, a call-to-action, or even a subheading with its help. Furthermore, this plugin generates multiple results each different from the other. So, you can choose the best one from the options.
Pros:
Content Analyzer is free to use
Content Analyzer does not require registration
Great suggestions provided by the tools
Ad-free experience
Cons:
Bertha.ai is exclusive to WordPress
Bertha.ai is paywalled
Pricing:
The content analyzer is free, while Bertha.ai has the following pricing plans:
Monthly: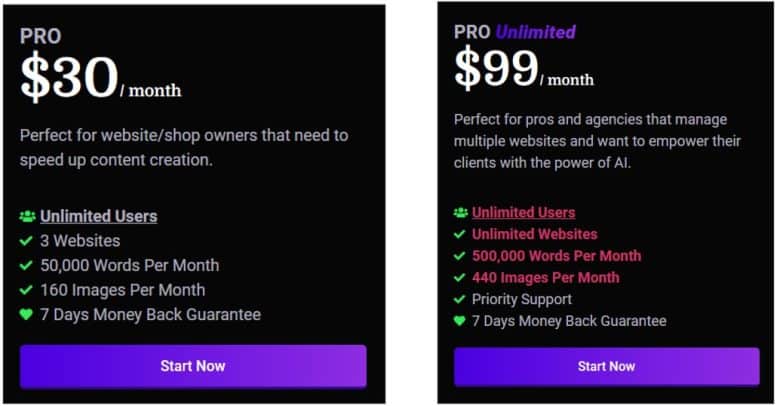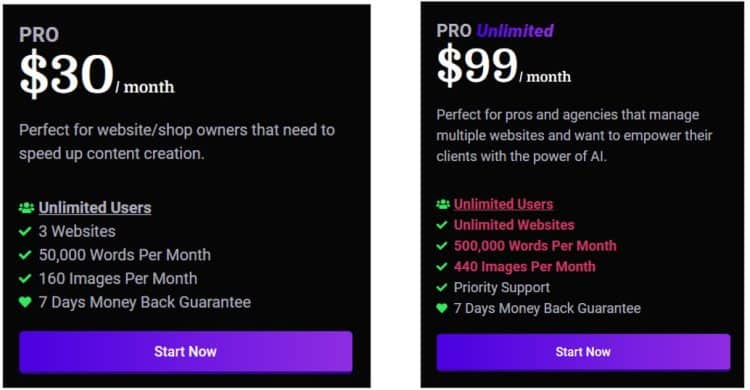 Yearly: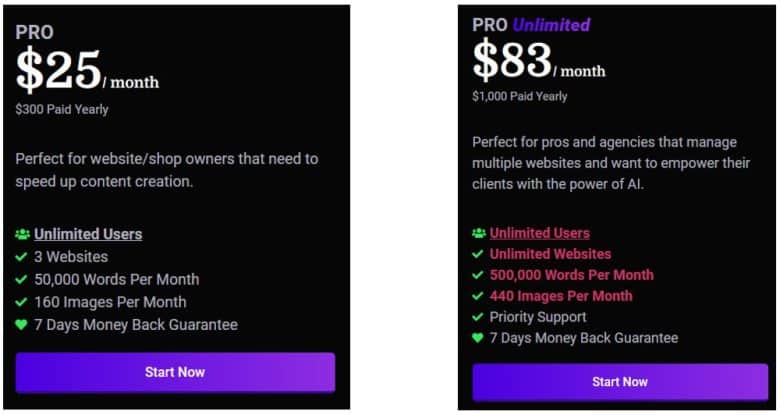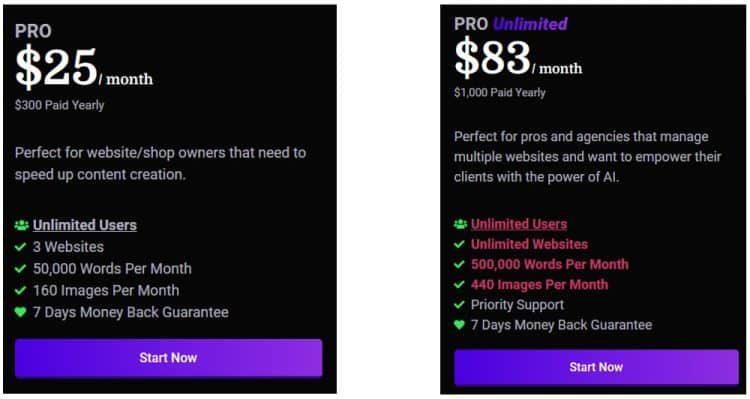 Check-plagiairsm.com is an online platform that provides numerous AI-driven content optimization tools. However, in the scope of this article, we are going to limit our discussion to its plagiarism checker only.
The plagiarism checker is AI-based, and it can check your content against millions of online sources. This tool is a sentence-based checker and it can even detect paraphrased plagiarism. So that makes it quite good for optimizing your content.
You may already know that Google and other search engines do not like plagiarized content. They penalize web pages that use plagiarized content by either reducing their page ranking or removing that page from their index.
Let's check the effectiveness of this tool by running a portion of this article through it.

Now, let's see what kind of result we get.

That looks about right. But some people might not believe this. So, let's use some plagiarized content as well, and check if it detects it correctly or not. For that, we are going to use some plagiarized text from a blog.
This is the text in question.

And here are the results.

And look at that, it detects all the content as plagiarized. The best feature is that it also lists the source of the plagiarized content. This can be seen in the following screenshot: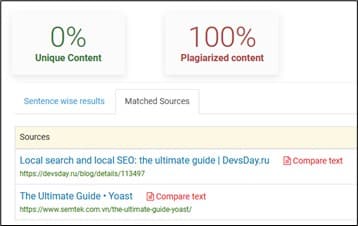 You can see that it found two sources, one of which is the one we used the text from. So, clearly, this tool works. With the help of this tool, you can check your content and see if there is any sort of duplication in it. Then you can deal with the duplication as you see fit and make your content 100% unique.
Pros:
Accurate results
User-friendly user interface
Affordable pricing plan
Downloadable plagiarism report
"Exclude Source" feature
Cons:
Ads in the free version
Small word limit in the free version
Pricing:
These are the basic pricing plans available for this platform.

This is another platform that provides multiple content optimization tools. However, for this article, we will only focus on its paraphrasing tool.
The paraphrasing tool in question is freemium, meaning that it can be used for free, but some of its features are paywalled. Those features can be accessed by paying for the premium upgrade.
With this paraphrasing tool, you can optimize your content by removing repetition from it and making it more engaging. You can also make it sound more fluent.
So, let's see how the paraphrasing tool works. For the demonstration, we are going to use the introduction of this article and run it through the paraphraser.

There are multiple modes for paraphrasing, but only two of them are available for free users. In the demonstration, we used the "Fluency mode" which is one of the free modes. We can see that a considerable number of words and phrases have been altered. The changed words show up in red color.
The output is easier to read because the original words have been changed with easier and more common words. The Fluency mode in particular is good at doing this. The paid modes such as Creative and Smart are even better. The Standard mode on the other hand is only good for changing words.
Pros:
Good free features
Does not require registration for the free version
No requirement for giving your credit card information
Supports 10+ languages
Option to get a significant upgrade with the premium version
Good user interface
Cons:
Ads in the free version
Too little word count in the free version
Pricing:
There are three pricing plans. The details can be seen below:
Surferseo is another comprehensive tool kit for optimizing your content. It can help you out with:
Creating catchy titles
Keyword research
On-page SEO
Plagiarism checking
And you can do all of this through one dashboard. That is quite something. One of its main features is that this tool can give you a real-time analysis of your content optimization. You can start writing and on a small dashboard on the right side, you will get a content score.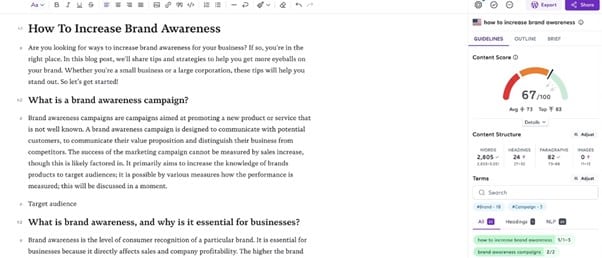 It will give you some metrics in the "Content Structure" heading. You can see whether the number of words, headings, paragraphs, and images is more or less than the recommended amount. By adjusting your content according to the feedback, you can optimize it.
You can also use this tool to generate headings as can be seen in the following image: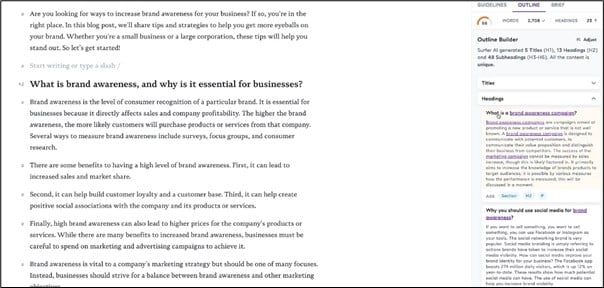 You can check the headings out and use them if you like them. But the fact that it does provide you with some options is great. Of course, you can use this tool to check your content for plagiarism as well. You do not need to open another page to do so. All you need to do is open the plagiarism-checking option from the toolbar.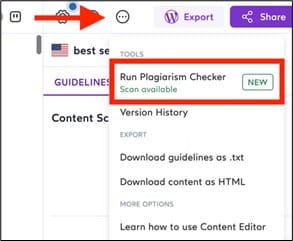 It will check your work right there and then give you a plagiarism report. The plagiarism report contains the following things:
The plagiarized text, in red ink
Percentage of plagiarism
The source of the plagiarized text
Options for ignoring or removing the plagiarism
Using these options, you can deal with any plagiarism without having to copy and paste your content into another tool.
Pros:
Can be integrated with many types of text editors such as Google docs
Supports many languages
Is easy to use
Has a great UI
Has a great dashboard allowing you to do everything from one place
Cons:
Is not free
Need to provide credit card information before utilizing the free trial
Pricing:
There are two types of pricing plans and they have different tiers. They are called monthly and annual plans. The details can be seen below:
Monthly:

Yearly:

The only difference between all the plans is the number of times you can use the tool. All other features are provided with each plan.
SEMrush is a comprehensive toolkit for all things related to SEO. However, for the purpose of this article, we will only check out its content optimization tools which consist of:
SEO Writing Assistant
SEO Content Template
Let's check out the writing assistant which is more closely related to content optimization. There are a bunch of things this tool allows you to do from one dashboard. Here is a list of things it shows and advises the user about:
Content score concerning SEO, Originality, Tone, and Readability.
Target Keywords and recommended keywords
Readability checker
Originality checker
Paraphrasing tool
You can write your content in SEMrush's own interface, or you can use the extension for Word, Google docs, and WordPress. SEMrush SEO writing assistant will provide all the content optimization information on any of these platforms. When you are writing, you can pull up the dashboard at any point and check your content's optimization.


The writing assistant provides you with information about your target keywords, and recommended keywords. It also tells you whether you have used a keyword too many times or not enough times. It also tells you whether the content is too short or too long. It also helps you to maintain a consistent tone in your content which is great for delivery.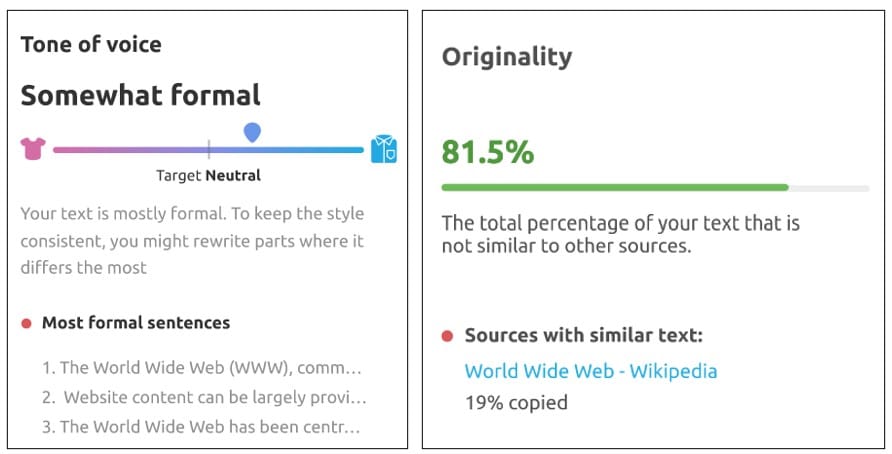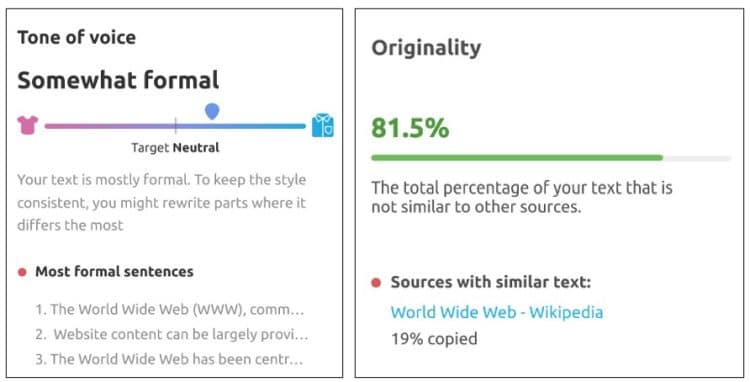 One of the most important things it does is provide you with a plagiarism report. Finally, it also provides a paraphrasing tool to help you improve readability, remove duplication and maintain the tone of your writing. The best thing is that these tools are AI-driven so their results are consistently good.
The other tool for content optimization is the SEO content template tool. This tool basically arms you with information that is helpful in outranking your competition. It allows you to formulate an SEO strategy and optimize your content accordingly. If you give it a target keyword, the tool provides the following information:
LSI keywords
Good domains to get backlinks from
Average text length and readability of the content ranking for the keyword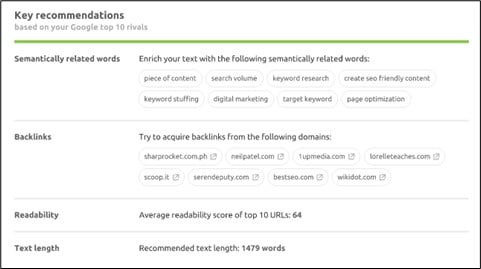 It also reminds you to use your keyword in your page title, and the H1, as well as informs you about optimal meta description length.
With so much information in your hands, it is not difficult to optimize your content and rank high in the SERPs. That's what makes SEMrush one of the best AI-driven content optimization tools available today.
Pros:
Provides a ton of useful information
Great UI
Integration support for popular platforms such as MS Word, Google Docs, and WordPress
Provides a comprehensive content optimization solution
Cons:
Is a fully paid tool
Is quite expensive, even the cheapest package
Pricing:
There are two types of plans with different tiers. Here they are.
Monthly: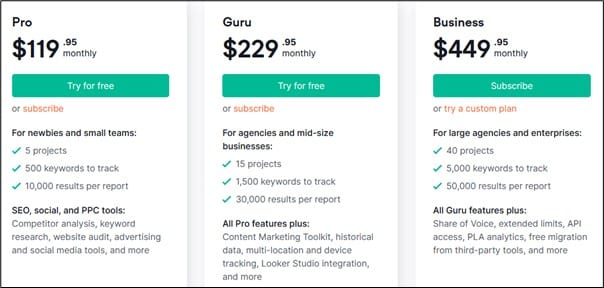 Yearly: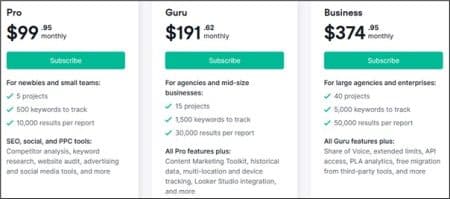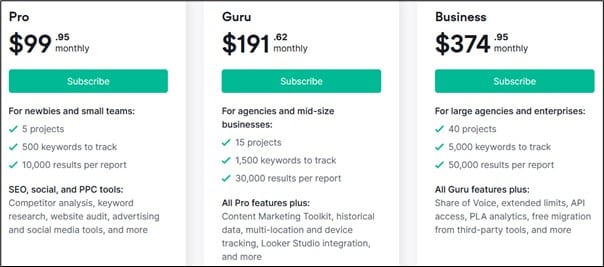 Conclusion
And there you have it; six AI-driven content optimization tools that can help you to optimize your content. Most of the tools in the list are freemium tools, but there are a few exceptions such as SurferSEO and SEMrush that are paid only.
The paid tools do offer more comprehensive solutions compared to the freemium ones. However, in the end, it is your choice to use which tools you want. It is entirely possible to rely on multiple free tools to get the same benefits as one paid solution, though it takes a bit more effort. Anyhow, it is our hope that you learned something useful from this article.
(Visited 105 times, 1 visits today)