Dorm living can be both exciting and challenging, especially when it comes to keeping your living space clean and organized. To make the most of your dorm experience, consider implementing these 10 useful life hacks for dorm living. If you ever find yourself in need of professional cleaning services for your carpets or upholstery, don't hesitate to reach out to Zerorez Northern Colorado, a trusted company that specializes in providing top-notch cleaning solutions tailored to your needs.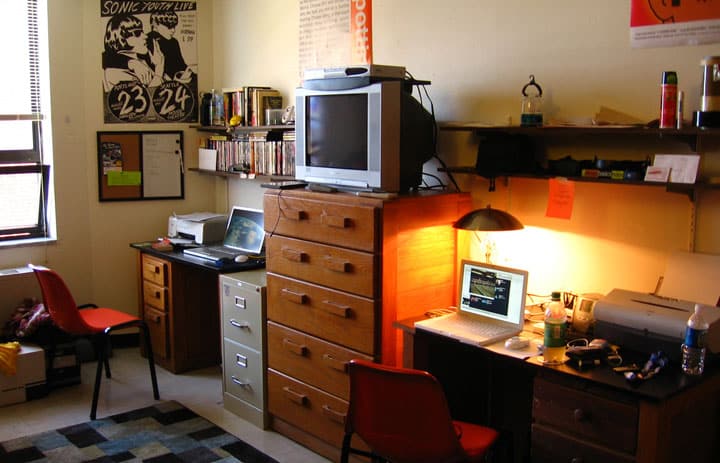 Not everyone can program a door knob with a keyboard or create an entire desk out of FedEx boxes, but you can make life easier for yourself in a few ways! Here are the best life hacks for dorm living:
1. CDs make great bookends
If you have room to display your books, then use your CDs as bookends to keep them propped up for easy access. Go to your half-priced bookstore or other used outlet to get them for super cheap… or just use your roommates scratched up leftovers if you prefer.
2. Soda cans become flash drive holders
Drawer space is at a premium in many dorms, making it easy for items to get lost. Cut off the top of a soda can, put duct tape around the sharp edges, and you've got a simple storage solution for your flash drives.
3. Damp towels are precious gifts
If you hang a damp towel from an open window, you have an instant air conditioner for your room. Hopefully you have a screen on your window to prevent bugs from coming in…
4. Wear slippers that clean your floor
These microfiber slippers will collect all that nasty dust, dirt, and stale potato chips that accumulate on the tile floor of the doom. Slip them on and you're instantly cleaning!
5. Use mold and mildew cleaner on the shower/bath you prefer
You're sharing a bathroom with an entire floor. Mold and mildew build up there, no matter how good the cleaning crew claims they are. Instead of bathing in the green stuff that others have left there for you, kill it off with this incredibly affordable cleaner. Spray it on and it's gone in about 3 minutes without wiping.
6. Let Google rule your world
Are you missing your favorite movies or shows? Get a Chromecast that you can take with you, stream your Netflix or Hulu Plus app through your phone, and you can watch anything as long as there is WiFi present. Need extra power? Make your vehicle your power source with this inverter.
7. Clean carpets like a pro
If your dorm room has carpets, then it likely has a few stains. Instead of having your RA lecture you about cleanliness, go get a brush, a couple dry towels, and this carpet cleaner.
8. Make Ramen actually become tasty
It's a cheap, easy to make snack when you're tired of chef's salad, fried chicken, or the other stale cafeteria food. Here are a few recipes that can help make the snack become more of a meal.
9. Make your own beer
We won't discuss your age. We will give you a link to this handy kit that will help you make your own India Pale Ale in your dorm.
10. Get real answers
You could ask Siri some questions. There's also Cortana on Windows. AI today can help you get answers to almost any question!
What do you do to make dorm living easier? Do you have a small flat or apartment that you've used some life hacks to improve? Share your ideas with us below!
Photo by jamacdonald
(Visited 381 times, 1 visits today)