League of Legends, CS:GO and Dota 2 have firmly established themselves as the big three within esports over the past five years. They all boast established professional scenes and their leading proponents are millionaire superstars with huge fan bases spread across the world. However, change is afoot in this lucrative and mushrooming industry, which is tipped to surpass $1 billion in revenue for the first time this year. Several newer titles are bidding to muscle their way into contention and those three key titles may not have it their own way for much longer.
Fortnite
Fortnite was the runaway success story of 2018 and 2019, and it continues to enjoy phenomenal popularity due to its frenetic and imaginative gameplay even today. It now boasts around 250 million players, having doubled its user base over a nine-month period, and that has cemented its dominance over the gaming industry.
The likes of LoL and Dota 2, however, were released many years ago, but they are still going strong by nurturing and passionate online communities that love to watch the finest stars in the world strut their stuff in big tournaments. To that end, Epic has injected a cool $100 million into making Fortnite a leading esport in 2019.
The weekly $1 million tournaments will then continue running until the end of the year in order to maintain the momentum. That has already seen Fortnite become one of the top five richest esports in the world, and it is sure to become number one soon. Epic has also just snapped up Rocket League developer Psyonix to cement its position in esports, as it recognizes just how important this scene is within gaming.
Apex Legends
Fortnite status as the dominant battle royale title looked assured after it left PUBG in its wake and broke all manner of records. But then EA Sports released Apex Legends in February 2019 and it has blown up, amassing more than 50 million players within just a month of launch.
The publisher has revealed that almost a third of its players are new to EA Games and now it is bidding to secure further growth by launching in China and unveiling a mobile version.
It has some challenges, as patch errors and a lack of updates have halted its momentum and allowed Fortnite to reassert its number one status, but if EA can provide new content it can regain the initiative.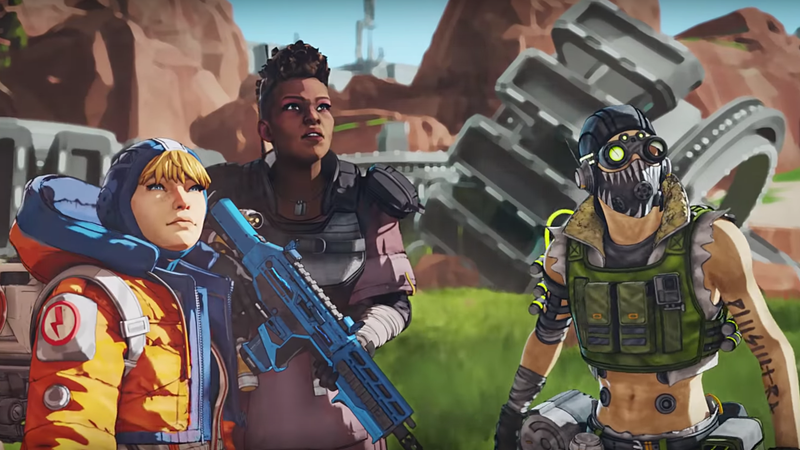 Cracking esports will also be crucial for Apex Legends' longevity and a nascent scene has already sprung up. The TwitchCon Europe Showdown 2019 Finals carried prize money of $350,000 and several major franchises have launched Apex Legends teams. They include behemoths like Team Liquid, Team SoloMid, Gen.G, NRG and 100Thieves. Liquid even moved its entire Call of Duty: Black Ops 4 roster over to Apex.
These are very much early days for a competitive scene, but the potential is vast as many players prefer the pace of Apex to that of Fortnite, and the battle royale genre is enormously popular right now.
FIFA 20
The latest FIFA title from EA is comfortably nestled in the chart of the top 10 most-watched games on Twitch and YouTube in 2019. The series has a massive following and it hit headlines across the globe when Saudi star Msdossary won the FIFA eWorld Cup 2018.
More than 20 million players entered qualifying, but just 32 made it through to the Grand Final. Msdossary secured victory in the Xbox tournament and then vanquished PlayStation supremo Stefano Pinna in the cross-console final. He went on to mingle with the likes of Cristiano Ronaldo and Luka Modric at the Best FIFA Awards and he was catapulted to absolute superstardom.
The 2019 FIFA global series is bigger than ever before, with more events and more opportunities for stars like F2Tekkz and Msdossary to shine. The prize money for the FIFA eWorld Cup 2019 is not as high as the figures bandied about in titles like Dota 2 and Fortnite, but the prestige is huge and the exposure is vast, allowing the leading lights to become rich and famous by playing their favorite game.
FIFA is one of the key games for bettors that like to wager on esports at sites like Unikrn.com due to its huge fan base and easy-to-follow action, and this is vital in its quest to become a top competitive gaming title. Watching a FIFA contest is fun, but it can become even more thrilling when people have money riding on the outcome, so that helps boost interest in the scene.
Overwatch
Blizzard released this first-person shooter to universal acclaim in May 2016 and it is going from strength to strength as an esport. It looks like the best-placed title to challenge CS:GO as the dominant shooter within competitive gaming. There are massive differences between the two titles – CS:GO has a bomb-defusing and hostage mission, while Overwatch has fewer one-shots and it does not use spray patterns – but they have similar mechanics. CS:GO is more established, but Overwatch is fast, fun and a riot of glorious color and compelling characters. It has gained so much popularity among the players that they even make use of ow boosting.
The Overwatch League launched in 2018 and it is now in its second year, has expanded the franchise base and secured more big-name sponsors. Last year London Spitfire vanquished Philadelphia Fusion at an exhilarating final in New York.
This year's world champion will be crowned in Philly's Wells Fargo Center, and Philadelphia Fusion will be desperate for success in front of a partisan home crowd. Overwatch has now overtaken Dota 2 as the third most-watched title on YouTube and Twitch, and it has CS:GO firmly in its sights.
Magic The Gathering Arena
Hasbro Gaming has given this popular tabletop card strategy game was given a digital version and it has committed $10 million into turning it into an esport. It has seen the success that Blizzard has enjoyed with Hearthstone on this front, and it is now keen to set MTG Arena up as a credible rival. The world's best 32 players have been given $75,000 annual salaries to turn professional and there is significant interest in tournaments.
The £1 million Mythic Invitational event was held in Boston back in March and it enjoyed strong viewing figures. Further big tournaments are planned later this year and MTG Arena has a chance of becoming a leading esport due to its core of loyal fans, its fun and accessible gameplay and its high skill ceiling.
(Visited 147 times, 1 visits today)